Jussie Smollett's Cook County Jail Mugshot Revealed as Actor To Spend 150 Days Behind Bars
Jussie Smollett's mugshot has been unveiled after he was sentenced to 150 days behind bars for staging what he claimed to be a racist and homophobic attack on himself in January 2019.
The Empire star, 39, who was convicted on five of six charges in December 2021, was also sentenced to 30 months of felony probation on Thursday with no travel restrictions, and ordered to pay $120,106 in restitution to the city of Chicago and a $25,000 fine.
As the actor was booked in for his first night in the Cook County Jail, Sabrina Franza, a reporter at local CBS affiliate WBBM-TV, took to Twitter to share his mugshot.
"Jussie Smollett checked in to Cook County Jail. Night 1/150," Franza captioned the image, which showed the actor wearing a crisp white shirt.
Smollett's sentencing became a decidedly dramatic affair, with the actor repeatedly saying in court that he was "not suicidal" as he reiterated his claim that he was innocent. Still, he said he respected the decision of Judge James Linn.
Pointing out the damage Smollett had done to his own reputation, Linn called out the actor's "hypocrisy" for making a hoax out of a hate crime after having spent several years of his life working with charities and advocating for civil justice.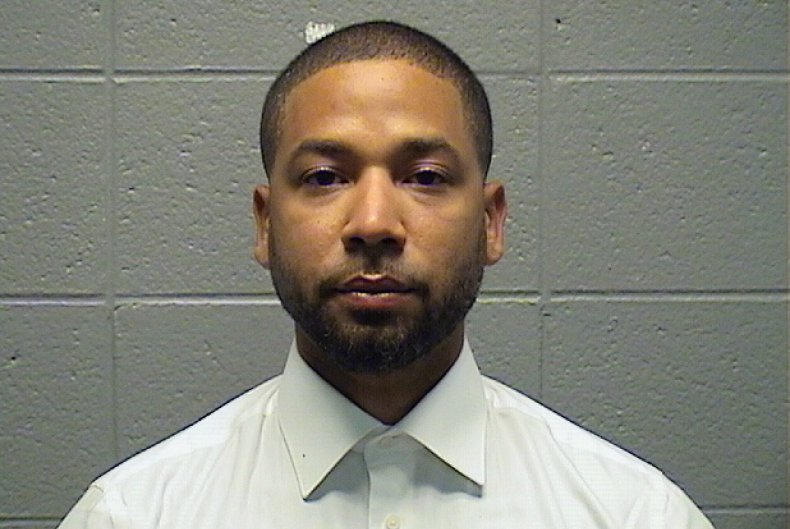 The judge, who called the actor a "charlatan," surmised that Smollett was motivated by a desire for attention, given the spotlight he knew his police report would receive due to his work with race and LGBTQ charities over the years.
Smollett was convicted on five disorderly conduct charges for lying to police and filing false reports about the attack, which he had claimed happened at the hands of two supporters of then-President Donald Trump. He was found not guilty on a disorderly conduct count for his claim that he had been the victim of aggravated battery.
Following his sentencing, Chicago Mayor Lori E. Lightfoot said in a statement that the city felt "vindicated" after using resources to investigate his "malicious and wholly fabricated claim."
The statement read: "The criminal conviction of Jussie Smollett by a jury of his peers and today's sentencing should send a clear message to everyone in the City of Chicago that false claims and allegations will not be tolerated.
"The malicious and wholly fabricated claim made by Mr. Smollett resulted in over 1500 hours of police work that cost the City over $130,000 in police overtime. The City feels vindicated in today's ruling that he is being held accountable and that we will appropriately receive restitution for his actions."
The screen star had told police that two men physically attacked him on the streets of Chicago, shouting racist and homophobic slurs as they poured bleach on him and tied a noose around his neck.
He was later accused of paying brothers Abimbola and Olabinjo Osundairo $3,500 to help stage the attack. The actor's defense accused the siblings of attempting to extort $1 million each from Smollett in exchange for not testifying in court.
The Osundairo brothers, who worked as extras on Empire, also alleged that after racist and homophobic hate mail aimed at Smollett was sent to the show's studio, the actor hatched a plan to stage the attack in a bid to gain publicity and sympathy.
They said that they didn't expect that Smollett would report the attack to police. Smollett's defense maintained that he had paid the men $3,500 for "workout and nutritional advice."
Smollett's initial charges for staging the attack were dropped. However, a special prosecutor later filed a second round of charges against the performer. He stood trial for those charges in November and December 2021.
Further lawsuits are pending in the case, with WGN-TV reporting that the city of Chicago is seeking repayment of the approximately $130,000 that had been spent on police overtime to investigate Smollett's original claims.
Additionally, one former and one current attorney representing Smollett have been accused of making defamatory statements about the Osundairo brothers during the high profile trial.