Jussie Smollett to be Sued for $130k by City of Chicago Over Hate Crime Hoax
Jussie Smollett is facing a lawsuit from the City of Chicago to recoup the estimated $130,000 spent on investigating his false claim of having been the victim of a racist and homophobic attack.
On Thursday, a jury found the former Empire star guilty on five out of six counts of disorderly conduct for lying about the 2019 incident, in which he had claimed two men doused him with bleach and tied a noose around his neck while shouting racial and homophobic slurs.
While he faces a possible 15-year prison sentence—with each of the five counts carrying a penalty of up to three years behind bars—legal analysts have projected his previous lack of a criminal history will keep him from being jailed.
Whatever the sentence, the City of Chicago has revealed that it will continue to pursue Smollett for the $130,106 of resources used investigating allegations that have now been ruled to be false.
The investigation, according to The Associated Press, saw more than two dozen officers clock up 1,836 in paid overtime hours.
"The City filed a civil lawsuit against Jussie Smollett to recover costs incurred by the Chicago Police Department investigating what the City believed to be Smollett's false police reports that he was a victim of a hate crime," read a statement from the City of Chicago's director of public affairs, shared with Newsweek.
"While using a different standard of proof, the jury's finding of guilt convicting Jussie Smollett of criminal charges stemming from the incident confirms that the City was correct in bringing its civil lawsuit."
The statement continued: "The City intends to continue to pursue its lawsuit to hold Smollett accountable for his unlawful actions and to demand that he compensate the City for costs incurred by the Chicago Police Department which took his false claims of harm seriously."
Newsweek has contacted a representative of Smollett for comment.
City of Chicago officials indicated that they wanted Smollett to pay around triple the initial amount of money requested, at $390,000 plus "further relief as this Court deems just and equitable."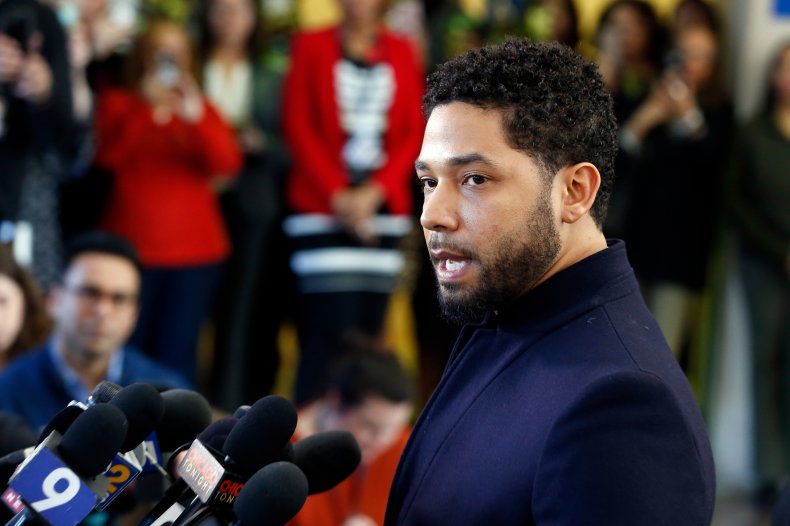 The filing also asked that the actor and musician be ordered to cover any arising legal bills Chicago would incur in lawsuits against him.
Smollett stood accused of paying brothers Abimbola and Olabinjo Osundairo $3,500 to help stage the attack. The actor's defense accused the brothers of asking for $1 million each to not testify that the alleged attack was a hoax.
While President Joe Biden and Vice President Kamala Harris had publicly expressed support for Smollett in January 2019, when he claimed he'd been attacked, the White House has since branded his actions "shameful."
"We respect the jury's decision," White House Press Secretary Jen Psaki said about Thursday's verdict against Smollett. "Lying to the police, particularly about something as heinous as a hate crime, is shameful. Instances of that need to be investigated fully, and those found guilty need to be punished."
"False accusations divert valuable police resources away from important investigations," Psaki continued while speaking during a Friday White House press briefing. "They make it harder for real victims to come forward and be believed."
Psaki added that hate crime allegations should be taken seriously.