Jussie Smollett Trial: Previously Dismissed Charges Could Help His Case—Attorney
With Jussie Smollett preparing to stand trial over allegations he staged his own racial attack, questions are circulating about how strong his case is.
The actor had claimed that he was the victim of a racist and homophobic attack on the streets of Chicago back in January 2019. Brothers Abimbola and Olabinjo Osundairo later alleged that Smollett had paid them $3,500 to stage the attack as part of a bid to be paid more money on his show, Empire.
Smollett was subsequently arrested in February of that year, weeks before the charges were dismissed without public explanation toward the end of March.
The case was revived by February 2020, when Cook County special prosecutor Dan Webb announced that a grand jury had indicted him on six new counts of disorderly conduct and lying to the Chicago Police Department.
With Smollett facing up to three years in prison if convicted, criminal defense lawyer Julie Rendelman has told Newsweek that the counsel representing the star has a strong standing to pick apart exactly why the charges were dismissed in the first place.
Describing it as a "bungling by the prosecution," New York City-based Rendelman said: "When the special prosecutor got on the case, they were investigating not just Smollett, but also what had happened prior that caused them to drop the ball.
"Their findings, whether true or not, indicate that there were ethical violations, and that there were questions as to how they handled the case. Is it because Jussie Smollett is a public figure and they were giving him a benefit that they wouldn't necessarily give anyone else?"
She added: "I'm not sure that the judge will allow it, because I'm not sure how relevant it is, but I would certainly as a defense attorney try to [point out that] even the prosecution wasn't sure how to handle this case."
Also at hand is that the Osundairos, so far, appear to be key witnesses for the prosecution. Having stated themselves that they were willing participants in the 2019 incident, Smollett's defense would be wise to target their credibility, said Rendelman.
"Obviously they haven't told the whole truth all along," said Rendelman. "Remember, if you're to accept what they're saying as true, they were participants in the crime as well. So in a sense, the prosecution's argument is, how do you get the big fish? You go with the little fish, which is these two individuals.
"But the defense can say they're equally, if not more, responsible, in terms of what occurred. So their credibility is at question, I think."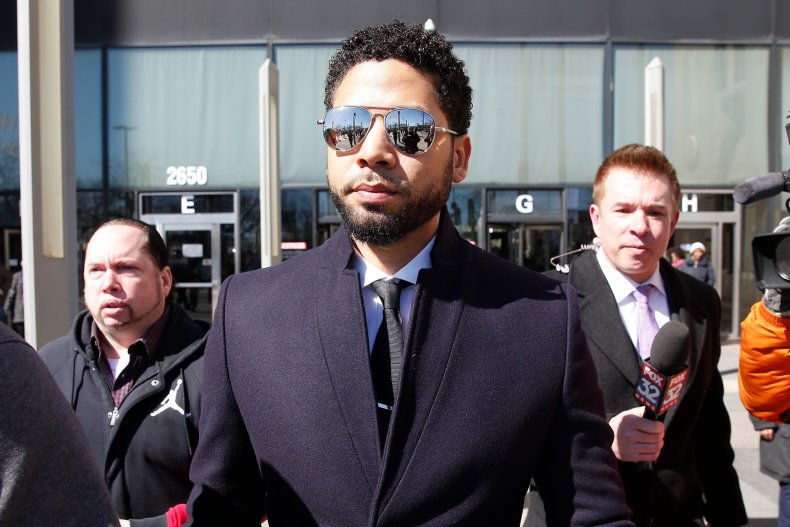 Another factor that might play to Smollett's advantage is time, said Rendelman, who explained: "It has been a while [since the alleged incident], so it's not as salacious as it was two years ago before COVID. So it's not like it's on the minds of everyone going into the case—the anger they may have felt, believing that he manipulated the system."
As to whether Smollett will see jail time, Rendelman, a criminal attorney in both federal and New York state courts, cites a number of factors that will likely see him not be sentenced to the maximum three years behind bars, should he be found guilty.
"I think what the judge will do, assuming [Smollett] is convicted, is he will review his background, for example, the fact that he has no criminal past and whether or not he was involved in community service.
"I think he will also potentially [look at] whether or not he's willing to pay restitution, because we certainly know that there was a lot of money that was spent investigating this case in a city that took the cops away from violent crimes to focus on this. I think those things will impact what the judge sentences him to.
"Can I see jail time in this? I think so. I think the other question is whether the judge views conviction in such a high-profile case as punishment enough."
Whatever the outcome, Rendelman believes that each side will be able say that their point was proven by the verdict.
She said of Smollett: "In his position, he's maintaining his innocence and saying, 'I'm a homosexual, I was targeted because of my race, and this is something that happens all the time in the community, therefore the idea of no one believing me is just another indication of racism at its best.'"
Those on the flip side of the legal fight, said Rendelman, may counter that Smollett is a man "who actually took advantage of the racial tensions to his benefit in some way, whether it is to get attention or whether it is to get a better acting gig, assuming that the allegations are true."