Jussie Smollett Verdict a Disaster for Kim Foxx, Prosecutor Who Let Him off the Hook
Nearly three years after dropping all charges against Empire actor Jussie Smollett, Cook County State's Attorney Kim Foxx faced heavy criticism Thursday after Smollett was found guilty of staging a racist and homophobic attack.
Smollett had originally stated that two men had attacked him in January 2019 near his home in Chicago, Illinois. The attack allegedly included the use of racial epithets and also tying a noose around Smollett's neck.
However, an investigation by the Chicago Police soon began to encounter numerous holes within Smollett's story, and prosecutors accused him of paying the pair of men to attack him. He was eventually charged with disorderly conduct for allegedly staging the crime.
Despite looming evidence against him, however, Foxx and the state attorney's office decided to drop all charges against him in exchange for Smollett performing community service.
This decision was derided by then-Chicago Mayor Rahm Emanuel, who called the dropping of charge a "[whitewashing] of justice."
Foxx additionally faced criticism from the Chicago Police, who maintained that Smollett had fabricated the event. Additionally, the Fraternal Order of Police, Chicago's police union, called for Foxx to step down from her post.
While the original charges were dropped, Smollett was eventually indicted for a second time on six charges of disorderly conduct after additional evidence against him was uncovered.
A jury found him guilty of five of the six charges, although he is unlikely to face jail time.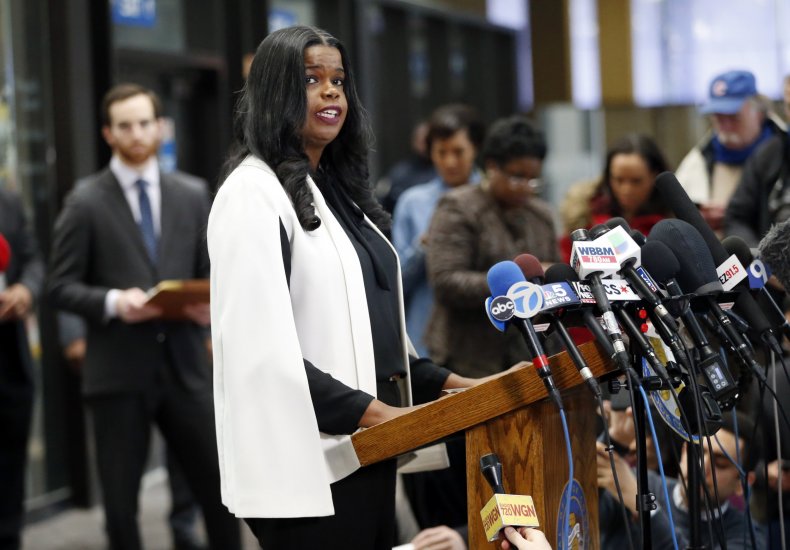 In the aftermath of the verdicts against Smollett, people took to social media to criticize the quickness with which Foxx had dropped charges against him in 2019, as well as her handling of the case overall.
Commentator Dinesh D'Souza called Foxx "complicit in the attempt to cover up Jussie's hate crime, even if they weren't charged and found guilty for it."
D'Souza also expressed anger that Foxx had reportedly been coerced into dropping Smollett's original charges by former first lady Michelle Obama. Both Foxx, as well as Smollett, have been claimed to have relationships with the Obamas.
D'Souza was one of a number of conservative voices who called for Foxx to face punishment.
Ross Kaminsky, a Colorado-based radio host, also expressed his wish that Foxx be prosecuted.
"And I also hope Smollett gets an extra 6 months for perjury," Kaminsky added.
Another Twitter user who replied to Foxx's account stated that it was simply "a pretty embarrassing day for ya."
Some on Twitter also displayed a montage of politicians and public figures who had tweeted support for Smollett in 2019 after he first came forward.
Further calls on social media urged Foxx to resign from her position, a sentiment that was also echoed in 2019 when she dropped Smollett's charges. Despite the controversy, she was re-elected to her position in 2020.
The prosecution did not offer a significant comment after the verdict was announced, but reportedly told the gathered journalists that "what happened speaks for itself."
However, the Cook County State Attorney's Office did release a short statement obtained by Newsweek, in which it said that "the jury has spoken."
"While this case has garnered a lot of attention, we hope as a county we can move forward. At the Cook County State's Attorney's Office we will continue to focus on the important work of this office, prioritizing and prosecuting violent crime," the state attorney's office continued.
(12/09/2021, 10 p.m. ET): This story has been updated with additional information.