Jussie Smollett Wrote and Directed His Own Movie While Awaiting Trial
While it seemed that Jussie Smollett had all but vanished from the spotlight amid charges of having lied about an alleged racist and homophobic attack, he was, in fact, working toward a major career milestone.
The former Empire star is due in a Chicago court on Monday as he defends himself against charges that he orchestrated his own attack in the city back in 2019, in which he had alleged that two men poured bleach on him and placed a noose around his neck.
Brothers Abimbola and Olabinjo Osundairo later alleged they had been paid $3,500 by the actor to stage the attack. While Smollett was arrested, charges against him were dropped in March 2019.
By February 2020, Cook County special prosecutor Dan Webb announced that a grand jury had indicted him on six new counts of disorderly conduct and lying to the Chicago Police Department.
He faces up to three years in prison, if convicted.
The fallout from the allegations led to Smollett's character, Jamal Lyon, being written out of Fox show Empire ahead of its 2020 series finale.
But while he waited for his day in court, Smollett had been keeping himself busy behind the scenes, working on his movie directorial debut, B-Boy Blues.
Variety reported in October 2020 that the film, based on James Earl Hardy's 1994 novel of the same name, went into production that month and would be produced by Smollett's SuperMassive Movies.
The plot follows the story of journalist Mitchell Crawford and bicycle messenger Raheim Rivers, who meet at a gay bar in New York City's Greenwich Village in the summer of 1993 and fall in love.
B-Boy Blues' title refers to a banjee boy, a term originating in New York City ballroom culture that describes a person embodying a tough swagger.
Smollet told Shadow and Act at the time the film was announced: "Like so many same-gender-loving, black men... B-Boy Blues was and continues to be a story that hits home for me in ways that not many people truly understand.
"With that said... it's truly a universal story about Black on Black love. I couldn't be more psyched to have this project be my feature film directorial debut. To have someone as iconic as James Earl Hardy, trust me, to bring his vision to life is an honor I don't take lightly."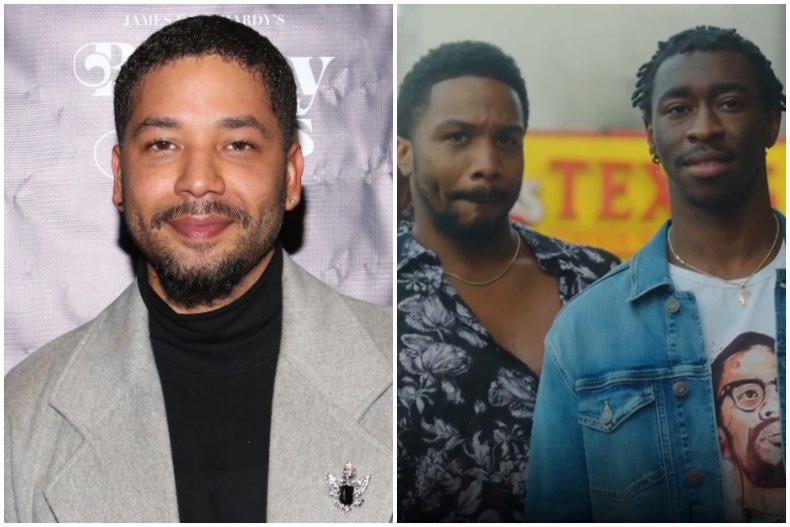 It is not known whether Smollett, who forfeited his $10,000 bail bond as repayment to the city for its investigation when his first set of charges were dropped in 2019, is currently on bail.
A bond is paid to ensure the defendant's presence at a trial.
In May 2019, The Associated Press reported that one of the conditions of the bail was that he didn't make any contact with the brothers who had accused him of paying them to stage the attack.
Given that the star is facing similar charges as before, it is likely that the pre-trial restrictions remain the same, allowing him to work on his project and attend its associated events.
On November 19, Smollett stepped out in New York City for the film's premiere, marking his first red carpet outing since the charges were filed against him.
Smollett has promoted the film on his Instagram account, where he wrote last week: "This film, this family, this story. This past weekend, we screened my feature film, directorial debut, @bboybluesthefilm for the first time with an actual audience. The reaction was overwhelming. So grateful to each person that came out.
"I have so many words of gratitude for so many, so I'm going to be spotlighting some of our incredible team who have made this project come together in the next few weeks and it starts with my friend, hero, and our King @james.e.hardy.9. James is the Father of this entire project. It started with a book that changed so many minds and made so many of us feel seen, heard and understood.
"Then there was the play (which is showing again this December so check out James page for updates). And folks got to see a new take on a classic that still means so much. Now it's a FILM and I'm honored to be able to usher this version in.
"Your faith and trust has been a light in my life when there was not much light in sight. To hear your words and know you are proud is all that has ever mattered to me. I speak for myself and so many others when I say... thank you. I love you for life."