Just One Member of George Floyd's Family Allowed to Attend Derek Chauvin Trial at a Time
Only one member of George Floyd's family will be allowed to attend the criminal trial of former Minneapolis police officer Derek Chauvin, who is charged in Floyd's death last May while in police custody.
"Judge Peter Cahill has announced that he will only allow ONE member of George Floyd's family to attend Derek Chauvin's criminal trial. After a deeply painful and emotional year, the Floyd family is understandably disappointed by this ruling," Ben Crump, an attorney for the Floyd family, said in a Tuesday tweet.
Hennepin County District Judge Peter Cahill has stated that only one member of either the Floyd family or the Chauvin family may be present in the courtroom during the trial.
"Different family members may rotate through that position, but only with the appropriate credentials to be admitted to the 18th floor," the Trial Management Order reads.
Crump said that although the Floyd family understands the circumstances of the trial taking place amid the coronavirus pandemic, many members of the family intended to be in the courtroom to witness the trial.
"While they understand the judge's reasons to limit attendance in the courtroom, the family is understandably disappointed by this ruling," Crump said in a statement shared with Newsweek. "The family is looking forward to the start of the trial as a critical milestone on the path to justice and a step toward closure in this dark chapter of their lives."
Floyd, a Black man, died after Chauvin, a white officer, knelt on his neck for nearly nine minutes during his arrest for allegedly using a counterfeit $20 bill.
A video of the incident went viral and sparked national and global protests against police brutality and systemic racism. Racial justice activists demonstrated in all 50 states over the summer.
Floyd was survived by his five children and two grandchildren, as well as his brothers and sisters, Philonise, Terrence, LaTonya and Bridgett, who became leading voices of protest in the wake of his death.
Chauvin's trial is scheduled to start next Monday, with jury selection and opening arguments to begin March 29.
He has been charged with second-degree murder and manslaughter. A Minnesota appeals court is considering reinstatement of a third-degree murder charge that was dismissed by Cahill last October.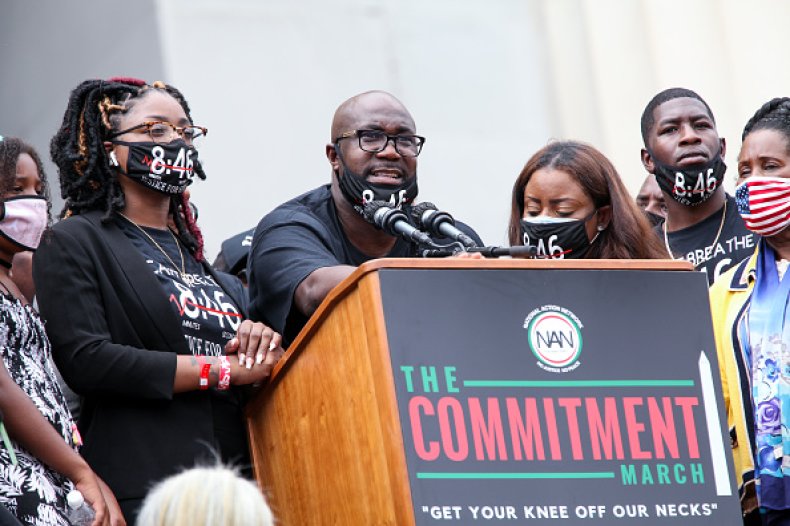 In his decision to throw out the charge, Cahill ruled that under Minnesota law, such a charge would require proof that Chauvin's conduct was "eminently dangerous to others," not just Floyd. He stood by the decision even after prosecutors requested the charge be added back, citing a conviction against another Minneapolis officer, Mohamed Noor, in the fatal shooting of Justine Ruszczyk.
The other three former officers involved in Floyd's arrest and subsequent death, Thomas Lane, J. Alexander Keung and Tou Thao, have been charged with aiding and abetting second-degree murder and manslaughter. Their trial is scheduled to start at the end of August.
Back in November, Cahill had ruled that all four former police officers should stand trial together, but backtracked after concerns that the county courtroom wouldn't have enough space to do so while following social distancing guidelines.
The Hennepin County Court told Newsweek that judges, including Cahill, cannot comment on their decisions outside of the court record, according to the Minnesota Code of Judicial Conduct.
The trial order also says spectators will be required to wear masks, keep 6 feet away from other persons and comply with all other COVID-19 prevention measures. The same will apply to jurors, potential jurors, witnesses and attorneys, although attorneys will be permitted to remove their masks when examining witnesses and when giving opening statements and closing arguments.