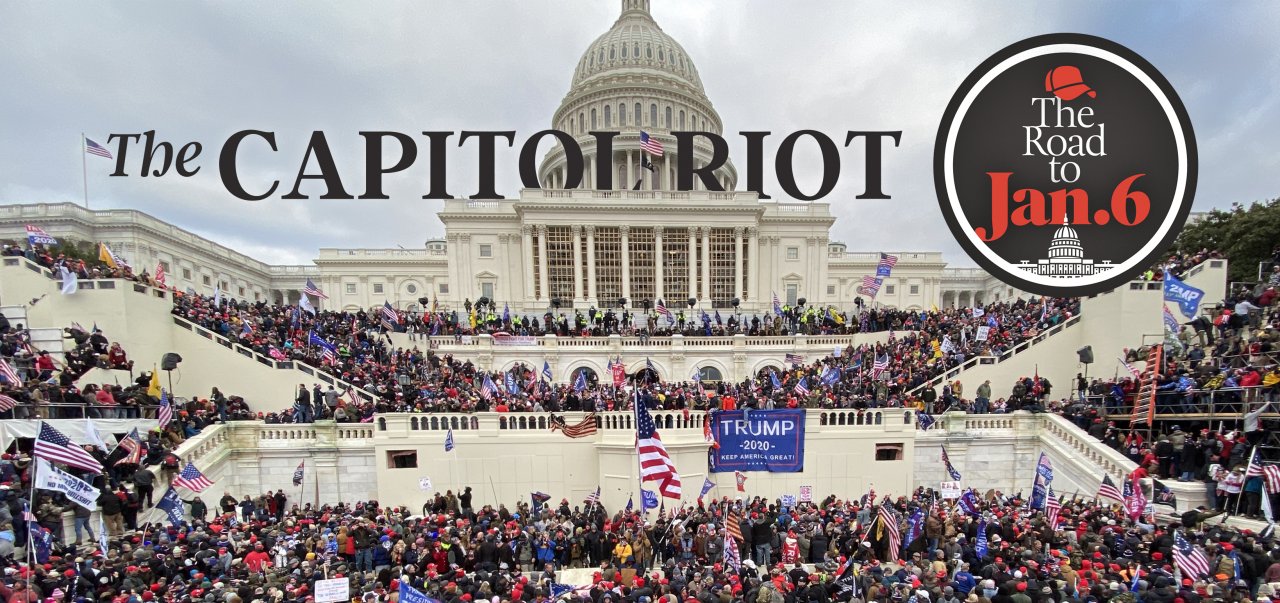 'Just Put Me In Charge,' Rudy Giuliani Told Donald Trump. 'They Stole This Thing'
In this daily series, Newsweek explores the steps that led to the January 6 Capitol Riot.
As the numbers moved towards Joe Biden on November 6, Donald Trump went on a Twitter rampage. His tweets, and those of this closest advisors, fed the belief that the election had been stolen and that Trump was truly the winner.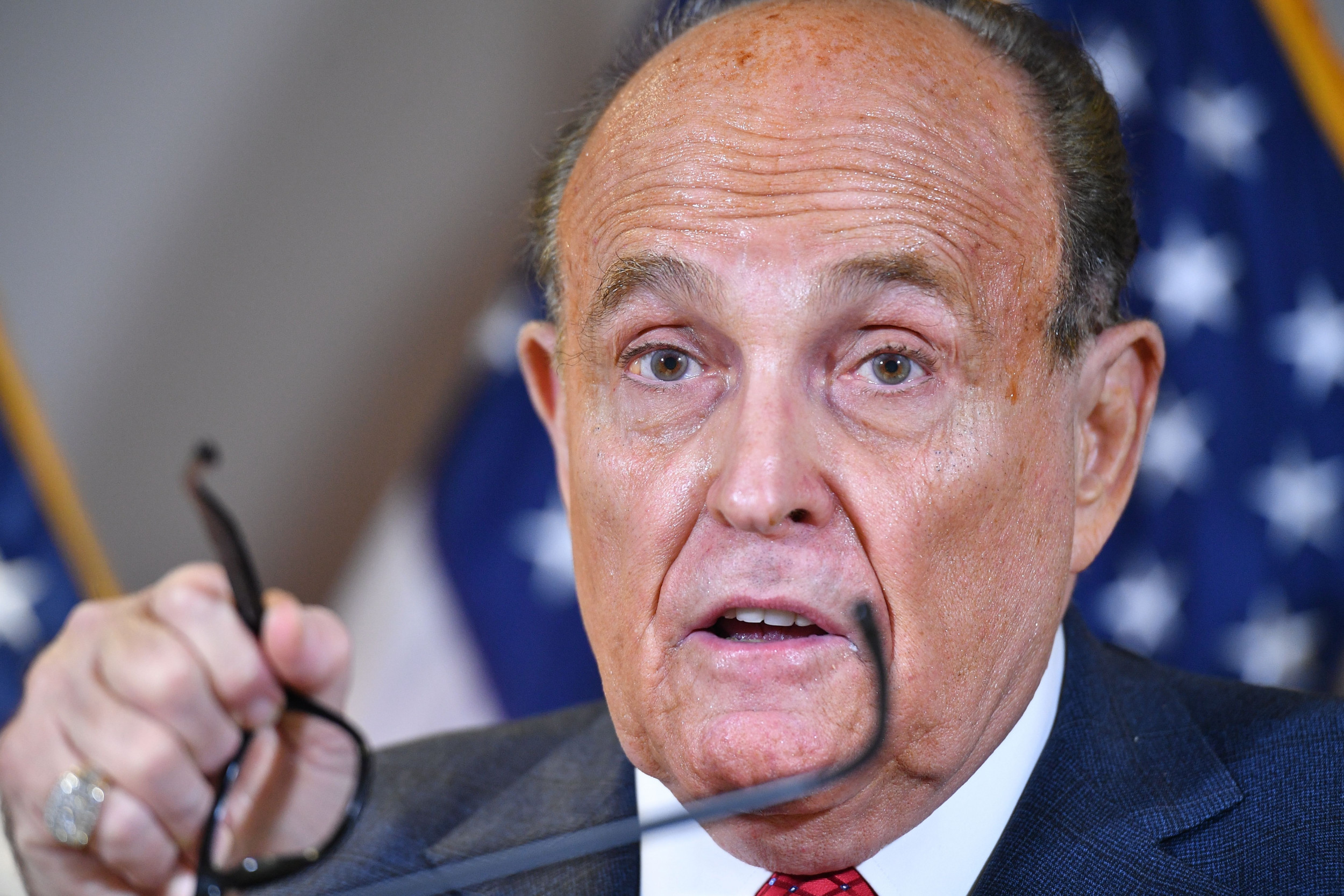 November 6, 2020
07:20:19
So now the Democrats are working to gain control of the U.S. Senate through their actions on John James, David Perdue, and more. Would End the Filibuster, Life, 2A, and would Pack and Rotate the Court. Presidency becomes even more important. We will win!
November 6, 2020
07:22:47
I easily WIN the Presidency of the United States with LEGAL VOTES CAST. The OBSERVERS were not allowed, in any way, shape, or form, to do their job and therefore, votes accepted during this period must be determined to be ILLEGAL VOTES. U.S. Supreme Court should decide!
November 6, 2020
16:28:39
This is what we know. We have to go back to the state level and how this morass came to be in the first instance. The Governor, Wolf, and the State Supreme Court, flagrantly violated the Constitution of the U.S. The power to set these rules and regulations is vested in the
November 6, 2020
16:28:41
....Legislature. They just ignored that, ignored the Constitution. Now we bring it down to the counting houses, and outrageously, observers, who are the sentinels of integrity & transparency, were excluded. Pennsylvania has conducted itself in a horrible lawless way, and....
November 6, 2020
16:28:42
....has been able to render decisions in a matter of days. Ken Starr, former Independent Counsel @Varneyco
November 6, 2020
16:28:42
....hopefully this will be corrected at the Supreme Court of the United States. Also, these late ballots past Election Day are illegal, exactly what the President has been saying. The Supreme Court, in extraordinary circumstances,...
November 6, 2020
16:37:01
With the attack by the Radical Left Dems on the Republican Senate, the Presidency becomes even more important!
November 6, 2020
17:38:17
Where are the missing military ballots in Georgia? What happened to them?
November 6, 2020
22:50:13
Joe Biden should not wrongfully claim the office of the President. I could make that claim also. Legal proceedings are just now beginning!
November 6, 2020
23:25:39
I had such a big lead in all of these states late into election night, only to see the leads miraculously disappear as the days went by. Perhaps these leads will return as our legal proceedings move forward!
During the day, Trump met with campaign officials and lawyers whom he had charged with looking into election results. Trump brought in Rudy Giuliani on a call. "They stole this thing," the former NYC mayor told Trump. "If you just put me in charge" we could fix it, Giuliani said.
Sidney Powell, a lawyer for the campaign and the former attorney for Michael Flynn, claimed on Fox Business a "likelihood that 3 percent of the total vote was changed in the pre-election, voting ballots there were collected digitally."
At 9:00 a.m., Trump tweeted: "STOP THE COUNT!" following up an hour later with "ANY VOTE THAT CAME IN AFTER ELECTION DAY WILL NOT BE COUNTED."
Donald Trump Jr. urged "total war" over the election results, tweeting: "The best thing for America's future is for Donald Trump to go to total war over this election to expose all of the fraud, cheating, dead/no longer in state voters, that has been going on for far too long."
Via Twitter, Rep. Paul Gosar (R-AZ) called on Arizona Governor Doug Ducey to "investigate the accuracy and reliability of the Dominion ballot software and its impact on our general election." That tweet helped spark a social media wildfire, drawing intense interest from accounts that regularly circulated QAnon-related content.
In Detroit, Michigan, more than 200 protesters, including militia movement members, gather to demonstrate. In Youngtown, Ohio, Trump supporters targeted a local news station for a protest. More protests took place in Arizona, Pennsylvania and Michigan.
Kelly O'Brien posted, "DO NOT GIVE UP THE GOOD FIGHT! Elections will not be stolen in this country. Not My Country. What it took to accomplish THE MIRACLE known as THE UNITED STATES OF AMERICA is amazing. Fight for this. Fight for your freedom. Fight for future generations. It's up to you. DO NOT GIVE UP! We will win this. Truth always prevails." The Pennsylvania woman would later go on to lead protests on January 6 and was arrested for entering the Capitol.
The COVID-19 pandemic made no concession to the political turmoil, and Washington D.C. was a district caught in the middle. Mayor Muriel Bowser issued Mayor's Order 2020-110, which modified the requirements for visitors coming into Washington DC and District residents returning to DC from any state or country that was not considered "low-risk." The new requirements required visitors and residents to use testing, in conjunction with other strategies for stopping the spread of COVID-19, to understand their potential exposure.
Meanwhile, White House Chief of Staff Mark Meadows, who had frequently appeared at public events without a mask, had been diagnosed with COVID-19, a source familiar with the situation told Reuters on November 6. It was not immediately clear when or how he had been infected.