Justice Department Bans Chokeholds, 'Carotid Restraints' Unless Deadly Force is Authorized
The use of chokeholds and other carotid restraints has been banned at the highest levels of federal law enforcement unless the use of deadly force is authorized.
The Department of Justice announced new policies on Tuesday that prohibit the FBI and other federal law enforcement entities from using neck restraints on suspects, except for limited circumstances where such force is approved—defined as "when the officer has a reasonable belief that the subject of such force poses an imminent danger of death or serious physical injury to the officer or to another person."
The department also said it would curb the use of "no-knock" entries where federal agents are allowed to execute a search warrant or set foot in a building unannounced.
Attorney General Merrick Garland said that the guidelines are aimed to help build trust and confidence between members of law enforcement and the public.
"The limitations implemented today on the use of 'chokeholds,' 'carotid restraints' and 'no-knock' warrants, combined with our recent expansion of body-worn cameras to DOJ's federal agents, are among the important steps the department is taking to improve law enforcement safety and accountability," Garland said in a statement.
The new rules come after a review of federal law enforcement agencies led by Deputy Attorney General Lisa Monaco. Monaco said Tuesday it was essential that the agencies adhere to a single set of standards on these matters.
"As members of federal law enforcement, we have a shared obligation to lead by example in a way that engenders the trust and confidence of the communities we serve," she added.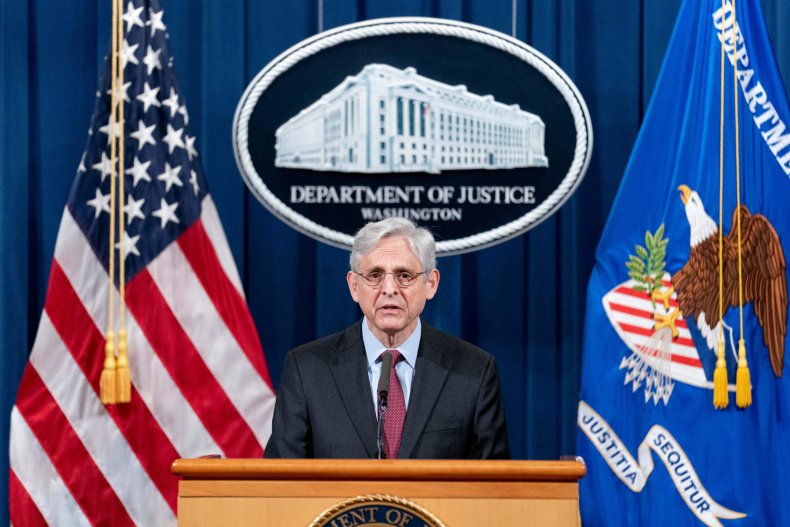 A push to ban chokeholds nationwide gained traction last year in the wake of George Floyd's death. Floyd died at the hand of Minneapolis police after former officer Derek Chauvin kneeled on his neck for roughly nine minutes.
The police killing was caught on video, as Floyd said "I can't breathe" more than 20 times. Chauvin was convicted of second-degree unintentional murder, third-degree murder and second-degree manslaughter. In June, he was sentenced to 22 and a half years in prison.
Since Floyd's death, at least 17 states have enacted legislation to prohibit or restrict the practice of chokeholds, according to the Associated Press. Before that, the AP reported, only two states had bans on hold techniques that restrict the airway or blood flow to the brain.
On Capitol Hill, House Democrats passed the George Floyd Justice in Policing Act which would ban chokeholds and end qualified immunity for officers. The bill has yet to be taken up for a vote in the Senate.
President Joe Biden has supported the George Floyd Justice in Policing Act. In a statement urging the passage of the bill, the White House said: "We cannot rebuild that trust if we do not hold police officers accountable for abuses of power and tackle systemic misconduct – and systemic racism – in police departments."
Newsweek reached out to the White House for comment on the Justice Department's announcement, but didn't receive a response before publication.