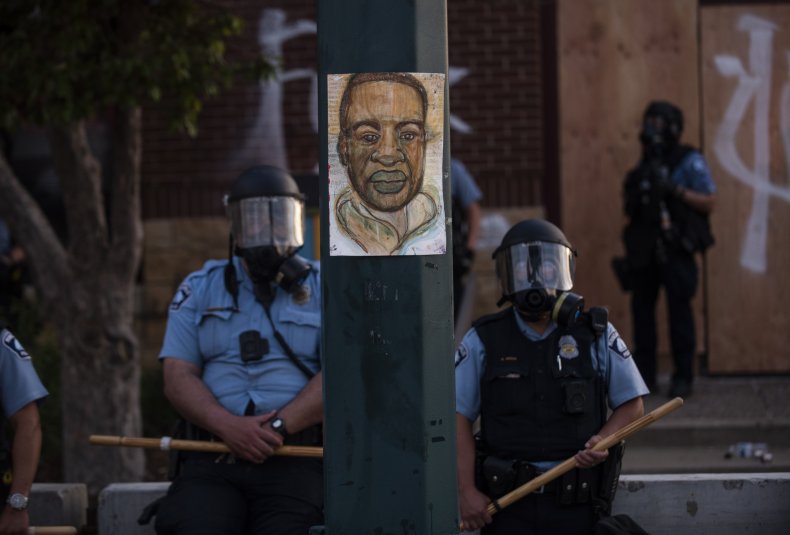 More than two million people have signed an online petition demanding justice for George Floyd in less than 48 hours, making it the fastest growing Change.org petition ever, according to the site.
The Change.org petition, titled "Justice for George Floyd," had been signed by more than 2.4 million people as of Thursday evening, two days after it was launched. The petition calls for the police officers involved in Floyd's death to be arrested and charged. The death of Floyd, a black man who died in police custody after being pinned to the ground by a white police officer on Monday, has sparked outrage and mass protests throughout the country.
"The George Floyd petition is the fastest growing petition on our site to date. It is amazing to see the petition gain over two million followers in just under 48 hours," a spokesperson for Change.org said in a statement to Newsweek. "In addition, there have been over 400 petitions started to advocate for George Floyd which is also an incredible milestone."
"This is truly a historic moment in our country and on our site," she added.
The petition, which calls for action from Minneapolis Mayor Jacob Frey and District Attorney Mike Freeman, has gained a new signature every two seconds. Change.org expects it to become their most-signed petition of the year.
"This has gone farther than I have ever imagined! I hope that this helps bring the justice for George Floyd and his family that they deserve," Kellen Sims, who started the petition, said in a statement.
The four officers involved in Floyd's death were fired on Tuesday but had not been arrested or charged as of Thursday. They were identified as Officer Derek Chauvin, Officer Tou Thao, Officer Thomas Lane, and Officer J Alexander Kueng.
A video of Floyd's death quickly went viral after being shared online earlier this week. The video shows Floyd being pinned to the ground by the knee of Chauvin, who ignores Floyd's repeated calls for help and complaints about not being able to breathe.
Floyd eventually loses consciousness. Pleas from bystanders who urge the officers to check his pulse fall on deaf ears. Chauvin's knee is finally taken off Floyd's neck just before paramedics haul his by-then lifeless body into a waiting ambulance.
"George was handcuffed and restrained and being completely cooperative when this all went down," the petition states. "The officer put his knee on George's neck choking him for minutes on minutes while George screamed that he could not breathe."
The Minneapolis Police Department said on Monday that Floyd had "physically resisted arrest" and seemed to be displaying "medical distress." However, a second video soon emerged, taken by the security camera of a nearby store, showing Floyd being arrested without any apparent resistance.
The Department of Justice and the FBI jointly announced Thursday that they would be launching a "robust criminal investigation" of Floyd's death.