Chuck Schumer Being Reprimanded by Chief Justice Roberts 'Hurts the Notion of Judicial Independence,' Say Legal Experts
Supreme Court Justice John Roberts' rebuke of Chuck Schumer over remarks he made at an abortion rights rally risked hurting "the notion of judicial independence" and "public faith" in America's top court, two senior lawyers have said.
The Obama-era U.S. attorney for the Northern District of Alabama, Joyce Vance said Chief Justice Roberts' comments released in a Wednesday statement risked damaging public faith in the Supreme Court's neutrality.
Gibson Dunn Partner Ted Boutrous added that Roberts should have "repudiated" President Donald Trump's attacks on Supreme Court Justices Sonia Sotomayor and Ruth Ginsburg last week, suggesting his failure to do so while blasting Schumer brought the court's impartiality into question.
Speaking to a rally outside the Supreme Court in Washington D.C. on Wednesday, Schumer named Justices Neil Gorsuch and Brett Kavanaugh as he railed against a Louisiana law being considered by the Supreme Court that would restrict access to abortions in the state.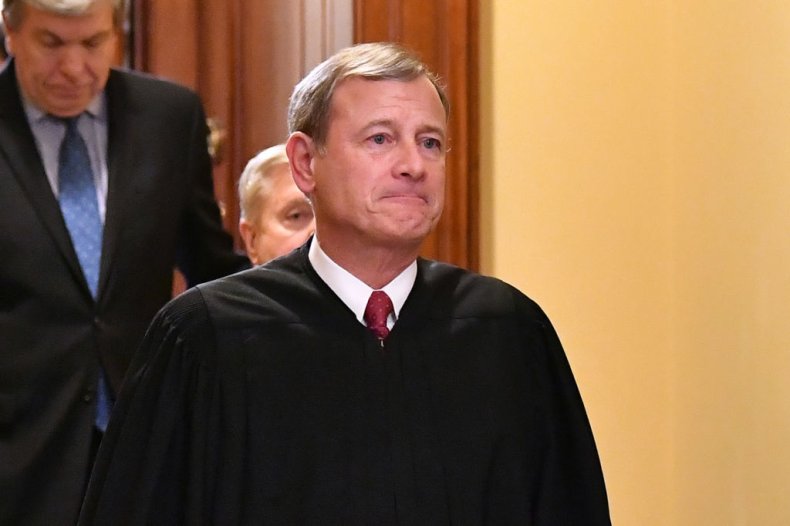 "I want to tell you Gorsuch, I want to tell you Kavanaugh, you have released the whirlwind and you will pay the price. You won't know what hit you if you go forward with these awful decisions," the Senate minority leader said.
Chief Justice Roberts slammed the Democrats' remarks, saying they were "dangerous" and "threatening" in his Wednesday statement.
Reacting to the Supreme Court Justice's letter, Joyce Vance tweeted: "Whether you think Schumer's comments were warranted or not, for Chief Justice Roberts to reprimand him, after permitting so much from Trump to go unacknowledged, will damage public faith in the neutrality of the Court he leads. This feels like a misstep."
Ted Boutrous, who has reportedly represented journalists in legal disputes over White House access, agreed with his fellow lawyer.
"The Chief Justice surely should have repudiated Trump's wholly unwarranted and improper attacks last week on Justices Ginsburg and Sotomayor," he wrote on Twitter.
"To respond to Schumer but not Trump (an egregious recidivist) hurts the notion of judicial independence."
Newsweek contacted the Supreme Court Public Information Office for comment, and will update this article with any response.
In his Wednesday statement on Sen. Schumer's (D-NY.) attack on Justices Gorsuch and Kavanaugh, Chief Justice Roberts said, "This morning, Senator Schumer spoke at a rally in front of the Supreme Court while a case was being argued inside."
"Justices know that criticism comes with the territory, but threatening statements of this sort from the highest levels of government are not only inappropriate, they are dangerous," he added. "All Members of the Court will continue to do their job, without fear or favor, from whatever quarter."
President Trump also weighed in against the Senate minority leader, accusing him of "threatening" the Supreme Court and its Justices in a Wednesday tweet.
"This is a direct & dangerous threat to the U.S. Supreme Court by Schumer," the president said. "If a Republican did this, he or she would be arrested, or impeached. Serious action MUST be taken NOW!"
In a statement sent to Newsweek yesterday, Sen. Schumer's office said he was not making physical threats toward either Kavanaugh or Gorsuch.
President Trump posted his comments on Schumer a little more than a week after he called for Supreme Court Justices Sotomayor and Ginsburg to be recused from any cases involving him or his administration.