While it might not rub every fan the right way, the NFL has become an increasingly pass-centric league. Quarterbacks usually get most of the hype—they're the ones with the ball in their hands, after all—but receivers have also reaped the rewards of that evolution. Not that someone like Justin Jefferson needed much promotion.
During his three full seasons in Minnesota, the Vikings wideout has proved to be a genuine star. And while you might think that would make the club desperate to tie him down with a long-term contract, a proper extension is yet to arrive. That, in turn, has some fans fearing the worst.
But does speculation about a Justin Jefferson trade have no basis in reality? Or is there legitimately something brewing behind the scenes?
Let's break things down.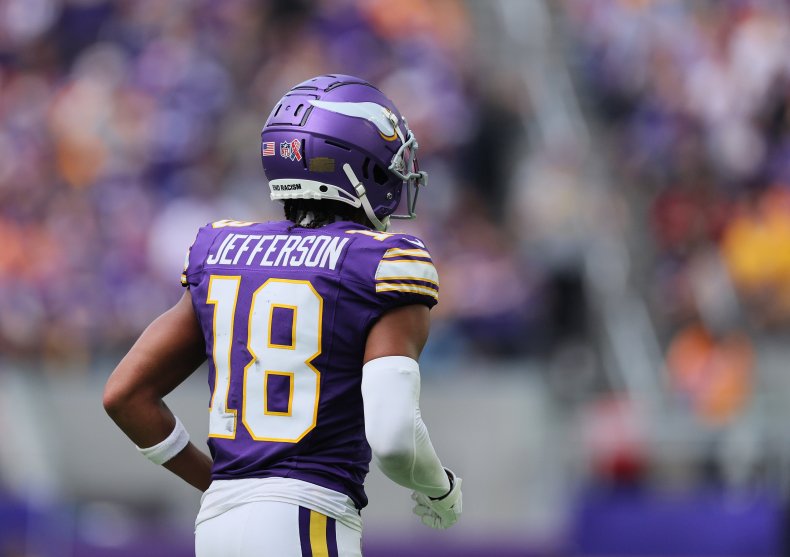 Justin Jefferson Contract: What is the Receiver's Current Deal?
No matter the sport, trade rumors tend to start circulating when a player nears the end of their contract. No team wants to lose a key asset for free and trading them away helps to recoup some value. Justin Jefferson, however, has some time left before he hits free agency.
The receiver is currently in the fourth year of his rookie deal, but the Vikings do have an extra buffer beyond that. In April 2023, the club picked up Jefferson's fifth-year option, meaning he'll remain under contract through the 2025 season.
That doesn't preclude an extension, though, and talks have begun on that front. As we'll get to shortly, though, nothing has materialized just yet.
Justin Jefferson Salary: Money is Another Piece of the Puzzle
Term is just one part of the contractual puzzle. As holdouts remind us every offseason, the financial compensation also matters. No one wants to be paid less than they feel they're worth, especially when things have changed since they put pen to paper.
Jefferson's salary reflects that.
As the 22nd pick of the 2020 NFL draft, the LSU product has developed into one of the NFL's top wide receivers. His 2022 campaign (128 catches for 1,809 yards and eight touchdowns) earned him AP Offensive Player of the Year honors. Due to his rookie contract, though, Jefferson only took home approximately $3.6 million. His entire four-year deal was worth a shade over $13 million.
And while his fifth-year option does up the ante—Spotrac pegs its value at $19.74 million —Jefferson will want a long-term deal with wages that reflect his performance. If we go by the standard set by Davante Adams and Tyreek Hill, that's more than $26 million in total cash per season.
Contract Talks Started but a New Deal Hasn't Arrived
Given that the Vikings have Jefferson under contract through the end of next season, you might give the club a metaphorical gold star for starting work on a contract extension so early. A deal, however, hasn't materialized yet.
In February 2023, general manager Kwesi Adofo-Mensah said that extending the club's star receiver was a "high priority." According to ESPN's Kevin Seifert, the executive even went as far as saying: "I don't want to be the Vikings' GM without that guy on our team."
Despite that statement, nothing was agreed during the offseason. According to ESPN's Adam Schefter, that places things on hold until after the 2023 campaign.
Has Justin Jefferson Spoken About His Future?
While some players choose to rock the boat and actively push for a trade, Jefferson hasn't done that. For the most part, his comments about the contractual situation have been rather low-key.
According to a CBS News write-up, the receiver started training camp with his focus on a bigger target. "Really, I'm about winning a Super Bowl," he explained. "Just getting the wins and being with my team. The contract is going to play itself out, and I'm just out here to play football."
Even when talks broke down, the receiver didn't make any public demands. If you're feeling cynical, though, you could argue that he was suggesting the Vikings brass were dragging their collective feet.
"Of course I would want a contract to be done," Jefferson said days before the 2023 season opened, as recorded in an ESPN piece. "But at the end of the day, it is all up to them and what the ownership want to do with that."
Then, ahead of Week 2, the receiver made the most (potentially) concerning statement yet. As Joe Nelson laid out on SI.com, Jefferson was asked if he thought contract talks would resume in-season or be paused until March.
"That's up to them. I'm here to play football," he responded.
The question was then clarified, with the focus shifting to Jefferson's potential interest in talking during the campaign.
"I have no idea at this very moment. I don't know," the receiver said.
What's the Issue Between Jefferson and the Vikings?
Without sitting at the bargaining table, it's tough to know exactly where talks between Jefferson and the team broke down. ProFootballTalk's Mike Florio, however, does have an idea.
"As PFT has noted on several occasions, the holdup likely traces to Minnesota's guarantee structure," he wrote. "The team refuses to vest full guarantees a year early (with, for example, 2025 payments becoming fully guaranteed in March 2024). An exception was made for quarterback Kirk Cousins. Jefferson reasonably believes an exception should be made for him."
It remains to be seen if they'll compromise on that potential sticking point.
Does a Justin Jefferson Trade Even Make Sense?
While "make sense" is a loaded phrase—what's obvious to one fan is a terrible idea to another—there is a clear case for both sides of the argument.
Those in favor of keeping Jefferson cite his all-league talent. If you've got a game-changing player on your roster, it would be foolish to actively get rid of him. The organization should get him tied down to a long-term deal, and then build around him.
The contractual situation also works in Team Keep Jefferson's favor. If the receiver is tied down through 2024, there's no reason to make a snap decision.
But what about the case for trading Jefferson? That brings in a bit of additional context.
Quarterback Kirk Cousins has spoken about a desire to stay in Minnesota, but he's eligible to hit unrestricted free agency in 2024. It's also worth noting that he's no longer a young man and that Minnesota doesn't exactly have a succession plan in place.
Some, like Florio, believe it's more important to have a franchise quarterback than a star wide receiver. Add historical precedent—the Vikings traded Randy Moss, Percy Harvin and Stefon Diggs away despite their talent—and the fact that no team wants to lose a talent like Jefferson for free, and you've got the recipe for a potential deal.
And when you consider the 2024 NFL Draft's haul of top-tier quarterbacks, the potential appeal for moving up gets stronger.
Justin Jefferson Was Not Traded to the Bengals
If you're poking around online, you may see references to a trade sending the Vikings' star receiver to Cincinnati to team up with his old teammates, LSU Joe Burrow and Ja'Marr Chase. And while that would be exciting for neutrals, it hasn't happened.
There was a hypothetical discussion of such a deal on Reddit in 2022, but things never went much further than that. There was also a 2023 April Fool's joke shared on TikTok, announcing the trade had taken place, but the hashtags on the post, which included #AprilFools, #nflprank and #nflmemes, helped connect the dots.
Could Jefferson move to Ohio in the future? Anything is possible, but it's likely that the Bengals will have their focus on extending their existing receivers rather than bringing in additional reinforcements.
Uncommon Knowledge
Newsweek is committed to challenging conventional wisdom and finding connections in the search for common ground.
Newsweek is committed to challenging conventional wisdom and finding connections in the search for common ground.
About the writer
Joe Kozlowski is a Newsweek reporter based in New York City. His focus is reporting on trending sports stories. Joe joined Newsweek in 2023. He is a graduate of NYU's Gallatin School of Individualized Study. You can get in touch with Joe by emailing j.kozlowski@newsweek.com.
Languages: English.