Police investigating the fatal shooting of rapper Young Dolph have named a suspect and issued a warrant for his arrest.
Young Dolph, real name Adolph Robert Thornton Jr., was shot and killed on November 17 at bakery Makeda's Homemade Cookies in Memphis, Tennessee. The 36-year-old musician, a father of two, was pronounced dead at the scene.
The Memphis Police Department has now named Justin Johnson, 23, as one of two suspects, revealing that he was wanted on first-degree murder.
According to a post on the police department's Twitter page, they have joined forces with the U.S. Marshals Service, Crime Stoppers and the Tennessee Bureau of Investigation to offer a reward of up to $15,000 for information leading to Johnson's arrest.
"He has the name 'Jaiya' tattooed on his right arm," the Marshals Service said. "Johnson has ties to organized criminal gangs and should be considered armed and dangerous."
Johnson, who the Marshals Service says has been added to the Tennessee Bureau of Investigation's "Most Wanted" list, is described as standing at about 5 feet and 8 inches tall and weighing 190 pounds.
Within a day of the shooting, surveillance photos of two suspects were released, showing them with their faces partially covered as they brandished firearms. Young Dolph was shot several times before the gunmen fled the scene.
Maurice Hill, owner of Makeda's Cookies, where the shooting took place, told local Fox affiliate WHBQ-TV that Young Dolph was shot inside the store by a person who drove up outside the business premises.
Makeda's said in a statement following the fatal shooting that it would be briefly closing as a result of the "senseless tragedy."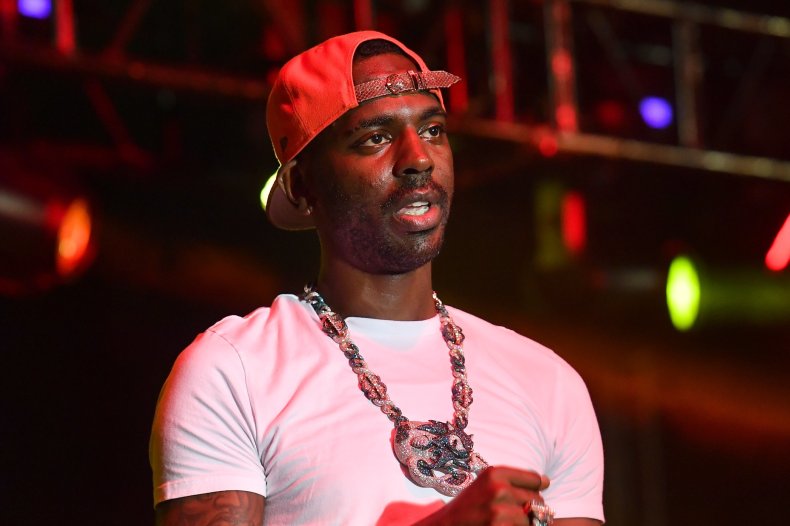 "We are heartbroken and saddened by the passing of Young Dolph. He was a regular customer and loved Makeda's Cookies. Our hearts and condolences go out to his family," read a post on the business' Facebook page.
Days after the "Major" rapper's death, his family released a statement thanking fans for their support.
"There are no words that exist, that sufficiently express the pain we are feeling as a family. Losing Adolph, Dolph, Man-Man, changes our lives forever," read the statement.
"And while we will take each day as it comes, we are comforted in knowing that he leaves a legacy that reflects his heart," the statement continued. "A heart that was for his family. A heart that was for the people.
"We are grateful for the outpouring of love. We are grateful that his godly obligation to show kindness to the world is being acknowledged.
"As a family, we were blessed to call him our son, our nephew, our brother, our cousin, our partner and our Father. And now, we have the honor of calling him our angel. A role he has always played."
Young Dolph, who was born in Chicago and raised in Memphis, was known for his local philanthropic efforts and had handed out Thanksgiving turkeys days before his death.