Justin Timberlake Apologizes to Britney Spears and Janet Jackson for 'Not Speaking Up'
Justin Timberlake has seen all the messages, comments and backlash that has spawned against him in light of the recent Hulu documentary, Framing Britney Spears.
The singer and actor issued an apology on Friday for the role that he played in the demonization of Spears, whom he dated from 1999 to 2002, and he also offered an apology to Janet Jackson, who faced backlash after her nipple was exposed during her 2004 Super Bowl halftime performance alongside Timberlake.
"I am deeply sorry for the times in my life where my actions contributed to the problem, where I spoke out of turn, or did not speak up for what was right. I understand that I fell short in these moments and in many others and benefited from a system that condones misogyny and racism," Timberlake wrote in a message shared on Instagram. "I specifically want to apologize to Britney Spears and Janet Jackson both individually because I care for and respect these women and I know I failed."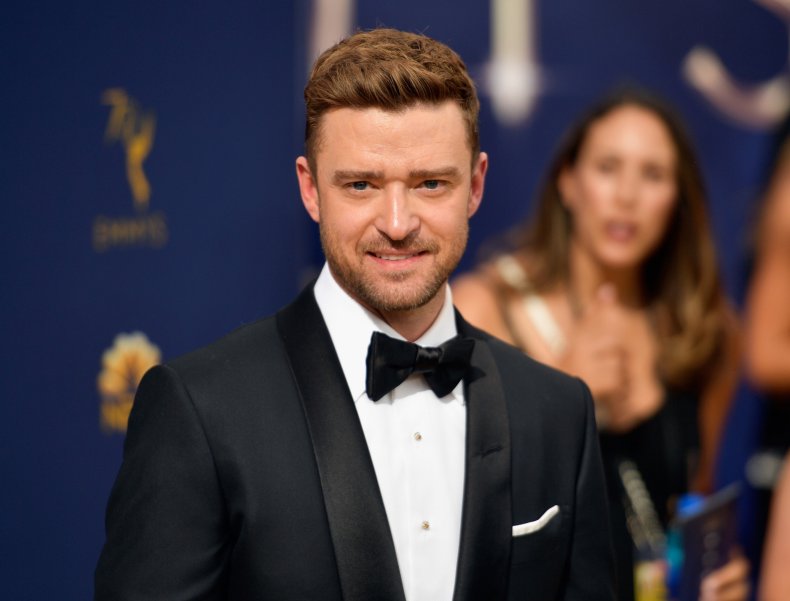 The Palmer star went on to write that he felt "compelled" to respond to the angry tweets and messages that have been shared online against him because "everyone involved deserves better and most importantly, because this is a larger conversation that I wholeheartedly want to be part of and grown from."
"The industry is flawed. It sets men, especially white men, up for success. It's designed this way. As a man in a privileged position I have to be vocal about this. Because of my ignorance, I didn't recognize it for all that it was while it was happening in my own life but I do not want to ever benefit from others being pulled down again," he continued. "I have not been perfect in navigating all of this throughout my career. I know this apology is a first step and doesn't absolve the past. I want to take accountability for my own missteps in all of this as well as be a part of a world that uplifts and supports."
Timberlake concluded: "I care deeply about the wellbeing of the people I love and have loved. I can do better and I will do better."
The most recent wave of criticism against Timberlake came following the release of the Hulu documentary on Spears, which tracks the singer's career highs and lows that ultimately led to her 2007 breakdown and ongoing conservatorship battle. The documentary also shines a light on the sexist treatment that Spears has received from the media throughout her career.
At the time of their relationship, Timberlake publicly admitted to sleeping with Spears after she claimed in interviews that she was saving herself for marriage. And upon their breakup, Timberlake insinuated that the pop star cheated on him. He continued to capitalize on that narrative in his song "Cry Me a River," from his triple-platinum 2002 album Justified. A Spears lookalike even appeared in the single's music video.
Along with Timberlake, Diane Sawyer has also come under fire lately, specifically for her treatment of Spears during a 2003 interview, which recently resurfaced online. In the interview, which occurred shortly after Spears and Timberlake's split, Sawyer probed a then-22-year-old Spears about her sex life and suggested that Spears broke Timberlake's heart.
"You broke his heart. You did something that caused him so much pain, so much suffering. What did you do?" Sawyer asked at the time.
Despite him trying to accept some accountability, Timberlake's apology wasn't received positively by everyone. Some people on social media said that his efforts were a little too late.
"I'm not going to forgive #JustinTimberlake anytime soon, especially since he's only apologising [sic] because of all the pressure that's been put on him. I would have respected him a lot more if he had come forward of his own accord," one person tweeted on Friday.
"Almost 20 years later and that's the best Justin Timberlake can come up with?" another wrote.
Timberlake did receive some support from fans who commended him for finally stepping up and speaking out.
"A @jtimberlake apology is the first step in moving forward. An individual acknowledging a flaw, expressing remorse and pledging to positively change. So I applaud #JustinTimberlake. Cancel culture kills and should not replace real and meaningful progress," one Twitter user wrote.
Updated 2/12/2021, 1:32 p.m. ET: This article and headline have been updated with additional context about Timberlake's apology and the conversation around Spears' treatment in the media.
Updated 2/12/2021, 1:57 p.m. ET: This article was further updated to include reactions to Timberlake's apology from people online.