Justin Trudeau Emulates Obama With a Feminism Essay of His Own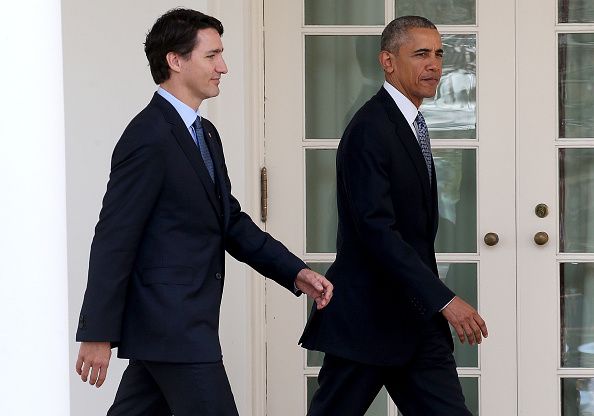 There's a new model of male Western world leader who proudly proclaims himself a feminist in the pages (or web pages) of a women's magazine. First came President Barack Obama, who penned an essay for Glamour on his last birthday in office in August 2016. His buddy to the north, Canadian Prime Minister Justin Trudeau, has followed in his footsteps. His essay for MarieClaire.com, "Why I'm Raising My Kids to Be Feminists," was published on Wednesday in honor of International Day of the Girl.
Related: Why it matters when Obama calls himself a feminist
"I am in politics because every day, I get to work to make the world a little better—for my kids, and for yours," writes Trudeau. He describes his "brilliant, compassionate" 8-year-old daughter Ella-Grace, who he worries "will grow up in a world where, despite everything she is as a person, there will still be people who won't take her voice seriously, who will write her off—simply because of her gender."
Like Obama, the main point of his essay has more to do with the importance of men and boys being feminists, especially Trudeau's sons, Xavier and Hadrien, who are almost 10 and 3, respectively.
"Gender equality is not only an issue for women and girls. All of us benefit when women and girls have the same opportunities as men and boys—and it's on all of us to make that a reality," Trudeau writes. "Feminism is not just the belief that men and women are equal. It's the knowledge that when we are all equal, all of us are more free."
If that sounds very familiar, perhaps it's because Obama's essay ended with pretty much the same line. The former U.S. president wrote: "That's what twenty-first-century feminism is about: the idea that when everybody is equal, we are all more free."
Obama recalled his own experience growing up without a father. "It's easy to absorb all kinds of messages from society about masculinity and come to believe that there's a right way and a wrong way to be a man," he wrote. "But as I got older, I realized that my ideas about being a tough guy or cool guy just weren't me. They were a manifestation of my youth and insecurity. Life became a lot easier when I simply started being myself."
Trudeau wrote about working to make sure his sons grow up with that idea in mind early on. "I want my sons to escape the pressure to be a particular kind of masculine that is so damaging to men and to the people around them," he said in his essay. "I want them to be comfortable being themselves, and being feminists—who stand up for what's right, and who can look themselves in the eye with pride."
The Canadian prime minister's echo of Obama's essay comes at a time when Obama's successor is about as likely to declare himself a feminist as he is to admit a woman beat him in the popular vote. Donald Trump infamously was caught on tape saying that as a star, he could do whatever he wanted to women—"grab 'em by the pussy." Yet the country still elected Donald Trump. What was that again about the younger generation building a new world free of sexism?
So even though penning a feminism essay as a liberal male leader isn't quite groundbreaking—and could even be perceived as a calculated move to burnish a politician's image—isn't it nice to be reminded there's still a country out there, not too far away, whose leader would rather talk to his sons about feminism than talk to anyone about grabbing women by their genitals?