Justin Trudeau Lookalike Discovered in Afghanistan Talent Show: 'The Resemblance Has Boosted My Chances of Winning by 50%'
When he won the support of voters to become prime minister of Canada, Justin Trudeau's youthful good looks and easy charm were touted as key weapons that allowed him to best his rivals.
But the question on everyone's lips is whether his famed handsomeness would be enough to win a talent show in Afghanistan. Thanks to the Canadian's newly-discovered doppelganger, we will soon find out.
Read More: Justin Trudeau declines to insult Donald Trump after request to "push him off a cliff" from town hall attendee
Abdul Salam Maftoon—a 29-year-old wedding singer from a village in the remote and impoverished province of Badakhshan in the northeast of Afghanistan—has shot to worldwide attention after a judge on the Afghan Star music contest pointed out the similarities between him and Trudeau.
His musical abilities have carried him into the latter stages of the competition, but he now hopes the striking bone structure, dark hair and bright eyes he shares with the Canadian prime minister will boost his chances of taking the top prize. One notable difference is Maftoon's gleaming golden front teeth, a level of bling the Canadian prime minister is yet to reach.
Maftoon told AFP, "People have forgotten my name and now they just call me 'Justin Trudeau.'" He said he didn't know anything about his Canadian lookalike until he saw photos comparing the two of them on social media.
Afghan-born Canadian musician Qais Ulfat, who is one of the four judges, told the BBC he first noticed the resemblance while training the show's 12 finalists. "I noticed he looked a lot like my prime minister," he explained. "So I started giggling around with the host."
Later, the similarity was pointed out on air and the comparison went global. "He's gone viral," Ulfat said. "Everyone's talking about him on social media."
The conversation between the Afghan Star judges noting the similarities between Trudeau and Maftoon has been watched tens of thousands of times on Facebook as his fame spreads.
Maftoon was one of eight competitors to make it through to the next round of performances on Thursday, and now believes "the resemblance has boosted my chances of winning the competition by 50 percent." The final will be held on March 21.
He has won over many supporters with his gentle folk songs, delivered in the Dari and Pashto tongues—both of which are official languages in the country. "His voice is very satisfying. He has that god-gifted vocal ability, Ulfat said. "This guy could be the next Justin Bieber."
But even if he doesn't emerge victorious and become a superstar, Maftoon is confident his new-found fame will make life better. He currently relies on performances at weddings and birthday parties to support his wife and their four children, but his stint on Afghan Star could well make him a highly sought-after act.
"When I go back to my hometown people will definitely call me," Maftoon told AFP while he practised with Ulfat.
Though his ambitions right now are focused on winning the competition, Maftoon said he would certainly like to meet his doppleganger one day in the future. "I want to meet him if he wants to because he is a global personality and I am a poor man from a remote part of Afghanistan," he said. "We will see what happens."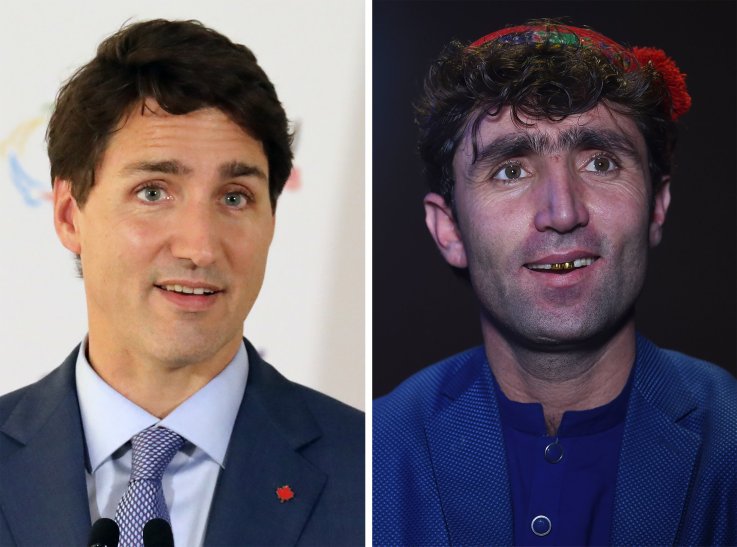 Justin Trudeau Lookalike Discovered in Afghanistan Talent Show: 'The Resemblance Has Boosted My Chances of Winning by 50%' | World