Justin Trudeau Scandal: Canadian Media Compares Prime Minister's Actions to Donald Trump's
An escalating scandal engulfing Canada's Prime Minister Justin Trudeau's government has been compared by Canadian media to some of the allegations plaguing President Donald Trump.
"On its face, Trudeau is accused of the same malfeasance attributed to Trump—meddling in the wheels of justice for political gain," Canada's The National Post newspaper wrote in an analysis.
Trudeau's government is accused of inappropriately putting pressure on former Justice Minister Jody Wilson-Raybould to drop an investigation into SNC-Lavalin Group Inc. The large engineering and construction firm has been accused of fraud and corruption in connection to about $48 million in payments made to officials from the Libyan government between 2001 and 2011. The Canadian prime minister and other officials allegedly pressured—and even possibly threatened—Wilson-Raybould to avoid pursuing the case, arguing it would damage the economy and cost jobs.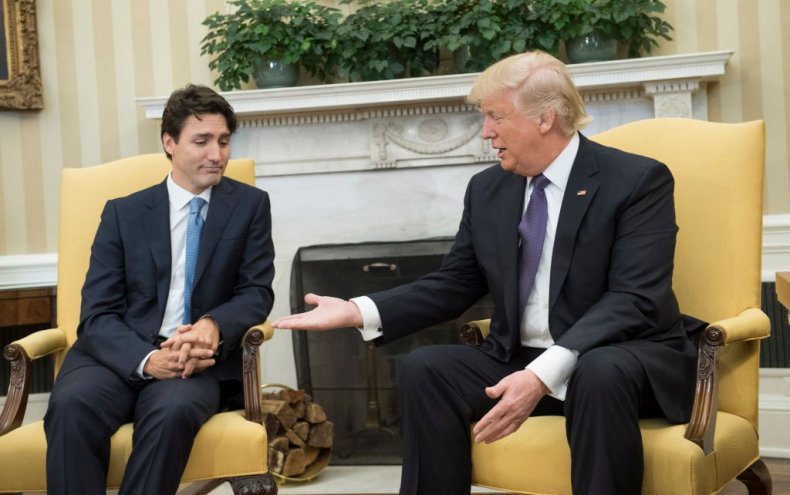 Wilson-Raybould said she directly asked the prime minister in a meeting: "Are you politically interfering with my role as attorney general?" warning him that she "would strongly advise against it." She said he replied by saying, "No, no, no. We just need to find a solution." Wilson-Raybould continued to pursue the case, but after a few months she was demoted to the post of minister of veterans affairs.
The National Post compared the case to Trump's alleged interference in the investigation led by special counsel Robert Mueller into accusations that the president's 2016 campaign team colluded with Russia. Trump's decision to fire FBI director James Comey as well as alleged statements he made to FBI leaders have drawn significant political and media scrutiny, with opponents arguing the president has obstructed justice.
Trudeau has insisted that he's done nothing wrong, but the political opposition has called for a full investigation and his resignation.
"Justin Trudeau simply cannot continue to govern this country now that Canadians know what he has done and that is why I am calling on Mr. Trudeau to do the right thing and to resign," Conservative leader Andrew Scheer, who plans to run against Trudeau in Canada's upcoming October election, said at the end of February.
Following Wilson-Raybould's lead, Treasury Board President Jane Philpott resigned from her cabinet post on Monday.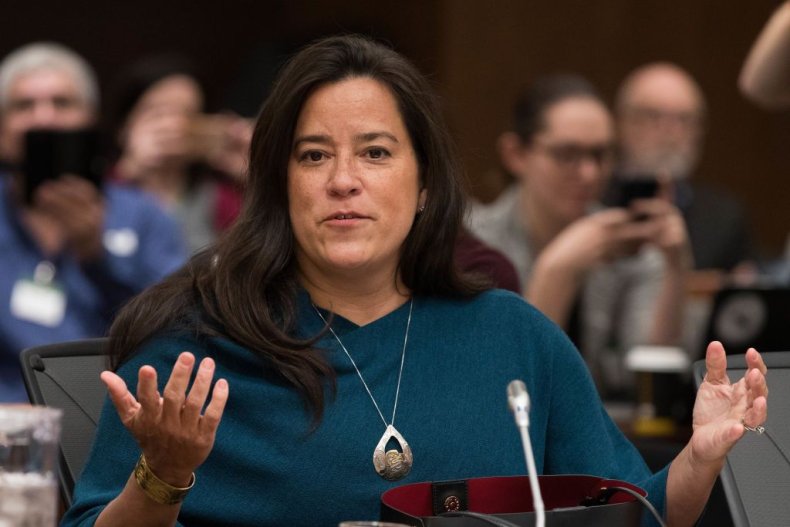 "It is a fundamental doctrine of the rule of law that our attorney general should not be subjected to political pressure or interference regarding the exercise of her prosecutorial discretion in criminal cases," she wrote in her resignation letter.
Rocco Galati, a Toronto-based lawyer, told The National Post that Trudeau "and his staff…were obstructing a legal proceeding," arguing they broke the law. But other legal experts disagree. "Prime ministers are free to dismiss, appoint and shuffle cabinet as they please," Philippe Lagasse, a Carleton University Westminster expert, told the newspaper.
As for Trudeau, he has chalked up the scandal to a simple difference of opinion until now.
"This matter has generated an important discussion," the prime minister told supporters at a Monday evening rally, the CBC reported. "How our democratic institutions, specifically the federal ministry and the staff and officials that support it, conduct themselves is critical and core to all of our principles," he said.