Choi Min-sik Teases His 'Big Bet' Character's Fate and Hollywood Future 
Big Bet, the gripping new K-drama on Disney+ and Hulu about the rise and fall of a ruthless Korean casino mogul, returned in February for its second season.
The gritty Korean crime drama—the most watched locally produced original series on Disney+ in Korea during its premiere week—follows the story of Cha Moo-sik, a formidable hotel and casino owner played by veteran Korean actor Choi Min-sik. Moo-sik later unexpectedly finds himself at the center of a murder case.
Choi—akin to the Robert De Niro of the Korean acting industry for his legendary status and long-standing career—first gained international fame following his starring role in the noir action thriller Oldboy, which bagged the prestigious Grand Prix award in Cannes. The movie, which got a Hollywood remake by director Spike Lee in 2013, marks its 20th anniversary this year since its release in 2003.
Big Bet sees Choi joined by a star-studded cast, including Son Suk-ku (recently seen in My Liberation Notes and D.P. on Netflix) and Squid Game's Screen Actors Guild nominees Heo Sung-tae and Kim Joo-ryung.
A Return to Television Over 25 Years Later
Speaking to Newsweek from Seoul, the South Korean capital, the 61-year-old actor said that even after around 40 years in the business, he still finds himself getting nervous in front of a camera.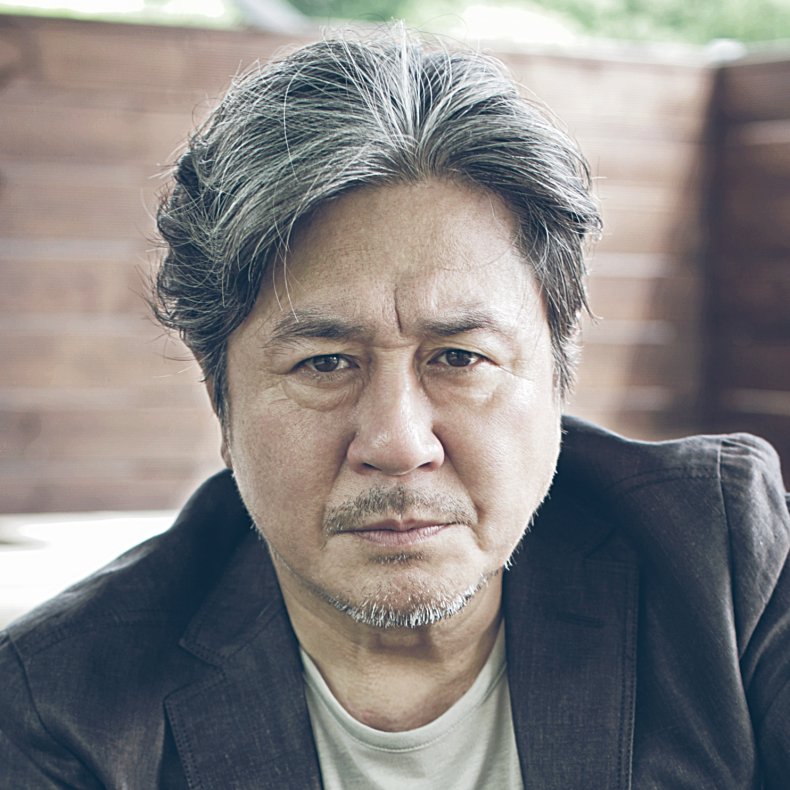 "I always get nervous," said Choi in a humble, soft-spoken voice. "It's not just nerves in a physical sense, but it's more of a sense of excitement about getting to portray a new character. Similar to the butterflies you feel when you're about to see your girlfriend—it's always exciting," he described, flashing a boyish shy grin.
Choi's latest venture may have come with more nerves than usual, as Big Bet marks the acting legend's first series appearance in more than 25 years.
So, why was there such a long wait and what made him want to return to television after all these years?
Choi noted that while there's been hype around the fact that he was appearing in a series for the first time in decades, "to be honest, I didn't place that much significance on that. It [Big Bet] was just a different media platform to me. So the approach to my acting wasn't going to be any different. For both television and films, I'm just trying to develop a character, so it's all the same hard work."
The Oldboy actor revealed he did miss having the space to play out a role more extensively, "to be able to say everything I wanted to say" through a character, in the way that is allowed by series projects.
"So I was very happy with being able to do this through 16 episodes across the two seasons of Big Bet," he said.
The Fate of His 'Brutal' Character in Big Bet
Choi's illustrious career has seen him take on a variety of eclectic roles, from gangster types to historical figures, such as the real-life Korean Admiral Yi Sun-shin in the epic action war movie The Admiral: Roaring Currents, the most-watched and highest-grossing film in Korean cinema history.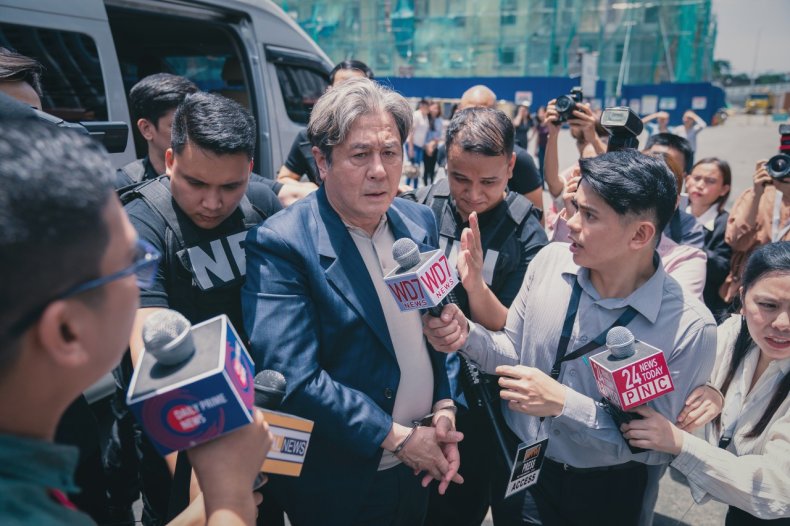 His latest character in Big Bet was a new kind of role for him, Choi said. "The way I work, I don't tend to draw inspiration from elsewhere but rather I draw on my own experiences in life. This character was a new type of role for me. But once I read the script, I felt like I could understand him, so it wasn't too difficult to relate to him."
With an insatiable hunger for wealth, Moo-sik grew up doing whatever it takes to rake in the money, from gambling to hustling and everything in between. He ends up in the Philippines, where he establishes himself as a casino kingpin before he's later accused of murder. Faced with some impossible choices, Moo-sik makes the biggest bet of his life in a bid to keep the world he so carefully built from crumbling.
Asked whether Moo-sik is a hero or a villain, Choi said: "He's just a very ordinary man. It's just the circumstances of life that make him sometimes a villain and sometimes a good guy. He wasn't born a bad guy.
"I don't think a person can be either good or bad. People are complex and that's what I tried to convey through this character," he added.
The situations that Moo-sik comes across within the casino "really resembles our own lives as well," Choi said, in that we face all sorts of people, both good and bad, in our lifetime, which frames our lives.
Choi could relate to Moo-sik in that: "People are a concoction of different colors, we don't live our lives with just one thought or view on things. You come across so many different people and from that your own thinking can undergo changes."
In the series, Choi said you get to see how Moo-sik has "a sense of brotherhood" and is "very loyal to his people." It's only when his money or self-gain is compromised in some way do you see his "brutal" side.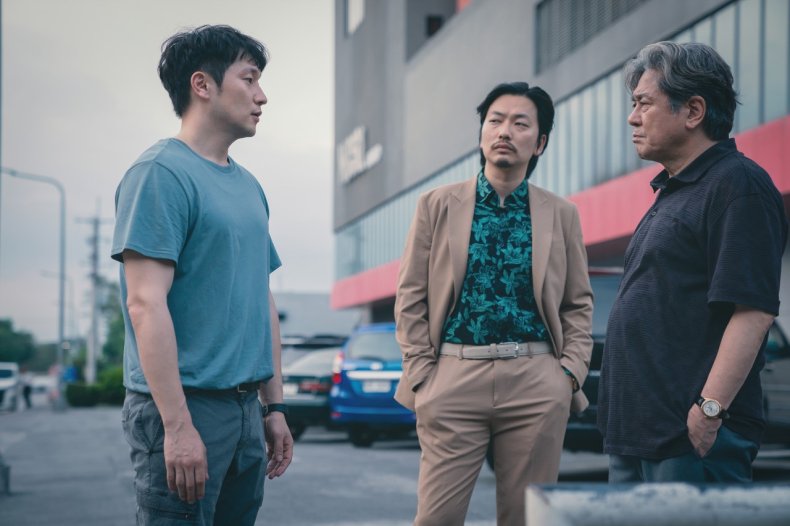 Asked about the ultimate fate of his character in Big Bet Season 2, Choi said it's "top secret," but what he can say is that Moo-sik will find himself at the heart of more "clashes, conflicts as well as love," and "everything will be conveyed on a deeper level."
Hollywood Success and Why He's 'Suffering'
Choi's career has also led him to dabble in Hollywood with the 2014 film Lucy, acting alongside Scarlett Johansson and Morgan Freeman.
Asked whether he's planning to do more in Hollywood, Choi said: "I don't believe starring in international works [via Hollywood] or working with foreign directors necessarily signifies success. It's more about what story you're wanting to tell. I've always chosen my projects from that perspective. I don't think your goal can be about making an international debut."
When it comes to Hollywood directors he'd like to work with, "there's too many to name," he admitted. But "if only I can understand what they're [the directors] saying..." Choi said laughing, referring to the language barrier.
The Big Bet actor said these days he finds himself "suffering" because he's greedier and hungrier than ever before to play more roles.
"There are so many stories to tell in this world, from happy ones to sad tales, so many unique characters and unique worlds to portray. It's nearly impossible to tackle all of this before I die but the desire to do so grows every year. So I'm suffering," Choi joked "because I'm so greedy."
The latest new episode of Big Bet Season 2 is out now on Hulu in the U.S. and Disney+ in select regions.