'Pachinko' Ending Explained: What Happened to Noa? Mysteries Explored
Pachinko, the epic period K-drama set against the backdrop of Japan's colonization of the Korean peninsula, has left viewers with more burning questions than ever following its open-ended finale.
The series, which spans several generations from the early 1900s to the late 1980s, unravels the story of Koreans who lived during the Japanese occupation period from 1910 to 1945, including those who lived in Japan under oppressive conditions and faced discrimination.
The intriguing finale of this heart-breaking tale of love, loss, identity and redemption begins on a celebratory note in 1938, with Sunja (played by Kim Min-ha) and her husband Isak (played by Steve Sanghyun Noh), a Christian pastor from Pyongyang (the capital of North Korea today) in their home in Osaka, Japan hosting a "doljabi" for their second son Mozasu (later played by Soji Arai as an adult).
Doljabi is a traditional Korean ceremony that sees one-year-old babies be placed in front of a table of different items, with the first object they grab being symbolic of their fortune in life. For example, a string represents longevity, while coins symbolize wealth and food items mean you'll never grow hungry in life.
Sunja, the heroine of the series, left her motherland in 1931 to join Isak and his brother and sister-in-law in Osaka after Isak marries her while she's pregnant with Noa (played by Park Jae-jun), the son of another man, agreeing to raise the child as his own.
In the series finale, Sunja's world is turned upside down one day after Noa—who is the son of Hansu (played by Lee Min-ho), a wealthy Korean fish broker residing in Osaka who she met in her hometown Busan—arrives home saying Isak never came to pick him at school that day.
Sunja heads over to the church where Isak worked and is shocked to hear her husband has been arrested by Japanese authorities for "a crime of the most serious nature," as told to a church official.
Sunja is later taken for questioning by Japanese police who claimed Isak was involved in the General Council of Labor Unions of Japan. The police ask Sunja whether she's ever read any anti-government literature or attended meetings with negative views against the Japanese emperor, claiming she "married an agitator."
Sunja is let go without arrest and while leaving the station with Noa, on the other side of a gate, they spot Isak, with his face bruised, being taken into a car by police.
As a stunned and tearful Sunja tries to hold back Noa, who yells after his father, she locks eyes one final time with Isak who is punched and forced into the police car after trying to run towards Sunja and Noa.
Faced with a shocking new reality and no income to support her children, Sunja sets out to start selling homemade kimchee, spicy fermented cabbage (a quintessential Korean staple) in a market in Osaka. Despite some locals at the market expressing disdain for the pungent smell of the side dish, the final scene fades out with Sunja continuing to yell across the crowded market to grab the attention of passers-by.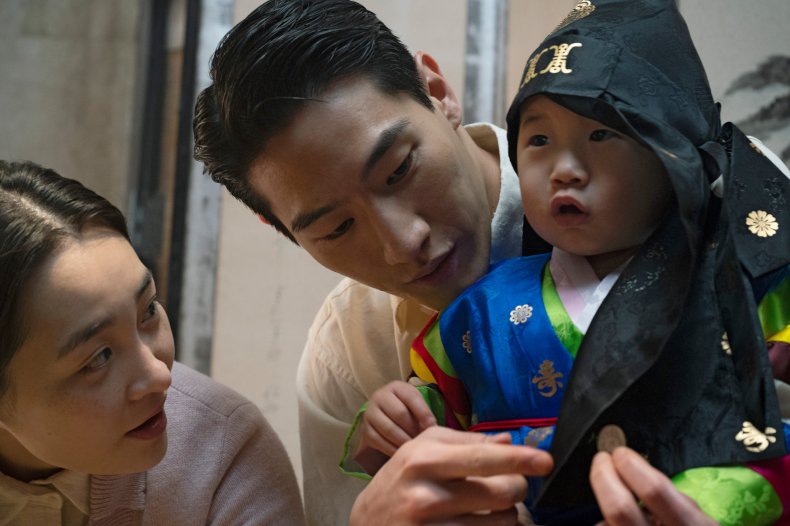 What Happened to Noa?
Solomon (played by Jin Ha)—Mozasu's son who works for an American corporation with a branch in Tokyo—reveals to his father that he was fired from his job due to a hotel deal that fell through and has been speaking to Yoshii (a client of the corporation Solomon worked for whose grandfather had previously duped Mozasu into illegitimate business dealings) about opening pachinko parlors.
Mozasu expresses grave concern about Solomon's involvement with Yoshii to Sunja , who says he shouldn't worry because "Solomon is a good boy. We raised him right."
He then blurts out: "Noa was also raised well. But look what happened to him."
Mozasu immediately regrets his comment and apologizes, saying "I must have lost my mind," a shaken Sunja responds saying: "Do you think I would let that happen to Solomon? Are you crazy? Solomon is not your brother. And what happened then, I won't let it happen again."
But the whereabouts of Noa, how he grew up after Isak was taken away and what exactly happened to him that clearly shook his entire family is not revealed.
We can only assume Noa is still alive somewhere, as he was fated to live a long life, according to his doljabi ceremony, which saw Noa grab a string, as Isak revealed earlier in the episode.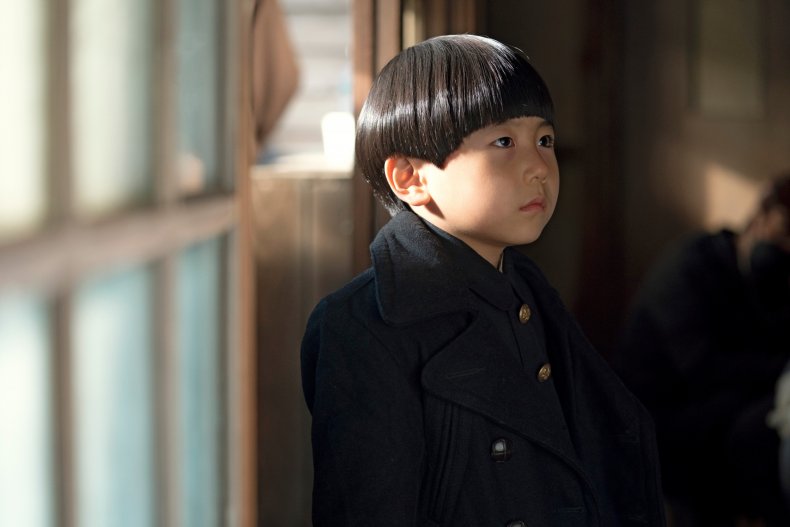 What Happened to Isak?
Following Isak's arrest, Sunja is forced to come to terms with some shocking truths revealed to her about Isak's work outside his role as a church pastor—which were apparently kept from her and Noa for their own safety, according to a Japanese ally of Isak named Hasegawa (who is in hiding from the police). She's introduced to him by a woman she bumps into outside the police station where she was questioned.
This woman said Isak taught her and factory workers that "there is power in numbers" and they "fed off his hope."
Hasegawa, who is said to be professor and "Communist-something," according to Noa's translation to Sunja, tells Noa "your father won't ever come back home because he was betrayed" before being taken away by Japanese authorities who bust into his hiding place.
Was Isak ever released by the Japanese police? Or did he die in prison or was he executed by Japanese authorities after his arrest?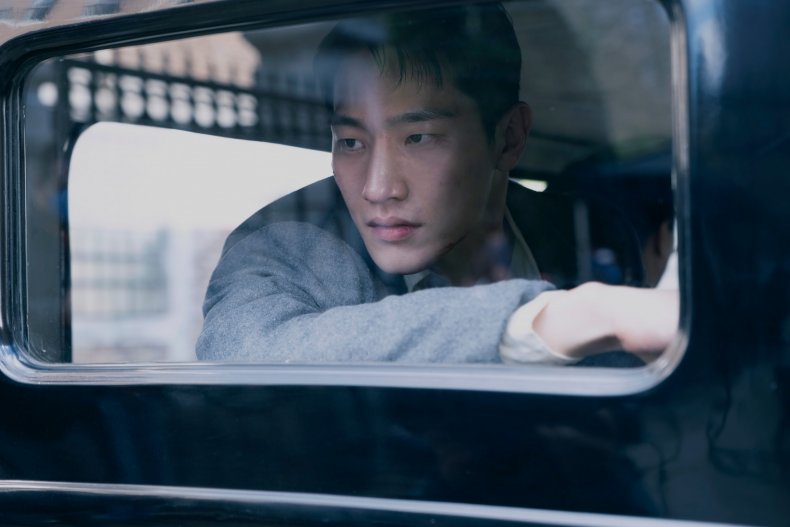 Was Hansu Involved in Isak's Arrest?
After Isak is taken away, on his way home from school one day, Noa is accompanied by Hansu, who doesn't reveal himself to Noa as his biological father and appears to know about Noa having to "part ways with his father."
It's hinted throughout the series that Hansu has been aware of Sunja's whereabouts both before she arrived in Osaka with Isak and afterwards. Could Hansu have somehow been involved in getting Isak arrested?...betraying his own countrymen as well as Sunja?
Walking alongside Noa, Hansu begins to bestow upon his son various words of advice about life, from "It's not good enough to just survive in life—cockroaches just survive" and "Never look back, always look forward" to his final parting words "Don't live like a fool."
Could Hansu's words have led Noa down a twisted path of blind rage and revenge against Japanese authorities after what happened to Isak?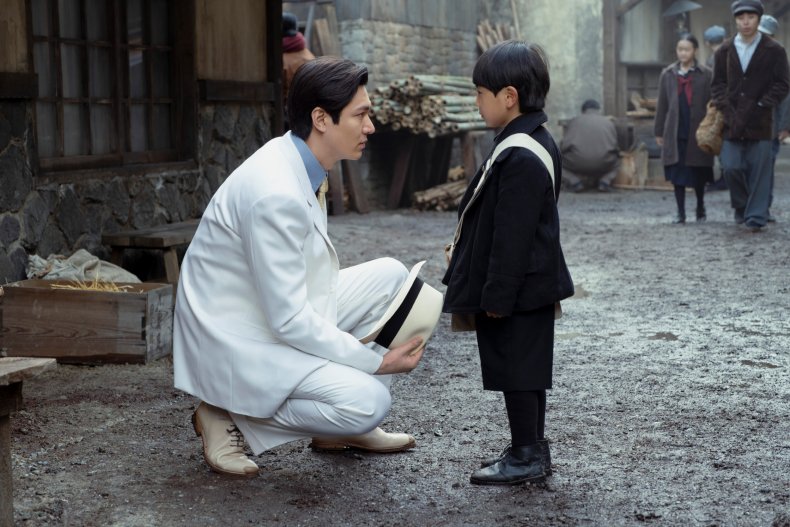 Does Solomon Go Down a Dark Path?
Earlier in the series, Solomon attempts to convince Geum-ja (played by Park Hye-jin), an old Korean lady who owns a plot of land in Tokyo that Solomon's employer wants to take over to build a hotel in the area, to sell her land to them. After rejecting several pleas from Solomon, she comes close to accepting the company's final offer before deciding against it at the last minute just before signing her name on the paperwork.
For Geum-ja, whose family moved to Japan after the end of the Japanese occupation period, this plot of land symbolized more than just a piece of property. The emotions behind calling it her own run deep from the history of oppression that generations of Koreans faced, which moved Solomon to discourage her from selling it in the end.
However, in the final episode, Solomon visits Yoshii and says: "Colton hotel—there's still a play here," explaining: "There's an opportunity here, a lucrative one. Whoever gets that woman's land can ask for anything."
When Yoshii asks what makes him think she'll say yes to selling it this time, Solomon says: "She won't. I know that. But you—you have your ways, don't you? You get her to sell and I'll handle the sale...I"ll make them bleed for it—that's the point."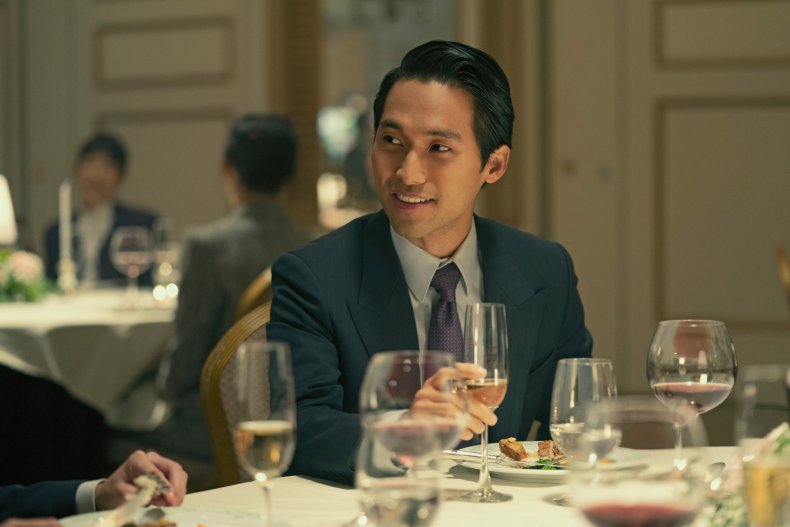 Is the Old Landowner Lady Okay?
Later in the episode, we see Geum-ja sitting at a table in her front yard area before she's startled by the loud barking of dogs outside her main door. She peeks through the slit in the door and sees a mysterious man with an eerie, ominous countenance holding two large dogs staring back at her.
A scared-looking Geum-ja runs back into her house, locking the door. Could this eerie man be involved in one of the shady "ways" Solomon implied Yoshii should deploy to get the old lady to sell her land?
Hopefully this and other unsolved mysteries can be uncovered in a future additional series.