South Korea's Oceanix Busan: All We Know About World's First Floating City
Plans for the world's first floating city—set in the South Korean port city of Busan, the country's second-most populous city after the capital Seoul—were unveiled this week at the United Nations headquarters in New York City.
Known as "Oceanix Busan," the newly built community will serve as the "world's first prototype sustainable floating city," aiming to be "a flood-proof infrastructure that rises with the sea," supplying its own food, energy and water.
Created in a partnership between UN-Habitat, the city of Busan and Oceanix, a New York-based sustainable design firm, the new city will consist of three floating platforms connected to each other and to land by bridges.
Here, we look at everything we know so far about the world's first floating city.
It's Made of Material That 'Grows and Heals Itself'
The platforms will be coated with Biorock, a buoyant material that is around three times stronger than concrete made from ordinary cement, Itai Madamombe, the co-founder of Oceanix told Newsweek.
Biorock is described as a unique ocean technology producing "the only marine construction material that grows, heals itself, and becomes stronger with age," according to Oceanix.
Biorock technology uses "electrically conductive materials," such as ordinary steel (the cheapest and most widely used construction material) to build structures of any size or shape in the sea, the Oceanix co-founder said.
This technology provides greater benefits, faster results and lower costs than "any other alternative to solve a wide range of crucial marine management problems," he said.
The buoyant platforms will be partially submerged in water and anchored to the seabed. These anchors are strong enough for the platforms to remain in place, yet flexible enough to rise and fall with water levels, according to Madamombe.
Biorock technology enables the steel to be completely protected from corrosion. "First the rusty steel is un-rusted, as red rust quickly turns grey and black and is converted back to iron," he explained.
The structure then turns white as limestone minerals that are naturally dissolved in seawater grow over the surface, producing a constantly growing hard rock coating.
"When grown slowly this material is around three times stronger than concrete made from ordinary Portland cement. The Biorock process produces the only marine construction material that gets stronger and harder with age," said Madamombe.
Biorock is also the only marine construction material that's self-­repairing. So if the mineral layer is broken, the damaged area grows back first. All other marine construction materials deteriorate with age and eventually need to be removed and replaced, he said.
The platform's buildings, which will be no taller than five levels high, will be made with other lightweight materials such as timber and bamboo, NBC News reported.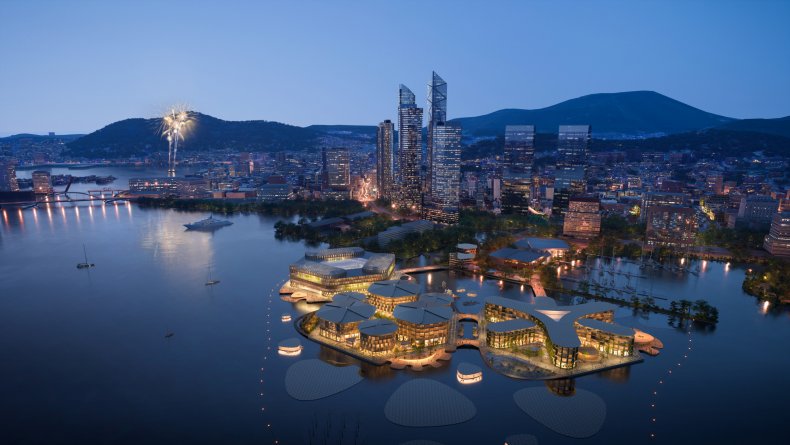 It Will Enable Habitat Regeneration
Madamombe said Biorock will be used for habitat regeneration. "This technology has been successfully applied to growing limestone breakwaters to protect islands and coastal areas from erosion and rising sea levels."
The unique technology allows coral reefs and other marine ecosystems (including seagrass, salt marsh, mangrove, and oyster reefs) to survive and recover from damage caused by excessive nutrients, climate change as well as physical destruction. It achieves this by "greatly increasing the settlement, growth, survival, and resistance to stresses, including high temperature and pollution, of all marine organisms," he said.
As a result, it keeps ecosystems alive when they would otherwise die from severe stress, and restore them where there has been no natural recovery, Madamombe explained.
It Will Generate 100 Percent of Its Required Energy
The Oceanix co-founder noted that Biorock technology can be powered by energy from the sun, winds, waves and ocean currents, which are generated directly at the site.
Ocean energy reduces global warming caused by oil, coal and natural gas. Energy from ocean waves and currents could "meet many times human energy needs," but are not being seriously developed, especially in poor coastal countries, he said.
"Pioneering innovators in wave and tidal current energy work with us, providing their prototype devices to build demonstration Biorock pilot projects to demonstrate the vast potential of clean and underutilized ocean energy," the co-founder noted.
The fully sustainable Oceanix Busan will be run on six interconnected systems that "generate 100 percent of the required operational energy on site through floating and rooftop photovoltaic panels," according to the U.N.
The six systems include zero waste and circular systems, closed loop water systems, food, net zero energy, innovative mobility and coastal habitat regeneration.
Its zero waste systems aim to turn waste into energy, agricultural feedstock and recycled materials.
Each of the three platforms will treat and replenish its own water, as well as reduce and recycle resources, the U.N. said.
The city will also provide a steady supply of organic produce from "high yield, decentralized, soilless and permaculture systems," Oceanix says.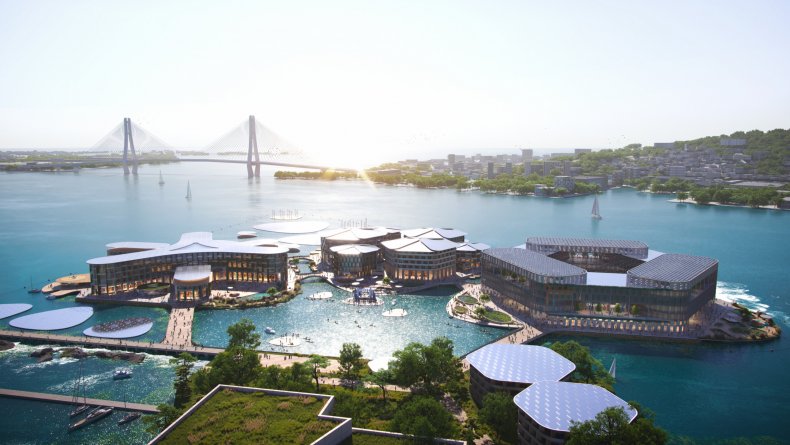 It Has Potential to Accommodate 100,000 People
Spanning a total of around 15 acres (six hectares) across the three platforms, the floating city will initially accommodate a community of 12,000 people. But it has the potential to expand to over 20 platforms and accommodate around 100,000 people.
"The floating platforms are accompanied by dozens of productive outposts with photovoltaic panels and greenhouses that can expand and contract over time based on the needs of Busan," according to the U.N.
Of the initial community of 12,000, half will be visitors and half will be residents, according to Madamombe.
He said: "A cross-section of the Busan population will live and work there. In particular, this will be an ecosystem of blue-tech innovators and maritime researchers hub focused on solutions to climate change and habitat regeneration."
Oceanix Busan also aims to bring together "visitors and like-minded people" to gather in the community's open market, organic dining and other public spaces as well as provide overnight stays in "lodge pods and dorms," the Oceanix co-founder said.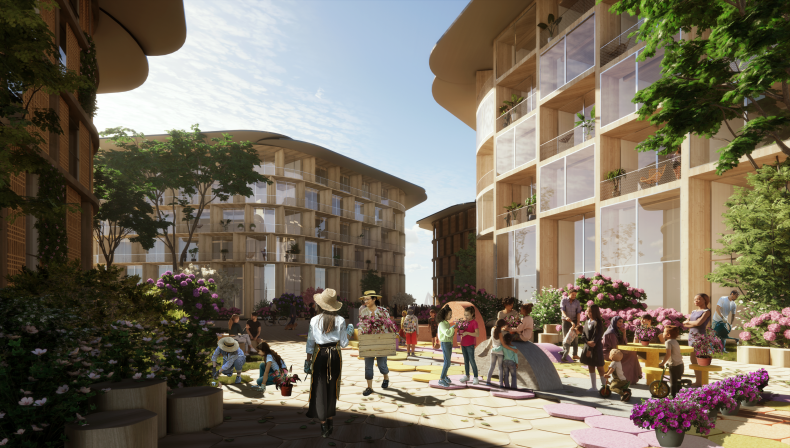 It Will Have 3 Different Neighborhoods
The city's three floating platforms (or "neighborhoods") will each serve a different purpose.
One platform will be a lodging area for visitors, offering one to three-bedroom lodge pods, Madamombe said. Designed to maximize waterfront views, this area will also offer retail and dining options.
Another platform will serve as a living area with residential buildings, a communal backyard and other public spaces.
A third platform serving as a research facility will feature a shared winter garden, described as a "temperature-controlled central atrium" that "grows food in a forest of hydroponic towers for all to enjoy," according to Oceanix.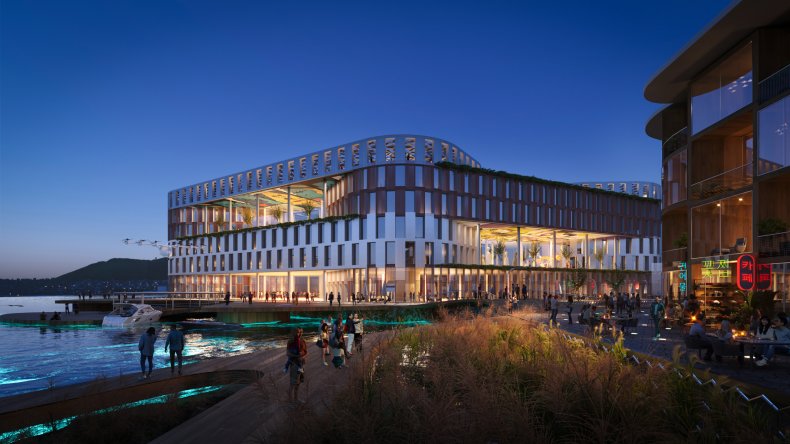 There Won't Be Traditional Forms of Public Transport
Madamombe said there will be no traditional cars or trains in the floating city. There will only be pedestrians traveling on foot, cyclists, autonomous vehicles and delivery robots.
According to Oceanix, the city will feature "shared and multimodal mobility and active modes for an integrated, mixed and productive community with reduced transportation demand."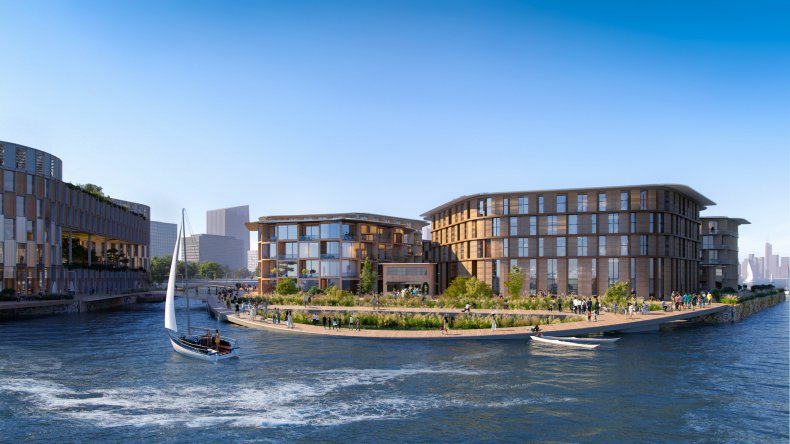 Construction Has Yet To Begin
Madamombe said: "We hope to start construction at the end of 2023. The whole process from design, engineering to construction and permitting will take five years."
The project was first officially signed off in November 2021 in a bid to help provide solutions for coastal cities threatened by rising sea levels.
According to the U.N., 90 percent of "mega cities worldwide" face the threat of rising sea levels. "Flooding is destroying billions of dollars worth of infrastructure and forcing millions of climate refugees to leave their homes."
Update 5/13/22, 11:03 a.m. ET: This article was updated with comment from Oceanix.