In a controversy about lyrics from a K-Pop group, fans are calling for an apology—not from the band, but their management group and label.
Monday, the group Epex released their third EP, Prelude of Anxiety Chapter 1. '21st Century Boys', and the record's lead single "Anthem of Teen Spirit." The lyrics to the song describe a "sugar-coated evil," according to the translation at lyrics site Genius, and uses "crystals" as its central metaphor. In the pre-chorus, the lyrics are "Tonight, the crystals / That protected us are shattered / Before you become prey / Yes, pull the trigger, click, clack, brrr, brrr."
But it's the chorus that has raised eyebrows among K-Pop fans: "Boom / I see them burning raw / Crystal night is coming / click, clack, brr, like / Boom / This is a battlefield / Back up, back up / Chase and flee."
The phrase "Crystal night" is similar to Kristallnacht, which translates literally as "crystal night"—but is also known as the "night of broken glass." Kristallnacht was a Nazi pogrom in 1938, where the windows of Jewish-owned businesses and synagogues were smashed while authorities watched, not intervening.
Over 90 people were killed during the pogroms that night—and hundreds more died from abuse and suicide following the attack. More than 7,000 Jewish-owned businesses and 267 synagogues were destroyed throughout Germany, Austria and the Sudetenland.
Though there is nothing explicitly antisemitic in the lyrics, the original Korean lyrics uses the same phrasing for "crystal night" as used to describe the historical event Kristallnacht. Fans also cite what some see as Nazi-esque uniforms in the song's music video as a reference to the pogrom.
The video features scenes of Epex on a shooting range, in prison and with guns pointed at them. A scene features one of the band members behind a prison door, upon which is written "The heresy of heresies was common sense," a quote from George Orwell's dystopian novel 1984.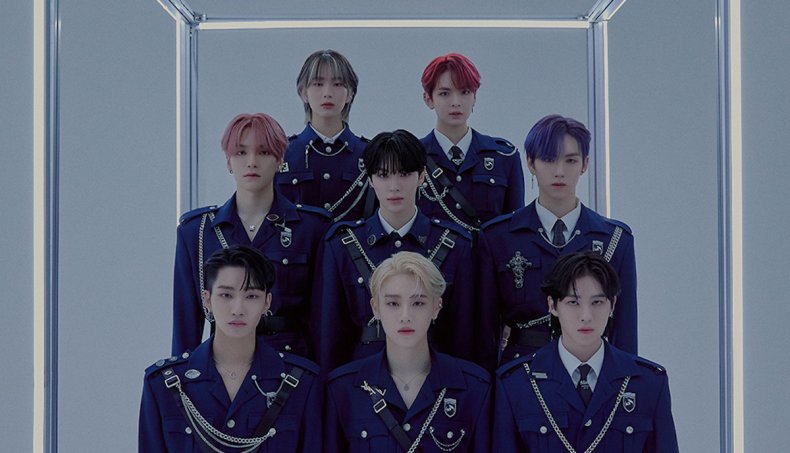 Unlike other controversies over controversial lyrics, fans are not taking the band to task, but their label and management group, C9 Entertainment. No band member has a writing credit on the song, and, according to the Los Angeles Times, K-Pop acts are much more heavily managed by than U.S. stars. Management companies control the entire image of groups and do not hesitate to swap members in and out if they no longer meet the requirements.
Fans have used the #C9_APOLOGIZE hashtag on Twitter to demand the company apologize and change the lyrics to the song. On Tuesday, the hashtag started trending under Twitter's entertainment tab.
"This isn't members' [fault]!This deals with Entertainment ,Song writers and producers," @KimSuJi117 tweeted. "If you want to balme ,You can blame on Entertainment, Song writers and producers!"
"as a german i'm deeply shocked. i do not know how anyone that knows what those two words stand for could possibly write something like that.
epex has nothing to do with it as they didn't write the song themselves, but the company and songwriters do," @btsarmystweets wrote.
"@OfficialC9ent also be like: "oH wE hAvE gReAt UnIfOrMs!" DO YOU THINK THIS IS FUNNY??" @anjalixy wrote, alongside comparisons of the outfits Epex wears in the video to actual Nazi uniforms.
"not to mention how similar this looks to a certain other thing
like this is on their uniforms?!" @dannkingmaker replied, along with a close-up picture of the insignia the band members wear in the video.
Newsweek reached out to C9 Entertainment for comment.