BTS Army Rages at Joe Budden for Slamming K-Poppers, Saying They're Chinese
Fans of K-Pop band BTS have a new Twitter foe—rapper and podcaster Joe Budden.
Budden slammed the popular group on his podcast, The Joe Budden Show, on Wednesday, saying he hated them.
"Get mad at me, but I hate them BTS [n-words]," Budden said on his podcast, first reported by XXL. Though his co-hosts Ice and Ish pushed back, calling it "disgusting" to not like a group without a reason, Budden disagreed.
"Do I need a reason?" Budden said. "I hate them [n-words]. I hate them. I don't have to divulge my reason to you, I just hate them [n-words]."
He elaborated that he wasn't a fan of the dancing.
"I don't want to hear that s***. I don't want to see them dance moves. I don't want to see you come down in the sky in a little umbrella," Budden said, going on to compare BTS' routines to the boy band 98 Degrees.
"I know they're big. I know it's China," Budden said, though his co-host Parks Vallely quickly corrected him with BTS' actual country of origin.
"I don't want to see KoreaN*Sync," Budden added.
The conversation then looped back around to Ice and Ish's initial objection, with Budden asking, "Why do y'all think that because a group is big, or an act is big, and they're talented that you can't hate them?"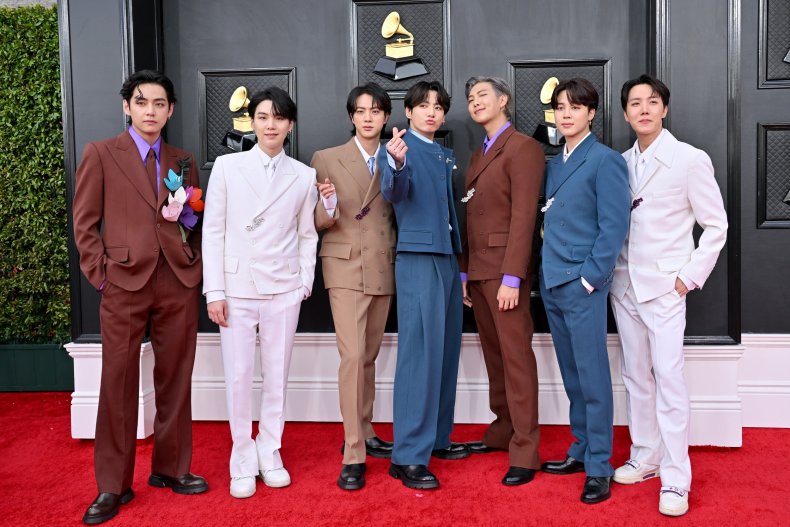 BTS' large fanbase on Twitter, the BTS Army, were not particularly pleased with Budden's rating of the group. Soon after the podcast, "Joe Budden" started trending under Twitter's entertainment category as fans came out to drag the host.
"joe budden pulling s*** about bts out his ass, but he sure knew every little detail of their grammy performance. that's a lot of attention paid to someone you supposedly 'hate' for no goddamn reason. jealousy is a disease and joe budden is one step away from the grave," @sammelsurium7 wrote.
"Joe budden always has the worst takes when it comes to music. Besides BTS and Nicki dgaf what an old man with a podcast have to say when they're making their millions," @leeann_sakura wrote.
"bts have millions of fans, sold out stadium shows ,and hit albums while joe budden is on a podcast. y'all listen to butter and automatically have an opinion on their /whole/ discography. it's really just jealousy and it's pathetic [rolling-laughing emoji] grow the f*** up loser ass," @lov3kkyu wrote.
While much of Twitter spent time slamming Budden, he had some defenders as well.
"joe budden > bts. bts belongs in the trash," @_justBrittani wrote.
"I stand with Joe Budden BTS is forced down our throat and they are praised for making generic ass music we've had in this culture for decades. But of course the world always appreciates our s*** when it's not coming from us," @dancamsam wrote.
"joe budden gives no fucks about the bts army coming for him [cry-laughing emoji] yall gonna argue with a man that really n truly does not give a single fuck," @Kushgoddess909 wrote.
But in any fight, there are always people standing on the sidelines finding humor in the whole thing.
"The internet always amuses me - never would of imagined seeing a Joe Budden / BTS (and their army) beef," @The_GregP wrote.
"omg ok not Joe Budden hating on BTS and saying they're from China. And Army confusing him for the US president Joe Biden," @_janisvc wrote.
"Joe Budden beefing with BTS fans is random as hell," @iamSAR wrote.
Newsweek reached out to BTS' representatives for comment.