BTS Members, History of the Global K-Pop Band's Albums, Awards, Collaborations and More
BTS, the global K-pop group, is among the biggest influencers of the Korean wave—known as hallyu—a Korean term describing the phenomenon of South Korean culture taking the world by storm.
Since their debut in 2013, the seven-member boy band has gone from strength to strength, not just in their native country South Korea but also across the globe.
In December 2021, the K-pop stars announced they are taking an official break from work for an "extended period of rest," spending the holiday season with their families for the first time since their debut.

From making Billboard and Grammy Award history to various collaborations and partnerships, here we take a closer look at the band and their record-setting career.
BTS at a Glance
Name: BTS (an acronym of Bangtan Sonyeondan or "Beyond the Scene")
Debut date: June 2013
Members: RM, Jin, Suga, J-Hope, Jimin, V, Jung Kook
Management company: Big Hit Music
Music Labels: Hybe, Pony Canyon, Def Jam Recordings
U.S. Music Distributor: Columbia Records
BTS on Social Media
BTS on Instagram: @bts.bighitofficial
BTS on Twitter: @BTS_twt
BTS on Facebook: BTS (방탄소년단)
BTS on TikTok: @bts_official_bighit
BTS Member Birthdays
RM: September 12, 1994
Jin: December 4, 1992
Suga: March 9 1993
J-Hope: February 18, 1994
Jimin: October 13, 1995
V: December 30, 1995
Jung Kook: September 1, 1997
Meaning of BTS Name
Bangtan Sonyeondan, spelled in Korean as 방탄소년단, translates to "bulletproof boys scout."
In July 2017, the band announced BTS will also stand for "Beyond The Scene," as part of an expansion of their brand identity, while keeping its Korean name.
The additional brand name was announced in a motion graphic video shared via the group's social media channels, including the YouTube channel of its label Hybe, and the band's official fan cafe, South Korea's Maeil Business Newspaper and other Korean media reported at the time.
The video begins with the words "See You There" appearing against a black backdrop. It showed a new logo that appears to look like a door, which opens to reveal another door.
The clip continues with one door logo labeled BTS on the left of the screen and another labeled "Army," the collective name by which BTS fans are known, on the right side. It ends with a narration of the words: "We are all the same. BTS."
The group's management company Big Hit Music explained the band's extended brand was visualized with a "future-oriented concept." The opening of doors symbolizes an "ever-evolving youth" always moving forward towards their dreams and not settling in the present, according to Big Hit Music, Maeil Business Newspaper reported at the time.
In a tweet BTS said at the time: "We really love our new BI [brand identity]. We've been so eager to share this with you. More than anything, it's so meaningful and feels reat to see the Army and us depicted as one."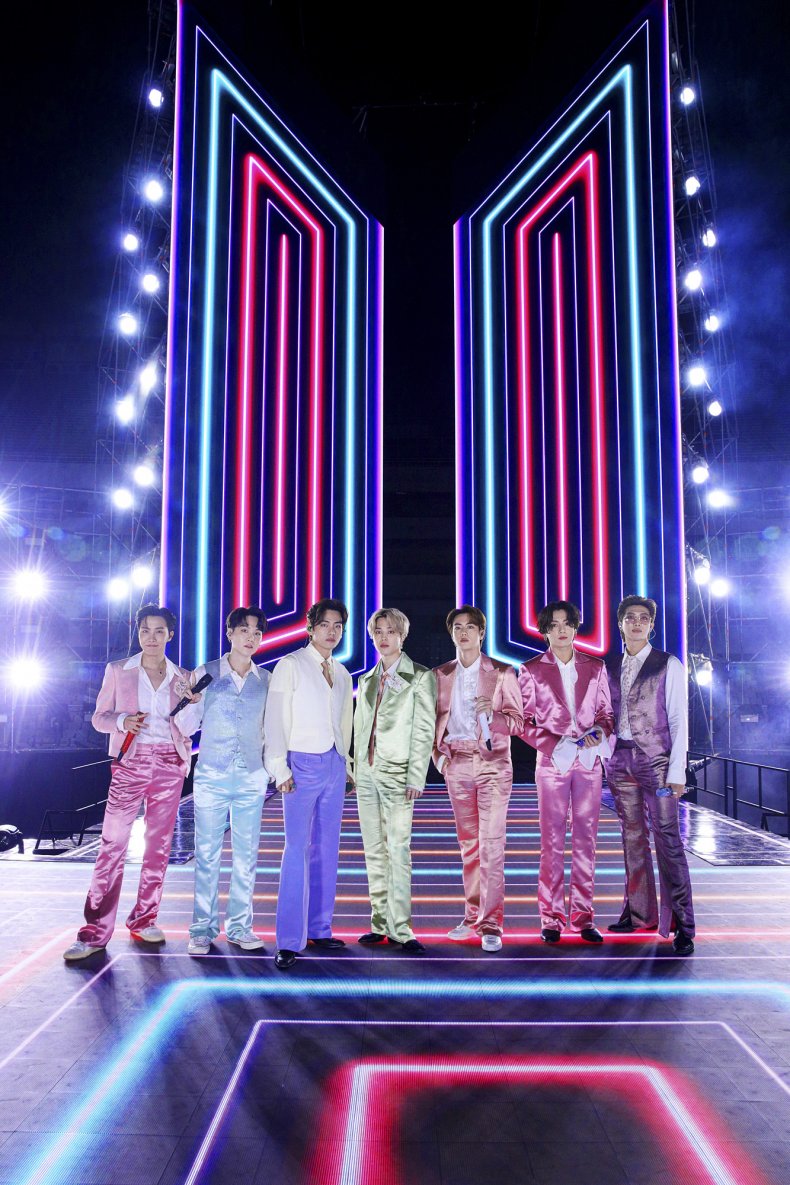 BTS Music
Here is a list of official BTS albums, mini-albums and singles released to date (as of December 2021), as outlined at the Big Hit Music website.
Butter (2021 CD single) - featuring "Permission to Dance" and "Butter"
BE (2020 album)
"Dynamite" (2020 single)
Map of the Soul: 7 (2020 full-length album)
Map of the Soul: Persona (2019 mini-album)
Love Yourself: Answer (2018 repackaged album)
Love Yourself: Tear (2018 full-length album)
Love Yourself: Her (2017 mini-album)
You Never Walk Alone (2017 special album)
Wings (2016 full-length album)
The Most Beautiful Moment in Life: Young Forever (2016 special album)
The Most Beautiful Moment in Life Pt. 2 (2015 mini-album)
The Most Beautiful Moment in Life Pt. 1(2015 mini-album)
Dark and Wild (2014 first full-length album)
Skool Luv Affair (2014 mini-album)
O!RUL8,2? (2013 first mini-album)
2 Cool 4 Skool (2013 first single album)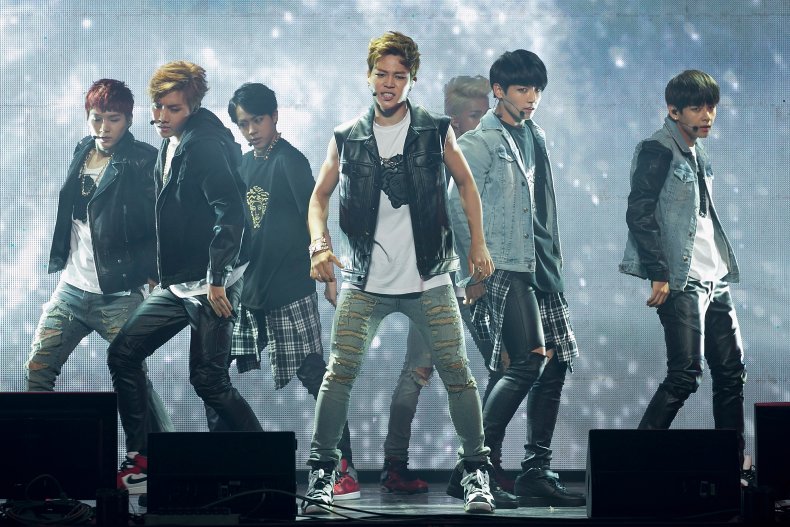 BTS Grammys, Awards, Billboard Chart History
Some of the highlights of BTS' history-making career has included bagging four no. 1 songs in a period of nine months, being named TIME magazine's Entertainer of the Year in 2020 and becoming not only the first K-pop artist to present at the Grammy Awards but also the first Korean act to perform at the awards and be nominated for a Grammy.
The band was first nominated for a Grammy Award in the Best Pop Duo/Group Performance category in November 2020 for the track "Dynamite." They received a second nomination in the same category in November 2021 for their single "Butter."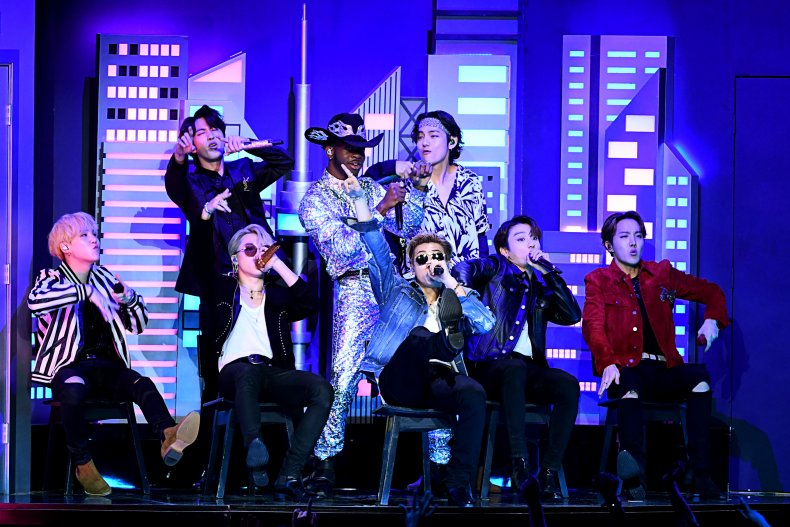 BTS has also won several American Music Awards from 2018 to 2021 (including the awards for Artist of the Year, Favorite Pop Duo or Group, and Favorite Pop Song) as well as MTV Video Music Awards, in addition to a host of major music awards in South Korea, including the Seoul Music Awards and Golden Disc Awards.
The band has claimed several other major music awards such as the Billboard Music Awards from 2017 through 2021 (they won four in 2021 alone - Top Duo/Group, Top Song Sales Artist, Top Social Artist and Top Selling Song for "Dynamite").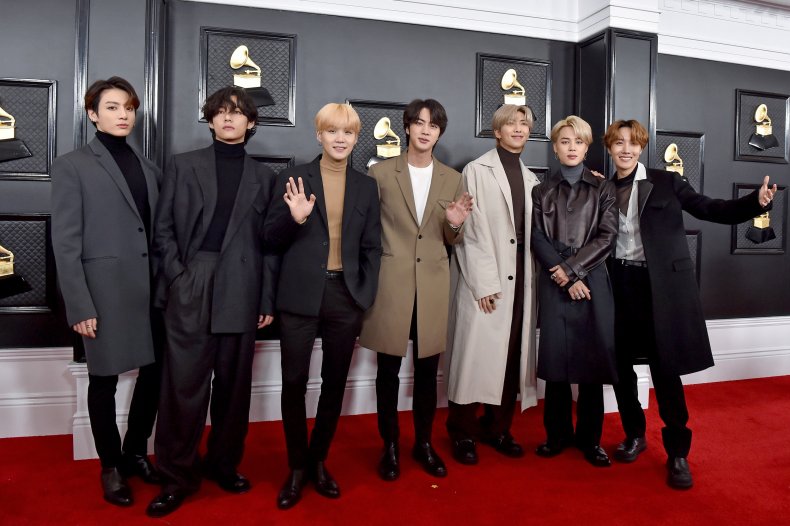 BTS has also ranked across several Billboard music charts throughout its career, including several U.S. charts such as the Hot 100 song chart. The group has had 22 songs listed in the Hot 100 so far, including five no. 1 songs and eight tracks in the chart's top 10 ranking.
The group has had a total of 139 songs listed on Billboard's World Digital Song Sales chart, including 30 no. 1 tracks and 107 in the top 10, according to Billboard.
The band has also ranked in the Billboard 200 chart (which ranks the 200 most popular albums and EPs in the U.S.), with 13 songs featured to date, including five no. 1 hits and six in the top 10 ranking.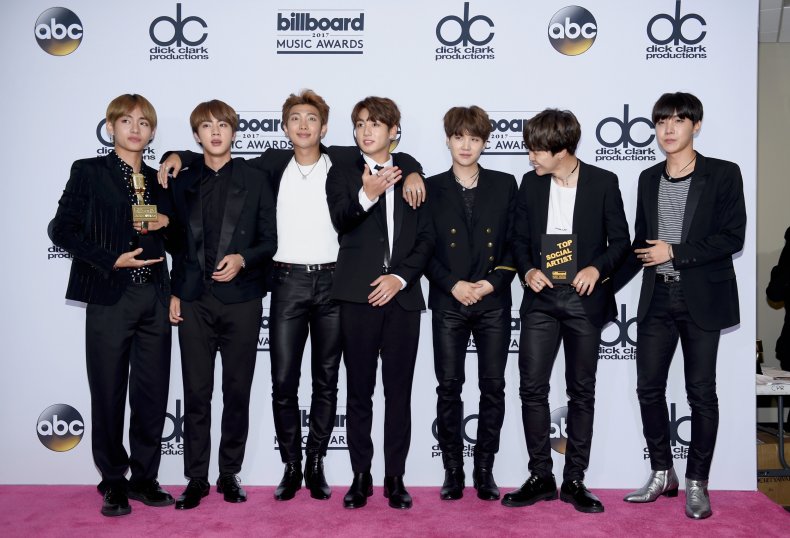 BTS Guinness World Records
In other achievements, BTS has scored several Guinness World Records throughout the band's career, including five new records set by their single "Butter" in May 2021.
The track broke the record for the most viewers for the premiere of a video on YouTube (receiving 3.9 million concurrent viewers for the song's premiere on May 21, 2021).
It also shattered the record for the most viewers for a music video premiere on YouTube, having received over 187 million views, Guinness World Record reported at the time. This record was previously held by the band's single "Dynamite," which had three million concurrent peak viewers.
Twenty-four hours after its release, "Butter" also broke the records for the most viewed YouTube music video in 24 hours and the most viewed YouTube music video in 24 hours by a K-pop group.
"Butter" also broke the record for the most streamed song on Spotify in the first 24 hours of its release, receiving 11,042,335 global streams on Spotify in one day, according to the Guinness World Records website.
In September 2021, BTS was entered into the Guinness World Records 2022 Hall of Fame, having bagged 23 Guinness World Records titles across music and social media.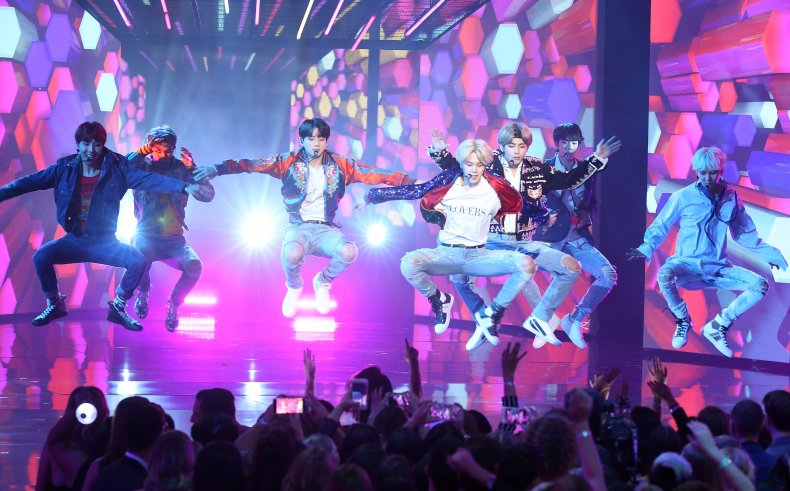 BTS Music Collaborations
BTS has collaborated with several other major artists, both as a group and as individual members, on at least 20 tracks, NME reported in 2019.
Some of the biggest names the band has worked with for various songs include Coldplay ("My Universe), Ed Sheeran ("Make It Right" and "Permission to Dance"), Nicki Minaji ("Idol"), Megan Thee Stallion ("Butter" remix), The Chainsmokers ("Best of Me"), Halsey ("Boy With Luv") and DJ Steve Aoki ("Mic Drop," "Truth Untold" and "Waste It On Me").
Sheeran co-wrote the song "Permission to Dance" from the BTS Butter CD single, which was released in July 2021. The song's other co-writers include Snow Patrol singer Johnny McDaid and British producer Steve Mac.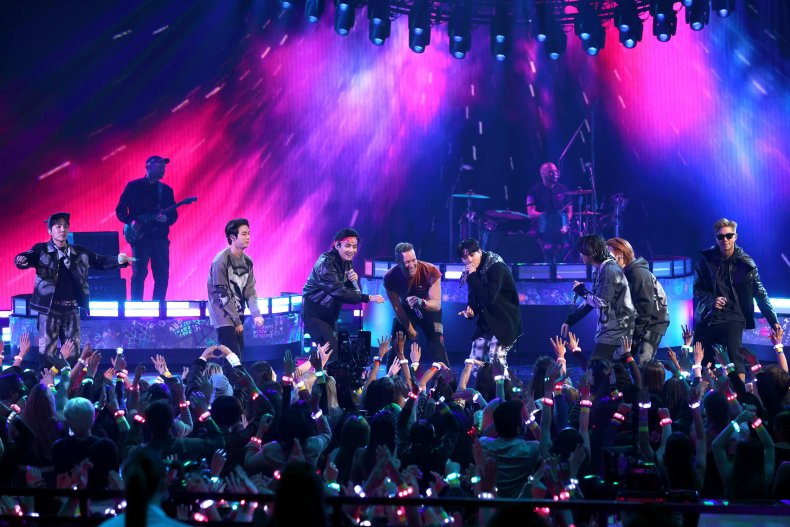 BTS also collaborated with Sheeran on "Make It Right," which was co-written by the Grammy Award-winning artist and also features the American singer-songwriter/producer Lauv. The track was released in 2019 in their album Map of the Soul: Persona.
BTS Campaigns and Partnerships
United Nations
BTS has partnered with UNICEF (United Nations Children's Emergency Fund) since 2017, joining UNICEF for the "LOVE MYSELF" campaign. The initiative aims to "stage campaigns against violence toward children and teens around the world, with the hope of making the world a better place through music."
In March 2021, the band renewed its pledge to support the campaign, which has raised at least $3.6 million so far, according to UNICEF.
In September 2018, BTS became the first-ever K-pop artist to address a UN session, speaking at the 73rd session of the UN General Assembly in New York. The band's speech, delivered by RM on behalf of the group, was made at the launch of "Generation Unlimited."
The BTS partnership with UNICEF aims "to get every young person into quality education, training or employment by 2030," UNICEF said in a statement at the time.
Speaking about the challenges he faced on his own journey through life, RM stated: "Tell me your story. I want to hear your voice, and I want to hear your conviction. No matter who you are, where you're from, your skin colour, gender identity: speak yourself.
"Find your name, find your voice by speaking yourself," RM said in the speech.
In July 2021, South Korean president Moon Jae-in appointed BTS as Special Presidential Envoy for Future Generations and Culture.
Following their appointment, in September 2021 the band addressed the UN again for the organization's SDG (Sustainable Development Goals) Moment event as part of the 76th session of the UN General Assembly.
The SDG included "a call to action to end poverty, protect the planet, and ensure that by 2030 all people enjoy health, peace and prosperity."
Speaking about how their generation felt lost during the peak of the COVID-19 pandemic, with school graduations and other important events cancelled, BTS shared a message of hope and encouragement at the 2021 SDG event.
BTS member Junkook said at the time: "I hope we just don't consider the future as grim darkness. We have people concerned for the world and searching for answers. There are still many pages left in the story about us and I feel like we shouldn't talk like the ending has already been written."
The group also performed their song "Permission to Dance" at the UN headquarters for the 2021 SDG event.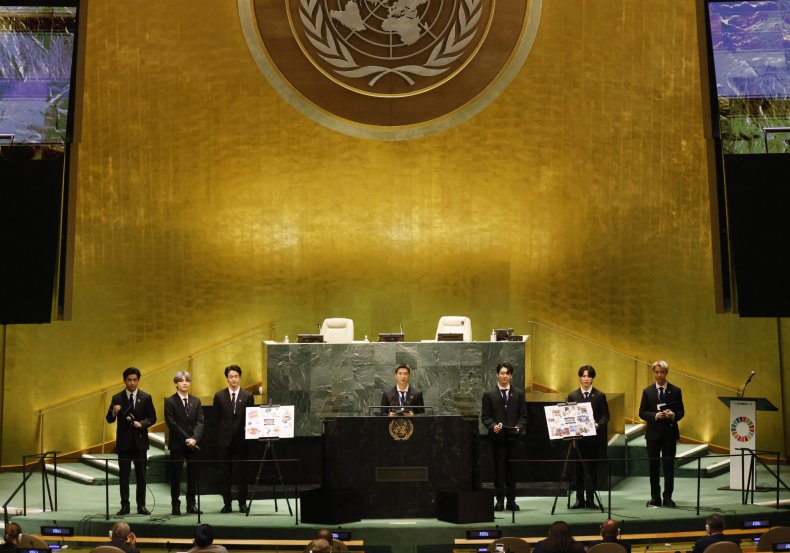 Louis Vuitton
In April 2021, BTS joined luxury fashion label Louis Vuitton as their newest ambassadors.
In a tweet at the time, Louis Vuitton stated: "#BTS for #LouisVuitton. Joining as new House Ambassadors, the world renowned Pop Icons @bts_bighit are recognized for their uplifting messages that impart a positive influence," the announcement reads. "Louis Vuitton is pleased to welcome members RM, Jin, SUGA, j-hope, Jimin, V and Jung Kook."
The late Virgil Abloh, who was the men's artistic director at Louis Vuitton, said in a statement at the time: "I am looking forward to this wonderful partnership which adds a modern chapter to the House, merging luxury and contemporary culture."
In July 2021, BTS appeared in the Louis Vuitton Men's Fall Winter 2021 Fashion Show.
BTS members in a range of attire, from a speckled off-white suit and striking sunglasses with a gold-colored top frame to a bright red shirt paired with a classic black overcoat.
RM channeled a bit of a Michael Jackson vibe, seen wearing a fedora style hat with a striped shirt and tie in the clip.
McDonald's
In May 2021, BTS unveiled a partnership with fast-food chain McDonald's in the form of a special "BTS meal."
The unique meal includes 10-piece Chicken McNuggets, medium fries and a medium Coke as well as two "limited-time sauces picked by BTS." They include the Sweet Chili Sauce and the Cajun Sauce.
The BTS meal was stated to be available in nearly 50 countries, including the U.S., Singapore, Mexico and the United Arab Emirates.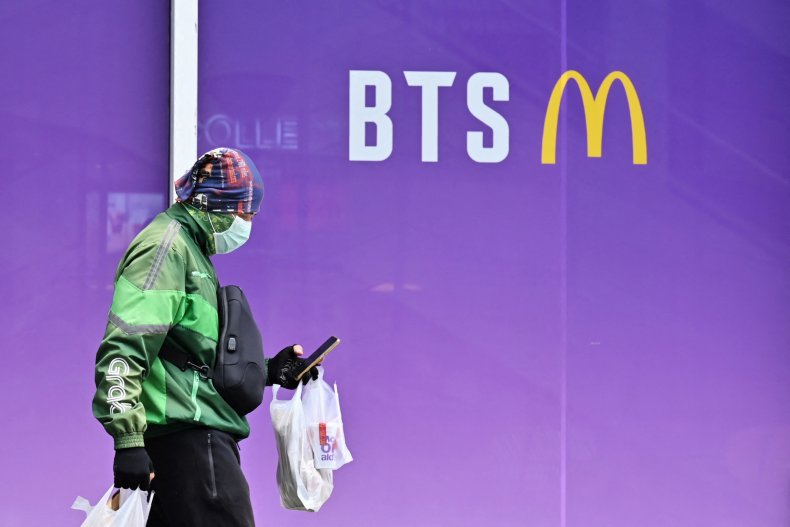 Samsung
In a collaboration with BTS in 2020, Samsung launched a new smartphone and earbuds for their Galaxy series, which was "made over in a BTS design," the company said in a statement at the time.
Online pre-orders for the purple-hued Galaxy S20+ BTS edition, which featured "exclusive stickers, pictures, and more," as well as the Galaxy Buds Plus BTS edition were reported to have sold out within an hour of going on sale in June 2020, according to Samsung, Yonhap reported at the time.
In January 2021, Samsung announced it is "further strengthening" its partnership with the global K-pop stars in 2021 "to provide unique mobile experiences set to make your everyday epic."