Five People Killed at Kabul Airport As Graphic Video Shows Chaos in Afghanistan
Five people are reported to have been killed as graphic and disturbing videos show chaotic and violent scenes at Kabul airport as the Taliban takes control of the Afghan capital.
Multiple videos uploaded to social media on Monday show chaotic scenes as hundreds of Afghans pile onto planes in an apparent attempt to catch a flight out of the country.
In many clips, the sound of gunfire can be heard, but the source remains unclear.
One witness told Reuters he saw the bodies of five people being taken to a vehicle, while another witness said it was not clear whether the victims were killed by gunshots or in a stampede.
WARNING: VIDEO CONTAINS GRAPHIC SCENES
"Lots of bursts of gunfire near Kabul airport this am," NBC foreign correspondent Richard Engel tweeted. "The Taliban have set up many checkpoints in the area. Reports they are taking potshots at aircraft. Aggressive posture from Taliban. Chaos."
"Several people were killed at Kabul airport," Khalifa Evaz posted to Twitter about 10:30 a.m. local time alongside a clip appearing to show three lifeless bodies on the ground. The video has since been viewed more than 200,000 times.
Another clip shared by journalist Sultan Faizy shows hundreds of people scrambling over the top of one another in an attempt to climb the air bridge.
"Desperate situation unfolding at Kabul airport this morning," journalist Ahmer Khan tweeted. "Thousands of Afghans are at Kabul airport. They are running after moving aircrafts," he later added.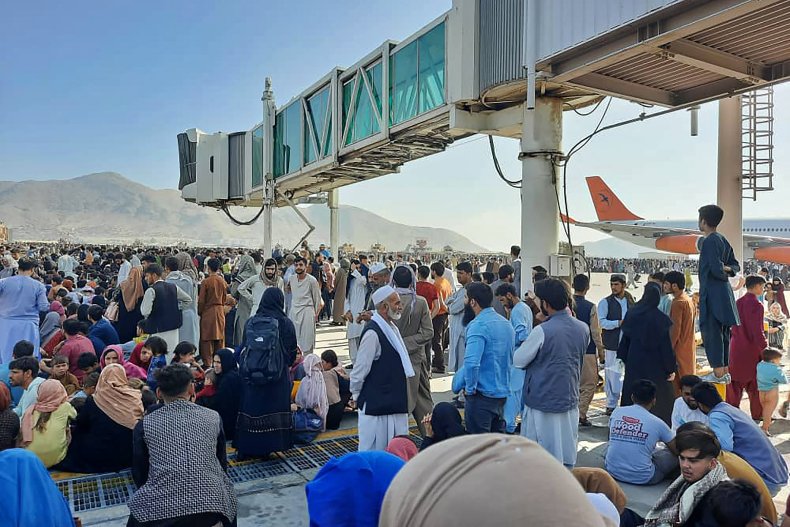 U.S. troops reportedly fired shots into the air to scatter the crowd, a U.S. official said, according to Reuters.
"I feel very scared here. They are firing lots of shots into the air," one witness told AFP.
Since militants entered the outskirts of Kabul on Sunday, Taliban fighters have been patrolling the city streets.
Meanwhile, the U.S. military has taken over security of the Kabul airport in order to control the evacuation of foreign diplomats and citizens. Earlier, U.S. State Department spokesperson Ned Price confirmed that the evacuation of American embassy employees to the Kabul Airport had been completed.
The Pentagon also confirmed that the airport has resumed commercial flights suspended over the seizure of the city by Taliban militants.
Early on Sunday, Taliban militants entered the outskirts of Kabul "from all sides," Afghan officials told Reuters.
The group said it would soon announce the Islamic Emirate of Afghanistan from the presidential palace, The Associated Press reported.
Smoke was seen near the former U.S. embassy, which had been moved to the airport. Staff destroyed important documents, and the American flag had been lowered. Other Western missions have also prepared to remove personnel, according to AP.
Afghans rushed to leave the nation, as they fear the Taliban could reinstate brutal rule and eliminate women's rights in the nation. Many poor Afghans had fled to Kabul—home to about 4 million people—for presumed safety, AP reported.
Power will be handed over to the Taliban peacefully, acting Afghan Interior Minister Abdul Sattar Mirzakwal said. The militants had pledged to not take Kabul by force.
"No one's life, property and dignity will be harmed and the lives of the citizens of Kabul will not be at risk," the Taliban said.
U.S. President Joe Biden authorized 5,000 troops to be sent to Kabul to ensure a safe evacuation of U.S. personnel and allies.
Afghan President Ashraf Ghani reportedly fled to Tajikistan on Sunday.
"The former president of Afghanistan left Afghanistan, leaving the country in this difficult situation. God should hold him accountable," Abdullah Abdullah, a top political figure and chairman of Afghanistan's High Council for National Reconciliation, said in a Facebook video.
In just over one week, the Taliban has seized control of nearly the entire nation—facing little resistance—following the withdrawal of the U.S. and its allies.