Kamala Harris Surges Into Lead Among Democratic Party Candidates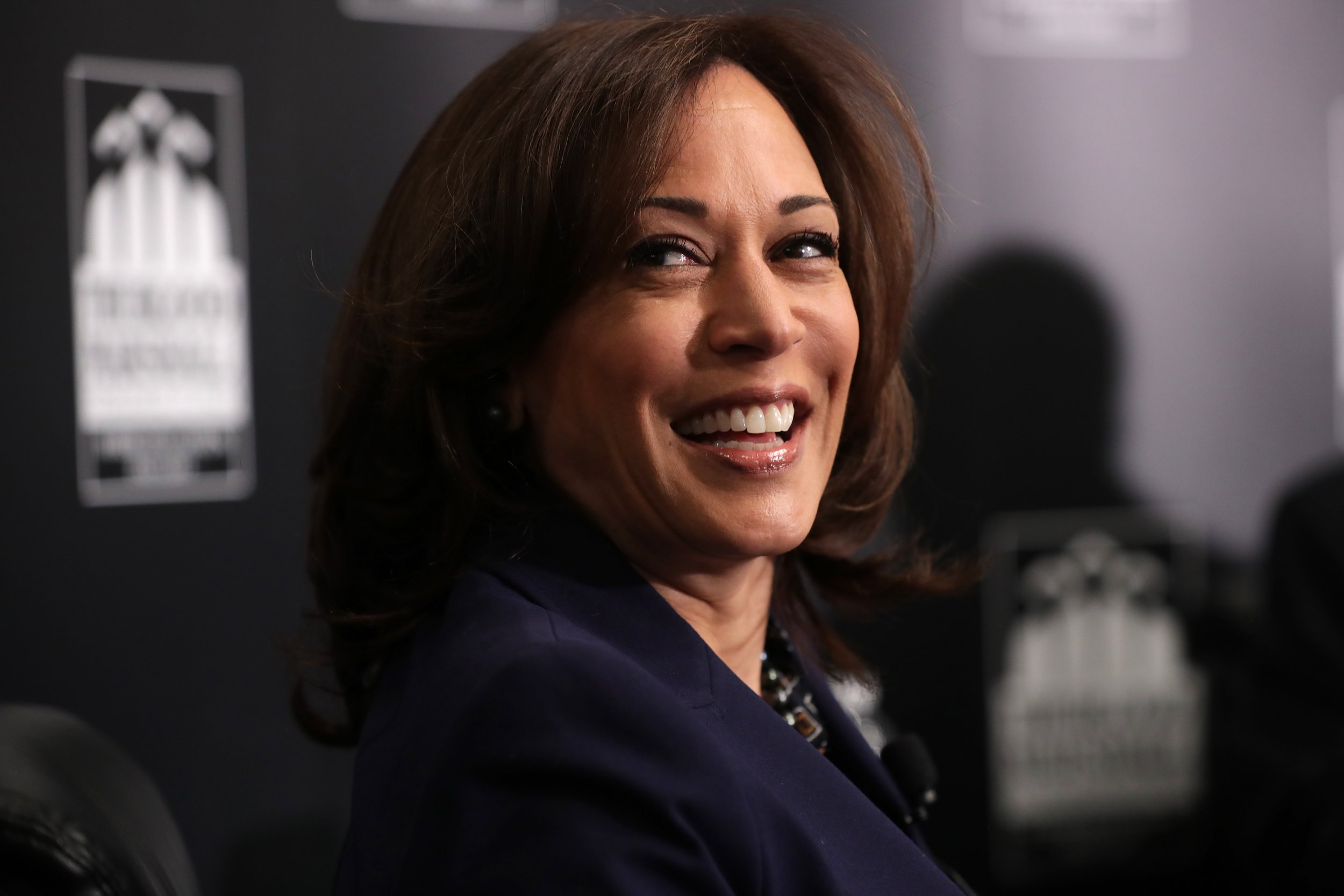 Kamala Harris has leaped to the front of an already-packed Democratic 2020 race, recent polls, political strategists and party donors have suggest.
Although recent polls show Harris lagging behind former Vice President Joe Biden and Senator Bernie Sanders, the California senator is first among Democrats who have announced their bids for the 2020 nomination in recent polls from Monmouth University, New Jersey and Emerson College, Iowa. The graphic below, provided by Statista, illustrates the poll results.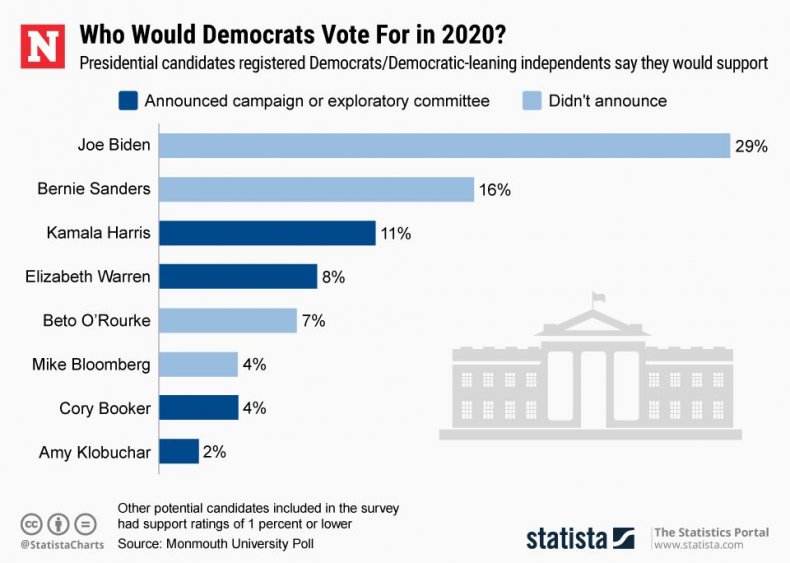 Harris has held the No. 1 spot on CNN's Democratic power rankings for months. Political analysts Chris Cillizza and Harry Enten praised her for stretching out her campaign announcement to a week—giving her time to soak up days of positive press. Harris embarked on a book tour for her memoir, The Truths We Hold, the week before she launched her official campaign.
The Hill reported Sunday that prominent party donors and strategists agreed with the pollsters. Donor Robert Wolf told the outlet that Harris used the attention surrounding her relatively early launch to her advantage.
"There's always been this motto, 'You have one day to launch, and you have to get it right,' and Kamala crushed it," said Wolf. "It's the day that you have all the media buzz, the grassroots excitement and to tell your story. That is the one day all eyes are on you, and she hit out of the ballpark."
Since her official launch, the senator has run a largely successful campaign, The Hill noted. "She was already the favorite of many, and her early success has solidified and grown that support," Jon Vein, a major Democratic donor, told the outlet.
"She differentiates herself with her impeccable timing," Democratic strategist Maria Cardona added.
Her position has likely been helped by controversy hanging over her competition. Elizabeth Warren, for example, continues to face criticism over her claims of Native American heritage. On Saturday, the Massachusetts senator was interrupted at the start of a campaign speech in Georgia by a man holding a "1/2020" sign—a jibe at the DNA results she shared last year.
Representative Tulsi Gabbard of Hawaii apologized last month for previously working with her father to try to pass anti-LGBTQ+ legislation in her home state.
Harris isn't immune from controversy, having recently admitted to past marijuana use, for example. The senator made something of a stir this weekend on the campaigin trail in South Carolina, while visiting stores. The senator stepped into a number of local boutiques set up by women, praising them as "classic" stories of American women "achieving economic success," The Washington Post reported.
But she incited a backlash from conservative media outlets like Fox News when she tried on a brightly colored sequin jacket at the suggestion of CNN reporters.
To many Democrats, however, she looks like "the full package: smart, commercial, organized," Wolf told The Hill. "I would not be surprised if she was the top fundraiser this quarter and viewed as a top three candidate."
This article was updated to include an infographic.