Kamala Harris Appears on Stephen Colbert, Teases Him Over Possible Presidential Run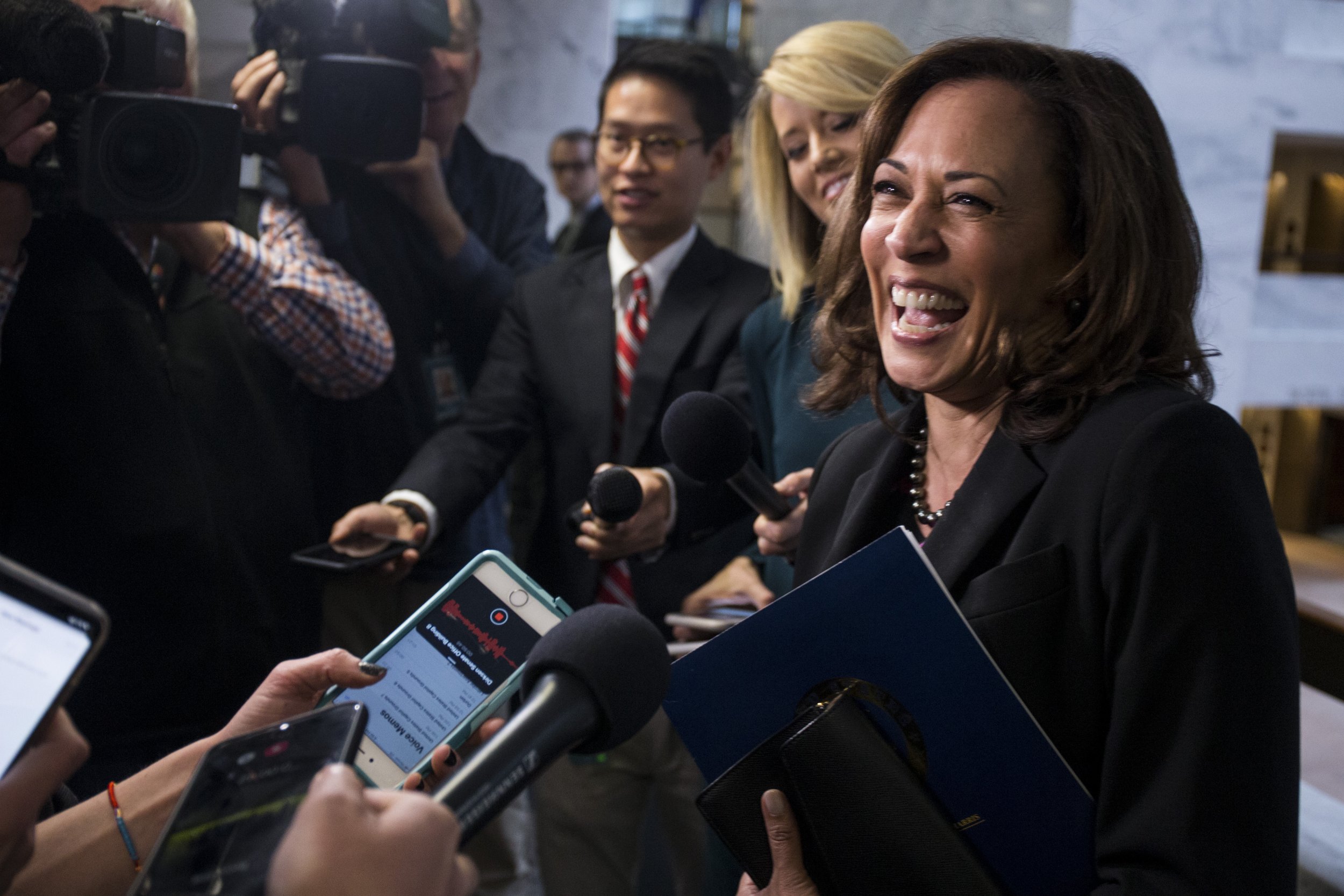 Democratic California Senator Kamala Harris has been tipped as a presidential candidate for months. Although she still hasn't officially tossed her hat into the ring, on Thursday she teased The Late Show host Stephen Colbert over a possible 2020 run.
In a clip shared on Twitter Thursday night, Colbert addressed the issue head-on, asking the lawyer-turned-politician, "Are you gonna run for president?"
To the delight of the audience, a smiling Harris responded, "I might."
"All right, there you go," Colbert said. "There's your headline right there."
The comedian had warmed Harris up by asking her about her new book, The Truths We Hold: An American Journey. "Let's talk about the highest office in the entire land," Colbert said to Harris. "Many people who put out books two years before a presidential election do so to introduce themselves in a broad way to the American people."
Harris, who just launched a book tour, recently told NPR she had "not made up [her] mind" about making a presidential bid.
The outlet criticized The Truths We Hold in an accompanying review. "Is it a great book? No. No, it is not," wrote political reporter Danielle Kurtzleben.
Local California station KCBS Radio fueled speculation that Harris would announce a bid later this month, in a report based on anonymous sources. But expectations were tempered when a spokesperson for Harris told The Hill no imminent announcement was planned.
The former California district attorney is known for supporting progressive issues such as single-payer health care, gun control and cannabis decriminalization. On Thursday, she tweeted her support for refugees traveling to the U.S.
"Emma Lazarus's words, 'Give me your tired, your poor, your huddled masses yearning to breathe free,' speaks to the true character of what our country can be: a generous country that respects and embraces those who have made the difficult journey to our shores, often fleeing harm," Harris wrote.
Back in December 2018, controversial conservative commentator Ann Coulter predicted Harris would be the next U.S. president, complaining that Donald Trump had "zero chance of being re-elected" if he didn't build a U.S.-Mexico border wall.
"What he's doing now absolutely guarantees that the next president is a Democrat," Coulter wrote on her personal website. "Given today's Democratic Party, that president will be Kamala Harris."
Wrangling over Trump's proposed wall has plunged the government into a shutdown currently on its 21st day. As USA Today noted, if it continues on Saturday, this shutdown will be the longest the U.S. has ever seen.