Kamala Harris Promises 2020 Campaign for President 'Will Not Take a Dime From Corporate PACs'
California Senator Kamala Harris declared that she "will not take a dime" from corporate political action committees in her 2020 run for the White House.
The first-term senator and prominent Trump critic asked Americans to support her campaign Tuesday, one day after announcing on the national Martin Luther King Jr. Day holiday that she is running for president. Harris, the daughter of Jamaican and Indian immigrants, has taken the increasingly popular progressive pledge not to accept corporate donations.
"This campaign will not take a dime from corporate PACs—just people, like you," Harris, 54, wrote on Twitter, sharing a link to her campaign donations pages. "We don't have to accept a system that drowns out your voice. We can do better. Chip in now."
Read more: 57 percent of U.S. voters will not support Trump in 2020 election, poll shows
Political action committees, or PACs, raise money to spend on political campaigns either for or against candidates, issues or legislation. Corporations may set up or fund PACs, but many voters—especially on the left—view candidates taking money from them as tainted. These voters argue that candidates may be swayed to act in the interest of the corporations that supported them, rather than the interest of the American people.
Harris, who was elected to the U.S. Senate in 2016, announced her candidacy for the Democratic nomination during an interview on Monday's edition of Good Morning America.
"The future of our country depends on you and millions of others lifting our voices to fight for our American values," Harris said on ABC's morning show. "That's why I'm running for president of the United States."
She has faced scrutiny from liberal voters for "tough-on-crime" stances she took as California's attorney general and San Francisco's district attorney. In 2015, she defended California's death penalty against a legal challenge to its constitutionality. Despite being personally opposed to the death penalty, as attorney general, Harris fought to uphold it as a matter of California law. Attorney generals are obliged to uphold and defend state law.
Harris also defended California's Department of Corrections when it tried to stop transgender inmates getting gender reassignment surgery.
"I was the attorney general of California for two terms, and I had a host of clients that I was obligated to defend and represent," Harris said at a press conference on Monday at her alma mater Howard University, Vox reported.
"I couldn't fire my clients, and there were unfortunately situations that occurred where my clients took positions that were contrary to my beliefs."
Harris is the eighth person to put their name forward so far in the Democratic presidential primary for 2020, though many more are expected to join in what will likely be a wide and diverse field.
One of those to have announced so far and expected to be one of the main challengers is Senator Elizabeth Warren from Massachusetts, who revealed on New Year's Day that she is running.
The graphic below by Statista provides a snapshot of who is in the running so far for the presidential election in 2020.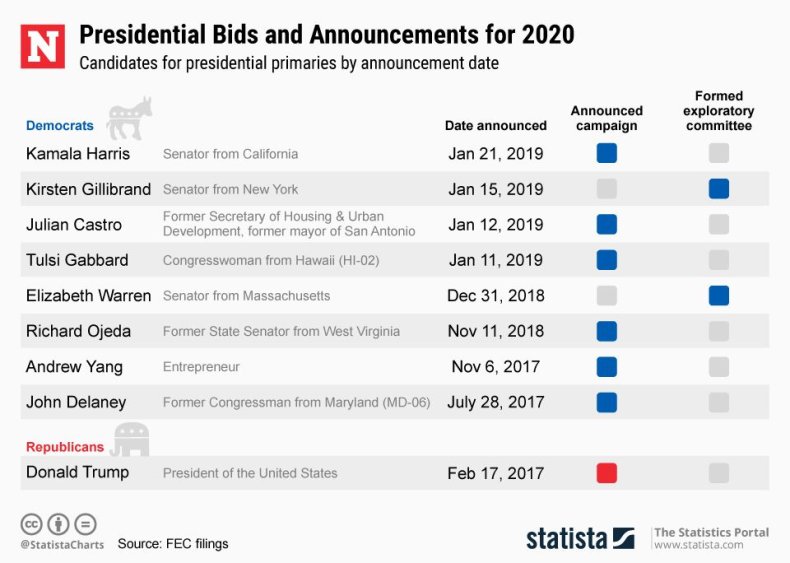 This article was updated to include an infographic.