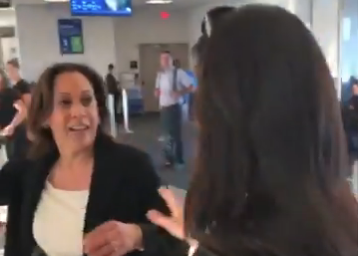 California Senator Kamala Harris and an aide calmly shut down an encounter with a high-profile staffer of a right-wing political organization who shouted accusations that the 2020 Democratic candidate is "exploiting" migrant women and children for votes.
Harris and a woman, identified as SCRB Strategies' Laphonza Butler, were caught by surprise at an airport recently by Turning Point USA's Anna Paulina, the Director of Hispanic Engagement for the conservative nonprofit founded by Charlie Kirk.
Paulina, who Harris first appeared very open to speak with, immediately began accusing Harris of hurting Hispanic women at the border and supporting MS-13 gangs due to her backing of family reunification.
In the video, the Turning Point USA provocateur ultimately walks away from Harris after waving her hand in the faces of the former California attorney general and Butler, even though Harris had only asked Paulina to wait until she posed for a picture with a supporter.
Paulina argues that many Democratic Party leaders' apparent welcoming stance toward undocumented migrants is, in actuality, an embrace of violent Central American gangs and a drain on the U.S. economy.
Paulina's airport face-to-face echoed her oft-repeated claims in social media posts that Democrats are using Central American and Mexican migrants solely for political advantages. She has consistently argued in favor of legal immigration and support for President Donald Trump's border wall proposals.
On Twitter, Paulina took her commentary a step further, accusing Harris of thinking "child rape and the slavery of Hispanic women and children is a joke."
"Damn get a Hispanic out there to call Kamala out on ignoring trafficking and these leftists are foaming at the mouth. Get over yourselves. I'm not your mom, sister, or wife. I don't care what you have to say," she tweeted Saturday.
In a recent video she posted to social media, Paulina condemned House Speaker Nancy Pelosi and other Democrats for what she described as "rallying for the minority vote, constantly showing and taking photos with Mexicans and saying 'I support people south of border...yet they support MS-13. I'm sorry Nancy Pelosi, you don't give a s**t about Mexicans."
Several journalists and political pundits including CNN's Ana Navarro-Cárdenas responded to the airport confrontation by calling Harris's response a "master-class" on how to handle a close-quarters encounter with a social media provocateur.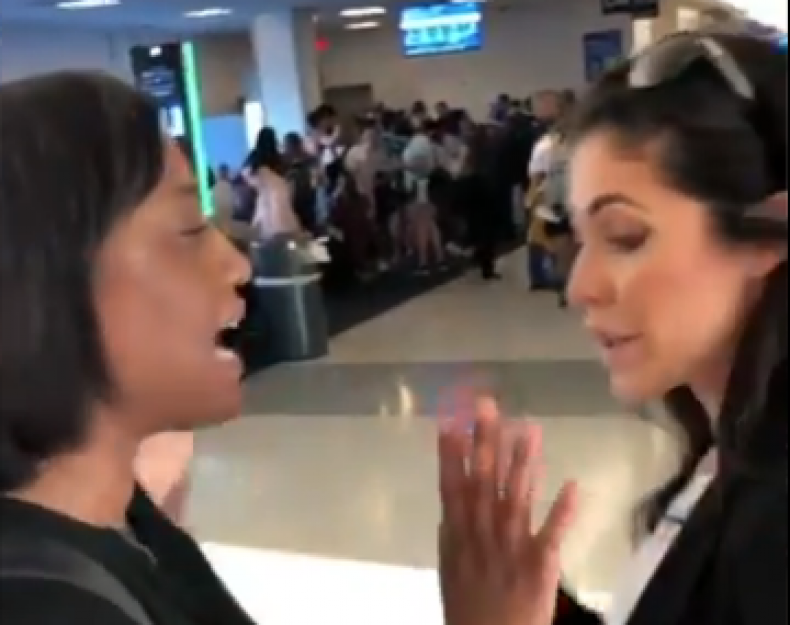 Turning Point USA, which frequently targets left-leaning politicians and organizations in provocative public displays, previously ridiculed Harris through comments made by fellow TPUSA member, Candace Owens at March's CPAC.
"She thinks that black people are stupid and the way that she's going to appeal to us is just by saying, 'I smoke pot and I listen to hip-hop music,'" Owens said of Harris last month. "How insulting is that?"