Kamala Harris Blasts Trump's 'Pathological Failure of Leadership,' Says We 'Need to Begin Impeachment Proceedings'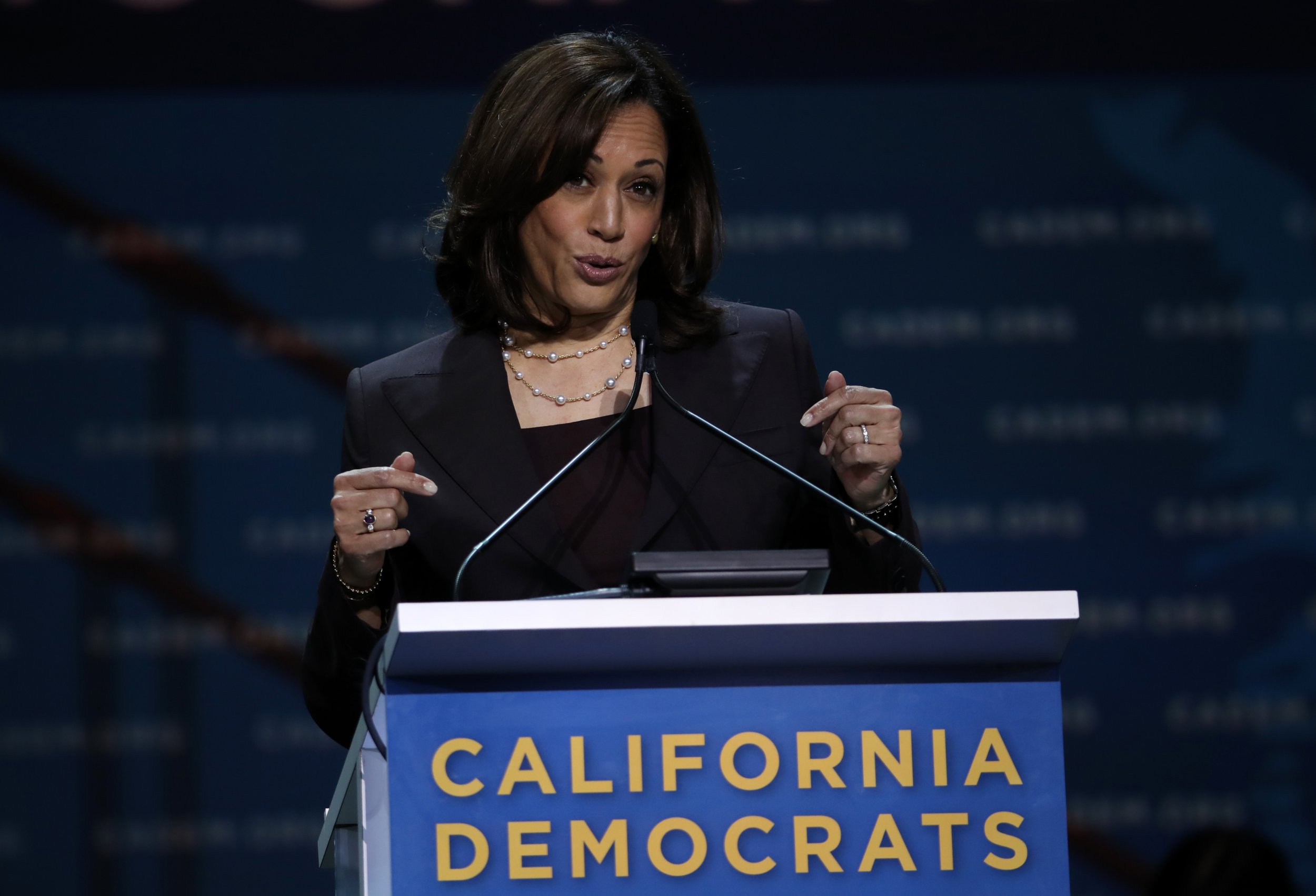 Sen. Kamala Harris (D-Cali.), who officially announced her 2020 presidential bid in January, this weekend slammed Donald Trump's "pathological failure of leadership" and called for impeachment proceedings to be launched against the president.
During her speech to California Democratic Party convention delegates in San Francisco on Saturday, Harris, a former San Francisco District Attorney and California Attorney General, called on lawmakers to "begin impeachment proceedings."
"We need a new commander-in-chief," she said to a cheering crowd. "We've seen how this president has lied to divide. It's a pathological failure of leadership."
"He denies that Russia interfered in the election of the President of the United States. He obstructed justice and then hired an attorney general to clean up the crime scene," Harris added.
Harris was among 14 presidential hopefuls who spoke at the California Democratic Party convention over the weekend, with each candidate limited to seven minutes on stage.
In her pointed rebuke of the president, Harris also accused Trump of "deregulating and deconstructing our government and our democracy'' while distracting the American people with controversial and divisive tweets. Harris then criticized the president's trade tensions with China and Mexico, saying that his efforts won't impede the flow of undocumented immigrants into the country.
"I like to call it Trump's trade tax,'' the 54-year-old Democratic senator said. "His trade tax is taking $1.4 billion out of working people's pockets every month."
Sen. Elizabeth Warren (D-Mass.), who gave her speech after Harris, vowed to fight for transformative rather than incremental change and apparently took a jab at former Vice President Joe Biden, who announced his 2020 presidential bid in April.
"When I lead the Democratic Party, we will be a party of moral clarity, a party of courage, and a party with a backbone," Warren said. "The rich and powerful aren't giving up anything without a fight."
Biden predicted in New Hampshire last month that Republicans will experience an "epiphany" when Trump leaves the Oval Office, which will render them more willing to work with Democrats in ensuring better policies for all Americans. "The thing that will fundamentally change with Donald Trump out of the White House, not a joke, is you will see an epiphany occur among many of my Republican friends," he said in May.
"Some Democrats in Washington believe the only changes we can get are tweaks and nudges,'' Warren said on Saturday, in apparent response to Biden's comments. "If they dream at all, they dream small. Some say if we'd all just calm down, the Republicans will come to their senses. But our country is in a time of crisis. The time for small ideas is over."
During the same event, Speaker of the House Nancy Pelosi gave a speech where she vowed to continue to "investigate" the president over the findings in special counsel Robert Mueller's Russia report.
"With the power of the gavel, we will continue to legislate to make progress for the American people," she said. "But we will also investigate to defend our democracy and to hold this president and his administration accountable."