Democratic Former Virginia Governor Douglas Wilder said Vice President Kamala Harris' video endorsement supporting Terry McAuliffe for governor could jeopardize the 501(3)(C) status of those Virginia churches showing it—and some legal experts agree.
The taped campaign ad, which has been playing on Sundays in Black churches across the state, has Harris calling upon congregants to "raise your voice through your vote."
"[W]e were taught that it was our sacred responsibility to raise our voice and lift up the voices of our community. One of the most significant ways I believe we can raise our voice is through our vote so Virginians you have the opportunity now to raise your voice...," said Harris in the video, noting that early voting is underway. "I believe my friend Terry McAuliffe is the leader that Virginia needs at this moment."
While it's estimated that by November 2 the ad will have been played in upward of 300 churches, it has drawn ire from both Wilder and watchdog groups that advocate for the separation of church and state.
"Well, it's very good for her to do that, causing these churches to lose their tax-exempt status," said the 90-year old Wilder in a Washington Examiner piece earlier this week. "If this is legal, then it's surprising to me."
The only Black governor in the state's history was referring to the Johnson Amendment, a federal law that keeps tax-exempt nonprofit groups—including houses of worship—from endorsing or opposing candidates for public office.
Newsweek reached out to Wilder for comment.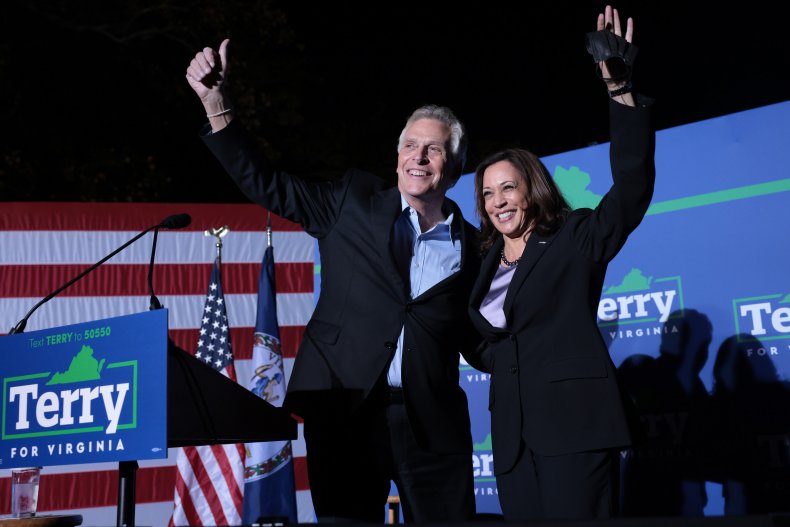 According to Foundation for Accountability and Civic Trust Executive Director Kendra Arnold, the vice president's campaign video being played in churches is also a direct violation of IRS law.
"Providing access to voting is one thing but telling someone who they should vote for is political activity," Arnold told Newsweek. "The IRS directly states a church or a nonprofit can not endorse or oppose any political candidate."
The law as it's written prohibits political campaign activity by charities and churches by defining a 501(c)(3) organization as one "which does not participate in, or intervene in (including the publishing or distributing of statements), any political campaign on behalf of (or in opposition to) any candidate for public office."
Arnold noted that's exactly what Harris had done in her recorded campaign video and that under the law, the appropriate sanction would be to revoke the churches' nonprofit status.
"Playing a video during services that urges people to vote for a specific candidate would violate the Johnson Amendment," agreed Rob Boston, senior adviser at Americans United for Separation of Church and State and editor of Church & State magazine. Boston noted it doesn't matter if it's done on behalf of Democrats or Republicans, but that houses of worship and other nonprofits are not allowed to intervene in partisan elections.
Churches and their faith leaders do have vigorous free speech rights, including speaking out on political and social issues, taking a position on issues of concern, lobbying on legislation and endorsing or opposing non-partisan referendums. They can also host candidate forums, distribute answers to candidate questionnaires and encourage people to vote, including through voter registration drives and driving people to the polls.
For example, during the recent California recall election of Governor Gavin Newsom, Republican Candidate Larry Elder appeared and was hosted by several evangelical churches and their leaders.
"Houses of worship and their faith leaders have robust free speech rights and as private citizens, faith leaders can support or endorse political candidates or even run for office," said Boston. "They just can't, in their official capacity with a house of worship or nonprofit, endorse or oppose a partisan political candidate."
"It is my opinion the vice president, by engaging in behavior that is directly contrary to IRS law—it does raise ethics questions for her as well," said Arnold. "It is common knowledge that nonprofits and churches cannot engage in political activity."
However, Arnold said that even in cases where a church engages in political activity, the IRS must determine if and how to enforce the law. In some cases, she said where there is debatable political activity, recently the IRS has been reluctant to enforce the law.
In this case, she said, the words are not open to interpretation—a church service was used to directly advocate for the election of a candidate and all attendees were asked to vote for that candidate immediately following the service.
"If the law was going to be enforced, then it would be in this type of case," said Arnold. "As a practical matter though, the IRS may still not act or could consider remedial action taken by the churches, and not revoke the tax exempt status."
"Essentially any enforcement of the law will be up to the IRS and that may take time or could not happen at all," she added.
Grammy Award-winning singer/songwriter and Virginia native Pharrell Williams is set to join Harris for an in-person appearance on Friday in Norfolk, Virginia during one of McAuliffe's final campaign events. The appearance of Williams, who criticized former President Donald Trump and endorsed Hillary Clinton in 2016, was divulged Monday by McAuliffe while receiving an endorsement from the Virginia Beach African American PAC.
It's an appearance, unlike Harris' previously recorded video, that is deemed perfectly acceptable from a legal standpoint.
"She can campaign all she wants for candidates and that's perfectly acceptable at campaign events," said Arnold.
Newsweek reached out to both Vice President Harris' office and McAuliffe's campaign.