Vice President Kamala Harris is expected to make a trip to California in support of Governor Gavin Newsom ahead of the state's gubernatorial recall election next month, Newsom's campaign announced Friday.
Newsom, a Democrat, is fighting to stay in office after a recall effort qualified for a ballot earlier this year. Next month's recall election, scheduled to take place on September 14, will determine whether voters want Newsom to remain in office for the remainder of his term.
"I am excited to join my friend and our Vice President next week," Newsom said in a Friday news release. "The stakes of this election couldn't be higher."
Newsom's comments in the release, which his Stop the Republican Recall campaign distributed Friday morning, continued by encouraging voters to cast their ballots in favor of keeping him in office and said the state's future "is on the line."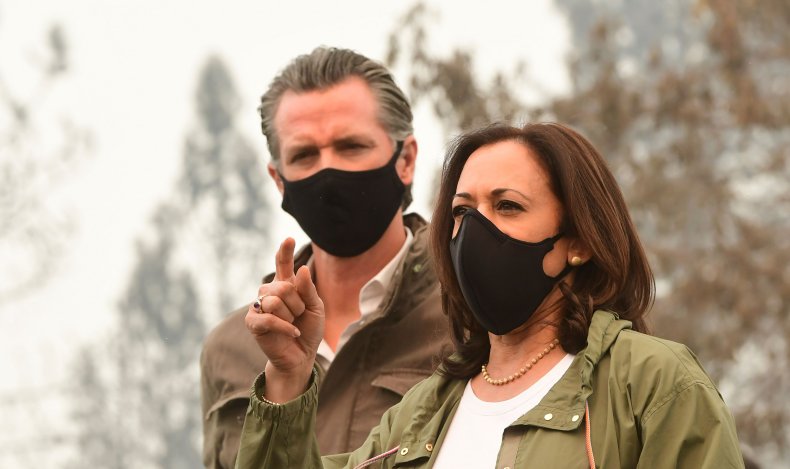 Harris is expected to join Newsom at an event in the Bay Area on August 27, according to Newsom's campaign. Her visit will involve efforts to "rally Californians against the Republican recall," his campaign added, and identify "what's at stake" if Newsom is removed from office.
"The Vice President and Governor Newsom will urge Californians to vote NO on the recall and prevent a Trump-supporting Republican from becoming California's next Governor," his campaign said.
Details regarding the timing and exact location of the event have not yet been released.
The Democratic vice president is from California and was serving as one of the state's senators in Congress before President Joe Biden won the 2020 presidential election with Harris as his running mate. Before she was elected into the U.S. Senate, Harris also served as the California attorney general and worked in the early 2000s as the district attorney in San Francisco.
Newsom is in his first term as California's governor, a role he won with nearly 62 percent of the vote in 2018. He has been battling the current removal effort since recall organizers gathered the minimum number of signatures needed to qualify for a ballot by their mid-March deadline.
Though Newsom's campaign identifies the recall as a Republican-driven effort, recall organizers have repeatedly disputed this characterization. However, the state Democratic Party has rallied behind Newsom, and Biden also weighed in on the recall election earlier this month.
"Gov. @GavinNewsom is leading California through unprecedented crises—he's a key partner in fighting the pandemic and helping build our economy back better," Biden tweeted on August 12. "To keep him on the job, registered voters should vote no on the recall election by 9/14 and keep California moving forward."
California voters have already begun receiving mail-in ballots for the September 14 recall election. The ballot asks voters if they want Newsom removed from office and who they would pick to succeed him if he is recalled.
If more than 50 percent of voters choose to recall Newsom, he will be replaced by the recall candidate who receives the greatest number of votes. Forty-six candidates appear on the recall ballot as potential replacements for Newsom. Any recall victor would hold office until the midterm elections next fall, when voters will choose from that election cycle's list of candidates who they want to become the next California governor.
Newsweek reached out to Harris' office for comment and will update this article with any response.