Biden Urges 'No' on Gavin Newsom Recall, Says 'Keep California Moving Forward'
Democratic President Joe Biden has told California voters not to vote out the state's Democratic Governor Gavin Newsom in the September 14 recall election. Biden said Newsom will "keep California moving forward."
"Governor Newsom is leading California through unprecedented crises," Biden's statement said. "He is a key partner in fighting the pandemic and delivering economic relief to working families and helping us build our economy back better than ever."
"He's taking on the climate crisis and standing up for the riots of women, immigrants and the LGBTQ community," Biden's statement continued. "He knows how to get the job done because he's been doing it. And to keep him on the job, registered California voters should vote no on the recall election by September 14 and keep California moving forward."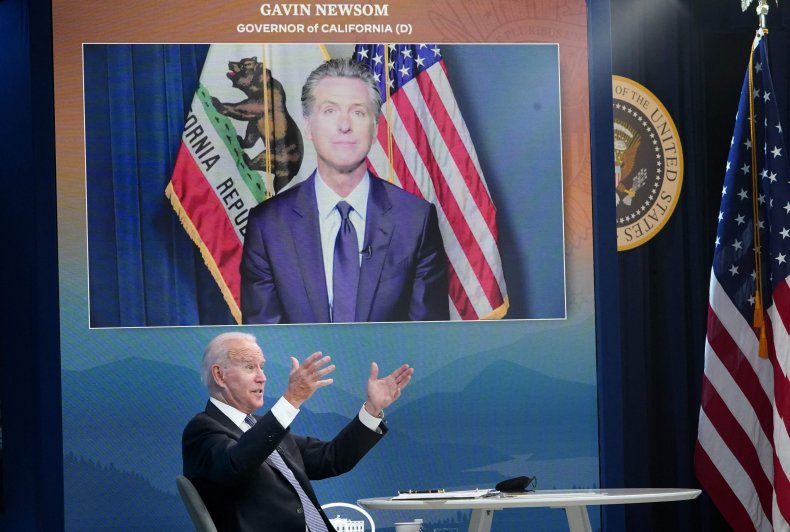 Newsom is facing 46 opponents vying to unseat him in the recall election. Many of the candidates are Republican, though others are self-identified Democrats, members of the Green, Libertarian and Socialist parties or non-affiliated with any party. Nevertheless, Newsom has said that the recall is primarily a Republican-led effort.
"The recall is an attempt by national Republicans and Trump supporters to force an election and grab power in California," Newsom said in his election guide address to state voters.
Meanwhile, Republican National Convention (RNC) members have asked California Republicans to refrain from endorsing a candidate.
"The polls are showing that the recall is in a statistical tie and we cannot afford to discourage voters who are passionate about a particular candidate, yet may not vote because their favored candidate didn't receive the endorsement," the RNC wrote in an early August email to the state party. "Any of our GOP candidates would be superior to Gavin Newsom."
State Republican voters are more enthusiastic about the recall than Democrats, according to August 4 polling by the San Diego Union-Tribune. Only 38 percent of Democrats polled said they were definitely going to vote in the recall election. Comparatively, 73 percent of Republicans said they would definitely vote.
That lack of enthusiasm could harm Newsom if far more Republican voters turn out than Democratic ones. However, California is also heavily blue state where registered Democrats outnumber Republicans nearly two to one. Even if the above statistics played out, the Republican voters would still be outnumbered by about 80,000 Democrats.
Newsom posted on Twitter that voters should vote "no" to the recall question. He said, "There's too much at stake to sit this out." He also advised voters to leave the second ballot question about his replacement blank.
Despite only being governor for two years, Newsom has already faced five unsuccessful attempts to remove him through recalls. California has some of the most relaxed rules for initiating a recall, according to the state news site Cal Matters. Because of the ongoing pandemic, a judge gave Newsom's opponents nearly twice the usual amount of time to solicit recall signatures.
Newsom has a higher favorability rating than state Governor Gray Davis did when he was recalled from office in 2003. Newsom had a 51 percent approval rating and a 39 percent disapproval rating in a Morning Consult poll conducted almost entirely during January. Comparatively, Davis' approval rating was in the 20s just before he was recalled, according to the statistics site FiveThirtyEight.
The site also notes that California is much more Democratic-leaning now than it was around 2003. In 2004, Democratic presidential nominee John Kerry received about 54 percent of the state's votes. In 2020, the Democratic presidential nominee received over 63 percent of the state's votes.
Newsweek contacted Newsom's office for comment.