What You Need to Know About Maya and Meena Harris and Kamala Harris' Stepchildren
On Wednesday, Vice President-elect Kamala Harris will be sworn in alongside President-elect Joe Biden at the inauguration.
Surrounding the 2020 election, some of Harris' family members, like her niece Meena and sister Maya, have been incredibly active and vocal in the vice president–elect's run.
Here's a quick rundown of the Harris family tree:
Sister
Maya Harris
Harris' 53-year-old younger sister is no stranger to politics. During Harris' presidential run, her sister was the campaign chairwoman. She also served as an adviser to former first lady and Senator Hilary Clinton during her 2016 presidential run, according to The Washington Post. Previously, Maya Harris was the executive director at the American Civil Liberties Union of Northern California and a vice president at the Ford Foundation, whose mission is "to reduce poverty and injustice, strengthen democratic values, promote international cooperation, and advance human achievement," according to its website.
Maya Harris was one of the family members that the vice president–elect thanked in her acceptance speech in November, along with her husband and stepchildren.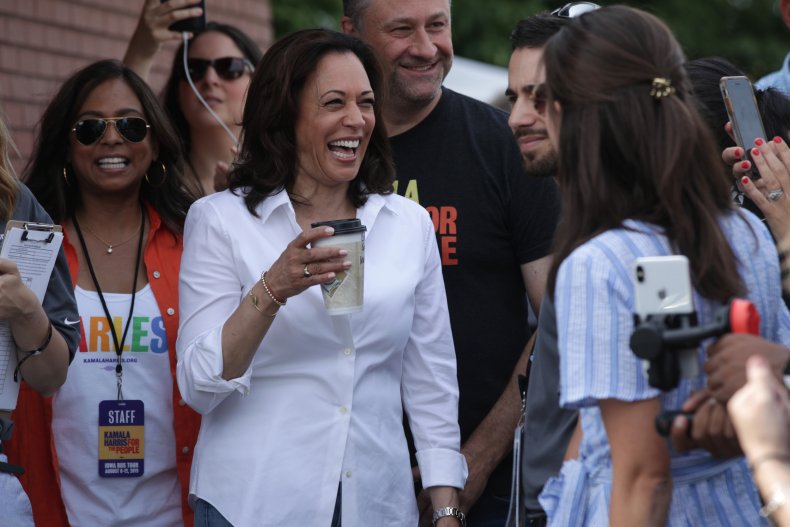 Niece
Meena Harris
Harris' niece has been particularly outspoken during her aunt's vice presidential campaign and leading up to her inauguration, whether she was celebrating a rainy rally or coming to Sasha Obama's defense. Meena Harris is also a lawyer and the CEO of the Phenomenal Woman Action Campaign, which "brings awareness to social and cultural causes" according to its website, by creating and supporting content from various organizations including the Essie Justice Group and Black Futures Lab.
Harris has also authored two children's books Ambitious Girl and Kamala and Maya's Big Idea, inspired by her mother and aunt.
Stepchildren
Harris has two stepchildren with her husband, lawyer Doug Emhoff. Both Cole and Ella Emhoff were from Emhoff's first marriage to producer Kerstin Emhoff (née Mackin). Both the Emhoff children refer to Harris as "Momala." The siblings were recently interviewed by The New York Times to discuss their family dynamic. Ella described the parenting style between the three as positive. "They have good communication between the three of them. They are really a unit, like a three-person parenting squad. It's really cool," she said.
Cole Emhoff
The elder Emhoff sibling is a graduate of Colorado College. He appears to have followed in his mother's footsteps and pursued a career in the entertainment industry. According to his LinkedIn, he's an executive assistant for the production company Plan B, which has recently produced the Jon Stewart–directed Irresistible.
Ella Emhoff
The younger Emhoff is a student at Parsons in Brooklyn, New York. She regularly posts different art and knitting projects on Instagram. In the New York Times interview, she said that she hoped her father would take up knitting as part of his new role as second-gentleman.