Kamala Harris Favorite to Win in 2024 After Debate, Mike Pence's Odds Lengthen
Kamala Harris is favorite to win the 2024 election after a vice-presidential debate bookmakers said had improved her chances of winning the race for the White House in four years' time.
Joe Biden's 2020 running mate was judged to have won Tuesday's debate with Mike Pence by 59 percent to 38 percent, according to a CNN snap poll.
Before the debate, Harris was already the clear 4-1 favourite to win in 2024. Nikki Haley had the next best odds at 8-1, followed by Biden at 12-1 and Pence with 25-1, according to Betfair.
However, after the debate, Harris' odds shortened, to 3-1, while Pence's odds lengthened, to 33-1, the bookmakers said.
In late September Pence's odds of winning in 2024 were 5-1, suggesting the current vice president is slipping down bookmakers' lists of favorites for four years' time.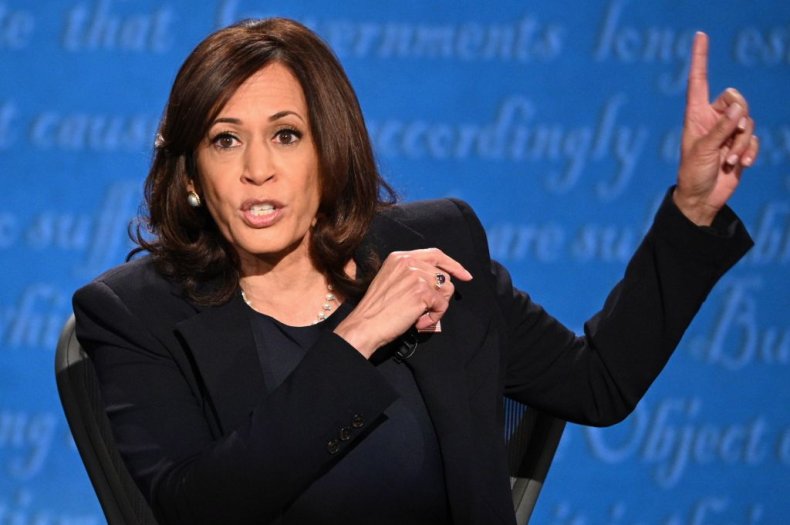 Meanwhile, Oddschecker, which compares odds from multiple bookmakers, said betting firms currently have Biden, Harris and Pence in joint first position in the 2024 US election market.
All three of the potential candidates have been priced at 6-1.
It comes after Meghan Markle's odds to be elected president in 2024 improved last month when she posted a video encouraging people to vote in the 2020 US election.
In the video, the Duke and Duchess of Sussex called the presidential race the "most important election of our lifetime," but stopped short of endorsing a candidate.
She said: "Every four years we are told the same thing, that this is the most important election of our lifetime. But this one is.
"When we vote, our values are put into action and our voices are heard. Your voice is a reminder that you matter, because you do and you deserve to be heard."
One online UK bookmaker now has Meghan Markle at 50-1 to win the 2024 US election, which implies she now has a 2 percent chance of becoming the president, Oddschecker reported.
"Michelle Obama was rumoured to be a potential running mate for Joe Biden a few months back, and the whispers of Obama running for election in 2024 are bound to gather momentum in the next few years. She's currently priced at 33-1 to win the 2024 US election," the odds comparison site added.
"Dwayne Johnson is the fifth favorite to win the 2024 US election, and currently has the same odds as Donald Trump."