Kamala Harris Finally Unveils Her 2020 Health Care Plan but Experts Are Skeptical About How She'll Pay For It
2020 Democratic hopeful Kamala Harris finally unveiled her health care plan ahead of the second round of primary debates and experts have one key concern: cost.
"Medicare works. It's popular," Harris wrote in a Medium essay on Monday morning, in which she detailed the proposal. "Now, let's expand it to all Americans and give everyone access to comprehensive health care."
Her plan would give all Americans the opportunity to buy into Medicare immediately. The proposal would also allow private insurers to continue selling plans, though those providers will have to adhere to "strict" new standards on costs and benefits. The expanded system would have a 10-year transition period.
Unlike some of her top Democratic rivals, Harris did not put a price tag on the ambitious health care proposal. Bernie Sanders' "Medicare for All" plan is estimated to cost $32 trillion and Joe Biden says his plan, which largely builds on Obamacare, would be about $750 billion.
"What she says is no deductibles, no co-pays and out-of-pocket expenses capped at $200. That all sounds wonderful. How do we pay for it?" Nancy Nielsen, a health care policy expert at the University at Buffalo, told Newsweek. Nielsen previously served as a senior adviser at the Center for Medicare and Medicaid Innovation under the Obama administration.
Harris has not put a dollar amount to her health care plan and her campaign did not immediately respond to Newsweek's request for comment. In her Medium post, Harris did briefly outlined how she would pay for the plan by taxing Wall Street and higher income households.
Under her policy, any household making over $100,000 per year would face an additional 4 percent income-based premium. Senator Sanders would pay for "Medicare for All" by placing the same tax on household earning above $29,000. Harris said she believed that idea "hits the middle class too hard."
To make up for not taxing the middle class, Harris would increase taxes for Wall Street instead. She would tax all stock trades at 0.2 percent and bond trades at 0.1 percent. Any derivative transactions would be taxed at 0.002 percent. All of those funds combined would raise about $2 trillion over 10 years, according to the Harris campaign.
But experts are skeptical that those funds would be enough for the proposal. Scott Adams, a senior economist on the Council of Economic Advisers under Presidents George W. Bush and Barack Obama, told Newsweek that in order to fund Harris' plan there's likely going to have to be tax increases somewhere else.
"Given what we know about what the cost of a 'Medicare for All' type system would entail, it seems as if her revenue streams would probably fall short," Adams said. He added that it's hard to imagine an overhaul of the health care system like the one Harris is proposing without "increasing taxes on mostly everyone."
Paul Ginsburg, the director at USC-Brookings Schaeffer Initiative for Health Policy, told Newsweek that "we shouldn't all of a sudden say there needs to be a cost estimate when that hasn't been the norm" throughout the presidential race. Still, he said that Harris' plan, like most 2020 health care proposals, is "unrealistic."
"All of the Medicare for All plans have a huge obstacle in that they involve large-scale redistribution of income," Ginsburg said. "That is what makes the plans so politically infeasible."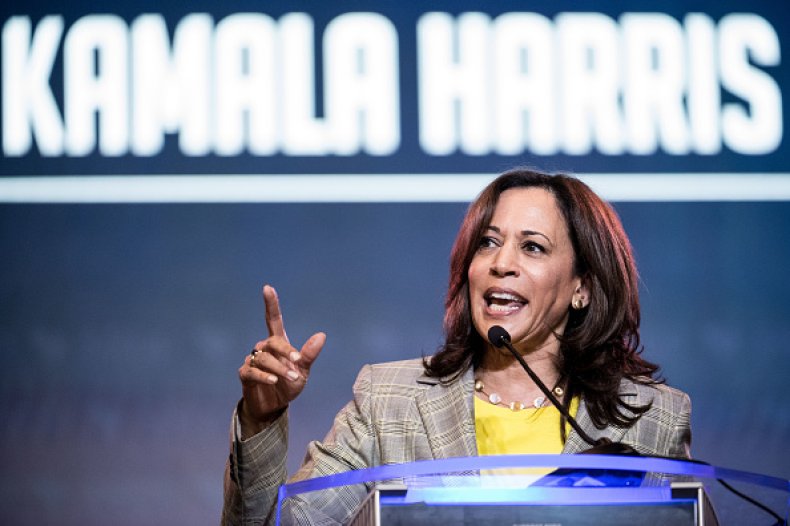 Overall, Harris' health care plan has been lauded as a middle ground between Sanders' single-payer system and more moderate Democratic proposals that favor other ways of cutting costs and expanding coverage.
Former Health and Human Services Secretary Kathleen Sebelius, the architect of Obamacare, has come out in support of the proposal. Sebelius called it a "smart way to get to Medicare for All where all individuals and employers can transition smoothly into a system that covers everyone."
Harris unveiled her plan two days before taking the stage for the second Democratic presidential debate. The California senator had her breakout moment during the first round of debates in June, which propelled her to third place in the polls behind Biden and Sanders.
The Sanders and Biden campaigns have issued statements slamming Harris' proposal. Sanders' team denounced the plan as "terrible policy" and "terrible politics." The Biden team called it "a Bernie Sanders-lite Medicare for All."
Health care has become something of a litmus test for the progressiveness of 2020 candidates. Before releasing her plan, Harris had mixed messages on her official health care stance. In the past, she's been a co-sponsor of Sanders' "Medicare for All" bill in Congress. When asked if she supported eliminating private insurance during the first round of debates, Harris was one of four candidates to raise their hand. She later flipped on the position, claiming she heard the question wrong.
"She had to come out with a plan of her own because when she raises her hand and says she supports Medicare for All — the disadvantages of Medicare for All are significant and they will be pointed out primarily in cost and implementation," Nielsen said. "It's one thing to have a wonderful plan, but if you can't figure out how to pay for it and if it's going to disrupt the entire country in terms of workforce, it's just not realistic. [Harris] listened to that and came up with a plan that builds on what is popular and will really be able to make a big difference in terms of the debate around Medicare for All."