During her first overseas trip as vice president, Kamala Harris stressed the connection between the environment and migration that has overwhelmed the United States's southern border in recent months.
"Recently there's been a lot of talk about eco-preneurs—entrepreneurs who are focused on climate, focused on what might happen, which is to protect our environment but also see the capacity for jobs and economic development as a connection with that pursuit," Harris told reporters during a briefing alongside Guatemalan President Alejandro Giammattei in Guatemala City, Guatemala on Monday.
Harris is visiting central America this week to discuss the border crisis and other issues with foreign leaders. President Joe Biden has tasked her with addressing the root causes of the migrant influx stemming from the Northern Triangle of Central America.
At her first foreign public address as vice president, Harris sent a stern warning to people considering coming to the United States.
"I want to be clear to folks in this region who are thinking about making that dangerous trek to the United States-Mexico border: Do not come. Do not come," she said.
The Biden administration has sought to link climate change and other environmental conservation efforts as points for economic opportunity, including green energy jobs in the United States that are meant to replace jobs in fossil fuel industries.
Harris said she and Giammattei discussed "what can happen in terms of the planting of trees and what that can mean in terms of ecology and in our environment."
Harris also publicly called on the Guatemalan people to try to stop others from migrating to the United States.
"Let's discourage our friends or neighbors or family members from embarking on what is otherwise an extremely dangerous journey, where, in large part, the only people who benefit are coyotes," she said.
Just a day earlier CBS News aired an interview during which Giammattei blamed the Biden administration for the migration crisis.
"We asked the United States government to send more of a clear message to prevent more people from leaving," he said in the interview.
Standing alongside Harris at a news conference after a private meeting, Giammattei and Harris both agreed that economic efforts would help stem the flow of people leaving Guatemala for the United States.
"Starting on ground zero we can begin to further strengthen the relationship between Guatemala and the United States, and we can move forward mile after mile long till we can turn this country into a country of opportunity where people wish to stay, but particularly where the hope of staying is realistic because they can find a better future and that will be the foundation for them not to need to migrate," Giammattei said through a provided interpreter.
Harris said she believes aiding Guatemala will "uplift folks who may have been overlooked or neglected but also uplift the natural capacity and resources of this beautiful country."
"I want to emphasize that the goal of our work is to help Guatemalans find hope at home," she said.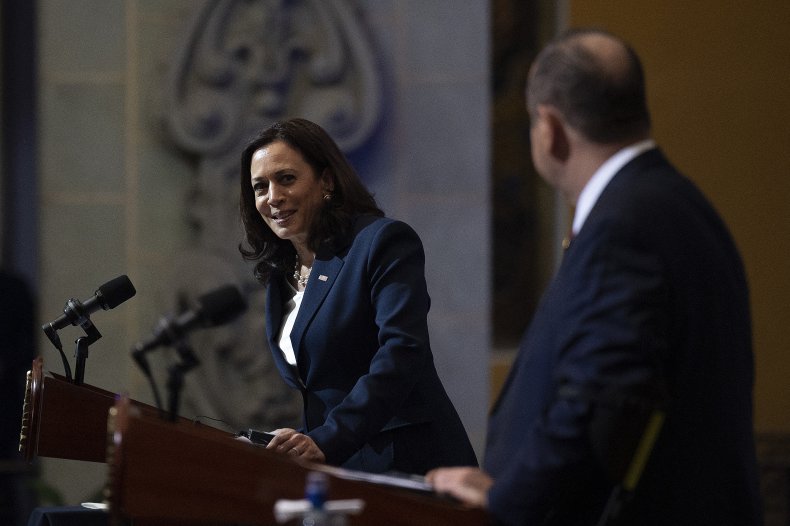 Much of the Biden administration's immigration policy so far has centered on unaccompanied minors who have crossed the border in record numbers.
Harris' public remarks in Guatemala were the most forward direct message to would-be migrants.
"There are legal methods by which migration can and should occur, but we as one of our priorities will discourage illegal migration," she said. "If you come to our border, you will be turned back."