What Was Kamala Harris Aide Larry Wallace Accused of? Long-Serving Staffer Resigns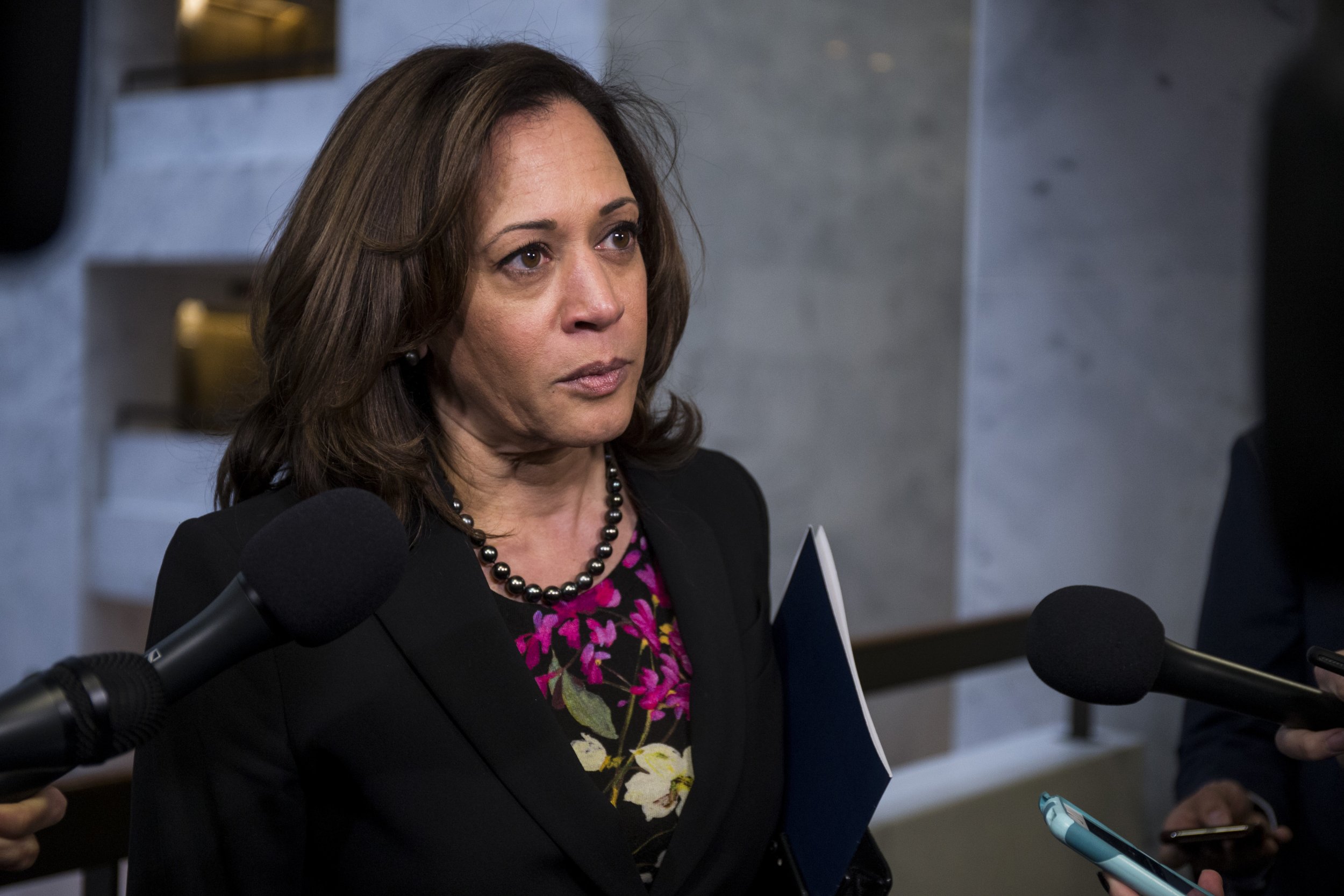 A long-serving aide to Democratic Senator Kamala Harris of California has resigned over harassment allegations.
Larry Wallace stepped down after the Sacramento Bee questioned him over a $400,000 harassment settlement with his former executive assistant, Danielle Hartley, in 2017.
Read more: Kamala 2020? Harris says things could get 'ugly' if she runs against Trump: 'When you break things, it is painful'
The settlement dates back to when Wallace was the director of the Division of Law Enforcement at the California Department of Justice. Harris was attorney general at the time.
According to a lawsuit against the California Department of Justice dated 2016, the Sacramento Bee reported, Hartley had accused Wallace of harassing and demeaning her "due to her gender."
Wallace allegedly fitted a printer beneath his desk, and demanded that Hartley tend to the ink or paper daily—often while he sat at his desk or was with other senior male members of his staff.
Hartley, who was hired as Wallace's assistant in 2011, claimed he refused her request to move the printer to another location in the office.
Wallace also allegedly diverted Hartley from "meaningful" work, and instead asked her to complete personal errands, such as fixing his car. Colleagues would subsequently ask if she was "walking the walk of shame" after completing these personal tasks.
When she complained, Hartley claimed she was effectively pushed out and told by senior management to quit her job.
Hartley said the alleged harassment triggered panic attacks, depression and a pinched nerve, which required surgery.
At the time the lawsuit was filed, Harris had recently won her U.S. Senate campagin, and was preparing to leave her job as attorney general. Wallace had previously worked for Harris when she was San Francisco district attorney, and had previously been a detective in the Oakland Police Department.
The case was settled in May 2017, when Harris made Wallace a senior adviser. Harris apparently did not know about the allegations when she gave him the position.
Lily Adams, a spokeswoman for Harris, told the Sacramento Bee: "We were unaware of this issue and take accusations of harassment extremely seriously. This evening, Mr. Wallace offered his resignation to the senator, and she accepted it."
The California Department of Justice denied "each and every allegation" in response to the lawsuit and settled in May 2017 for $400,000, while denying any wrongdoing.
Representatives for Wallace and Harris did not immediately respond to Newsweek's requests for comment.
The California Department of Justice told Newsweek it "does not comment on personnel matters and this case was handled in keeping with standard procedure."
The details of the settlement emerged amid speculation that Harris, who entered the national spotlight after her questioning of Supreme Court Justice Brett Kavanaugh during the Senate Judiciary Committee hearing, had her sights set on the White House in 2020.
In an interview with MSNBC's Mika Brzezinski, Harris said she intended to consider the "very serious" decision of whether to run for president in 2020 during the holiday season.
Commenting on the race in which she would likely face incumbent President Donald Trump, she said: "Let's be honest. It's going to be ugly," she said. "When you break things, it is painful. And you get cut. And you bleed."
This article has been updated with comment from the California Department of Justice.