Kamala Harris' Migrant Crisis Diplomacy Is Off to a Rocky Start
Kamala Harris' trip to Guatemala and Mexico to staunch the flow of migrants to the US border is off to a rocky start.
The trouble began on Sunday when CBS aired an interview with the Guatemalan President who blamed the Biden administration for sparking the border crisis with a confusing message on immigration.
Without addressing the criticism, Harris tried to discourage the flow of migrants by warning illegal arrivals that they would be sent home. That message, her US critics to pointed out, was a reversal of a campaign message in which she promised to welcome migrants after four years of harsh rhetoric and harsher policies from Donald Trump.
Harris also blamed the immigration problem on climate change, a position that was at odds with her host and drew further criticism at home.
"I want to be clear to folks in this region who are thinking about making that dangerous trek to the United States-Mexico border: Do not come. Do not come," she said.
"President Giammattei has mentioned to me many times today and in previous conversations about his priority around what can happen in terms of the planting of trees and what that can mean in terms of ecology and in our environment," Harris said.
"Well, recently, there's been a lot of talk about 'ecopreneurs'—entrepreneurs who are focused on climate, who are focused on what might happen, which is to protect our environment but also see the capacity for jobs and economic development as a connection with that pursuit."
Guatemalan President Giammattei said earlier that he did not agree with the Biden administration's approach.
"We are not on the same side of the coin," he told CBS speaking about ending family separations at the border. "We are in agreement on the 'what,' which is something. We are not in agreement on the 'how.'"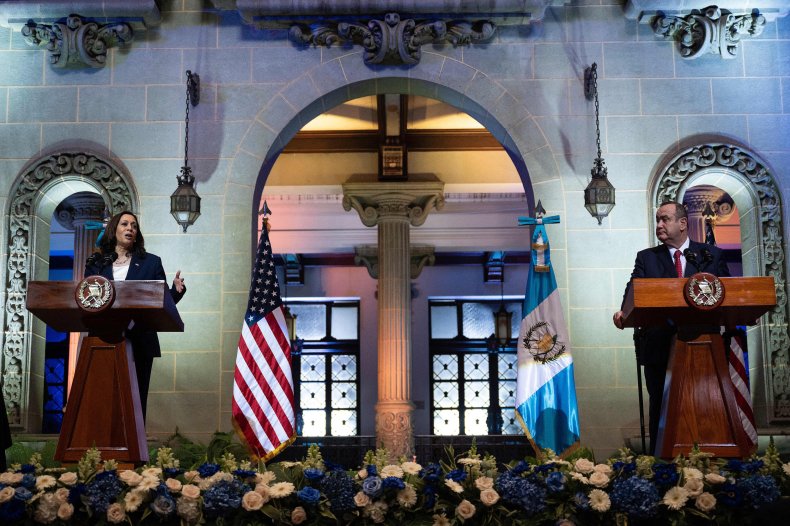 Harris' statements Monday are counter to what she said during 2019, when she ran in the Democratic presidential primary. At that time, she championed Dreamers and proposed a plan that would remove the threat of deportation for millions of undocumented immigrants.
"It's an America where families are kept together, not torn apart. It's an America where children are cared for, not kept in cages. It's an America where Dreamers are finally recognized for what they are: Americans," she said at the time.
Earlier this year when she named as the leader of the Biden administration's border response, Harris said, "There is no question that this is a challenging situation ... While we are clear that people should not come to the border now, we also understand that we will enforce the law and that we also—because we can chew gum and walk at the same time—must address the root causes that cause people to make the trek, as the president has described, to come here."
Lauren Boebert criticized Harris' handling of the situation on Twitter Monday.
"The President of Guatemala directly blamed the Biden/Harris administration for the border crisis. Harris deflected and blamed climate change. It's so embarrassing being represented by these fools," Boebert said.
Rep. Dan Newhouse of Washington's 4th district agreed with Boebert in a Monday tweet.
"It's been 75 days since @VP was named 'Border Czar,' and she has yet to visit the border. Instead of taking responsibility for the ongoing crisis, she's blaming climate change for our porous border," he said.
Harris faced criticism from the left as well, as in this tweet from Rep. Alexandria Ocasio-Cortez of New York.
"This is disappointing to see. First, seeking asylum at any US border is a 100% legal method of arrival. Second, the US spent decades contributing to regime change and destabilization in Latin America. We can't help set someone's house on fire and then blame them for fleeing," she said.
Michael Cohen, President Trump's former lawyer, took to Twitter to defend Harris, saying "Is that the same border that Trump was erecting a wall on and to be paid for by who? Oh yeah...Mexico. Really poor choice of topics to attack @VP @KamalaHarris on! on!"
Next, Vice President Harris will travel to Mexico to meet with Mexican President Andrés Manuel López Obrador.