Kamala Harris More Liberal Than Bernie Sanders, Senate Record Analysis Shows
Democratic presidential nominee Joe Biden's pick for his vice presidential running mate, Democratic California Senator Kamala Harris, was ranked as being more liberal than Democratic Vermont Senator Bernie Sanders, the congressperson often considered the furthest left within the Democratic caucus.
The government watchdog website GovTrack.us ranked all 100 U.S. Senators with an "ideology score" from 1.0 (most conservative) to 0.0 (most liberal). The score is based on each senator's legislative behavior: namely, how similar the pattern of bills and resolutions they co-sponsor are to other congress members.
"Members of Congress with similar political views will tend to cosponsor the same set of bills, or bills by the same set of authors, and inversely Members of Congress with different political views will tend to cosponsor different bills," the website explains.
GovTrack.us gave Sanders an ideology score of 0.02 and Harris a score of 0.00. together, they ranked as the most liberal members of the Senate. The website said Harris joined bipartisan bills the least often compared to Senate Democrats.
"Of the 471 bills that Harris cosponsored, 15 percent were introduced by a legislator who was not a Democrat," the website stated.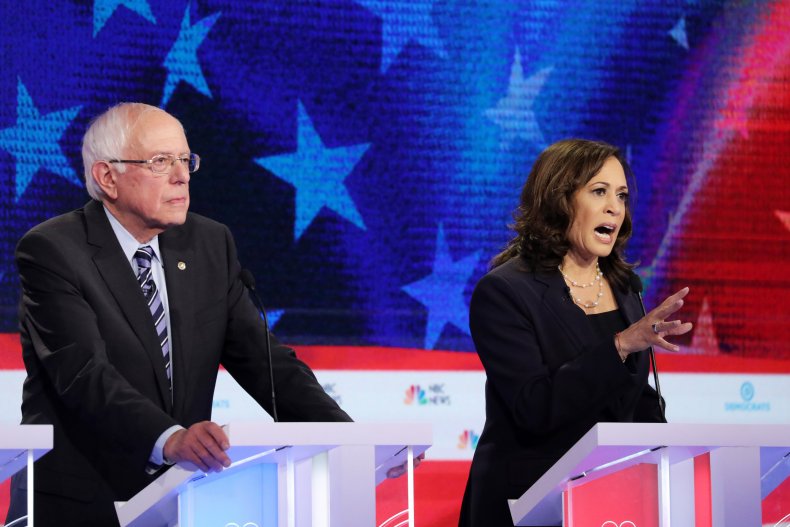 She may have scored as slightly more liberal than Sanders because one of her authored bills actually became a law whereas none of Sanders' have—it's actually rare for any bill to become a law, according to the website.
Newsweek contacted GovTrack.us for comment.
The close liberal rating of Harris and Sanders may not be altogether surprising considering that Harris co-sponsored Sanders' 2017 "Medicare for All" national healthcare plan, although Harris has since said that she differs from Sanders' healthcare plan in three key ways.
During her time as a Democratic presidential candidate, Harris' tax plan was modeled after Sanders' tax plan. Also, Harris and Sanders both recently supported giving all U.S. citizens $2,000 a month during the ongoing coronavirus epidemic.
"A higher or lower (ideology score) doesn't necessarily make a legislator any better or worse, or more or less effective, than other members of Congress," GovTrack.us explains.
"There are many important aspects of being a legislator besides what can be measured, such as constituent services and performing oversight of the executive branch, which aren't reflected [in our ideology scoring]," the website continues.
At Tuesday's daily coronavirus briefing Trump said, "[Harris is] also known, from what I understand, as being just about the most liberal person in the U.S. Senate. And I would have thought that Biden would have tried to stay away from that a little bit."
Trump then claimed that Harris and Biden are trying to protect "a large number of criminals" and "take away your Second Amendment," the right to own guns—both are part of his larger efforts to paint Biden and Harris as beholden to the so-called "radical left."