Kamala Harris Praises 'Heroes' Lost in Kabul, Avoids Questions in Hawaii
Vice President Kamala Harris offered no response to questions shouted by journalists about the terror attack in Kabul on Thursday which killed 13 U.S. service members and scores of Afghan civilians. Two suicide bombers and a gunman attacked an access route to the international airport in Kabul, Afghanistan, on Thursday afternoon.
Vice President Harris was in Hawaii at Joint Base Pearl Harbor-Hickam with her husband Douglas Emhof to attend an event with troops. The reporting pool travelling with Harris learned en route that the event would be closed to journalists. No explanation was offered, Fox News reported.
After Air Force Two taxied to the historic base operations building at Hickman Field, Daniel K. Inouye International Airport, Harris was greeted by and briefly spoke to Admiral Sam Paparo, commander of U.S. Pacific Fleet, Honolulu Star-Advertiser reported.
As they headed to the awaiting motorcade, Harris waved to journalists but did not answer shouted questions about the deadliest day for U.S. troops in more than a decade. A similar scenario played out as Harris returned to Air Force Two after the event, with the vice president not responding to shouted questions.
Harris was due to stop in California to appear with Democratic Governor Gavin Newsom, who is facing a recall attempt, but following the attack, scrapped those plans to head directly to Washington, D.C.
Newsweek has contacted Harris' office for comment.
Harris had earlier issued a statement about the attack via Twitter: "Today in Kabul, a terror attack killed 13 American service members. These courageous service members died while saving countless lives. They are heroes.
"Doug and I grieve for the Americans we lost, we pray for the Americans injured in the attack, and our hearts go out to their loved ones. We also grieve for the Afghan civilians killed and injured.
"Our country is grateful to our women and men in uniform, and in particular, those working today to get Americans and our Afghan partners out of harm's way. We will complete that mission. Today, we honor those who gave their lives in service to their nation. We will never forget."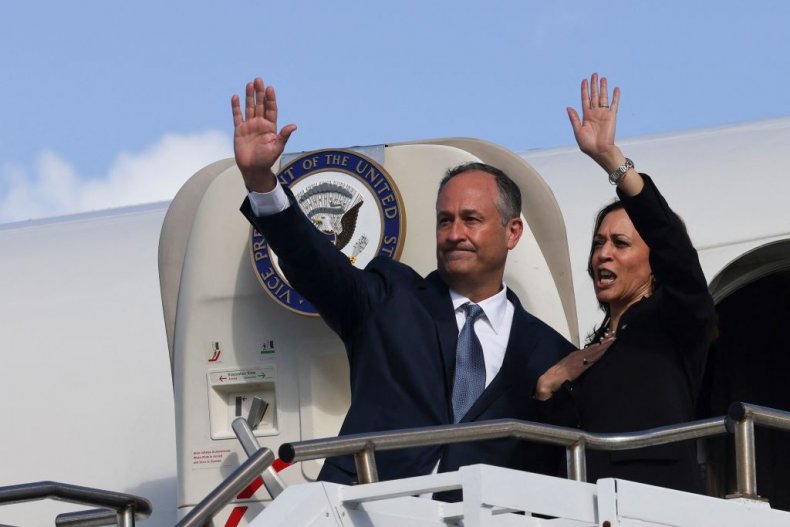 Joe Biden vowed to strike back at the terrorist group in Afghanistan in a speech to the nation on Thursday afternoon.
The President said: "We will not forget," adding a pledge the military will "hunt down" the terrorists responsible for the killing.
He added the Islamic State leaders responsible for the attacks would be found "without large military operations."
Biden ruled out any change to the end of August evacuation deadline, while also saying the U.S. would come to the assistance of all Americans left in Afghanistan.
Thursday's attack marked the deadliest day for U.S. soldiers in Afghanistan since August 6, 2011, and the first military deaths since February 2020.
Marine Corps General Frank McKenzie, head of the U.S. military's Central Command, has cautioned more Islamic State attacks may be imminent amid the scramble to evacuate civilians and personnel.
He said at a Pentagon Press briefing: "The threat from ISIS is extremely real. We believe it is their desire to continue those attacks, and we expect those attacks to continue."