Vice President Kamala Harris reiterated the need to address the root causes of undocumented immigrants and asylum seekers from Central America coming to the southwestern border in record numbers.
The vice president made the remarks in Texas during her first trip to the border since President Joe Biden tasked her with spearheading the administration's response to the wave of immigrants. Harris has received substantial backlash from Republicans as well as some Democrats for not visiting the border earlier.
"The reality of it is that we have to deal with causes and we have to deal with the effects," she told reporters Friday morning as she arrived at the El Paso Central Processing Center, a U.S. Customs and Border Protection (CBP) facility, according to a White House pool report.
Harris emphasized that she decided to visit the southwestern border after traveling to Central America earlier this month in an effort to address the underlying reasons for the immigration surge with leaders in the region.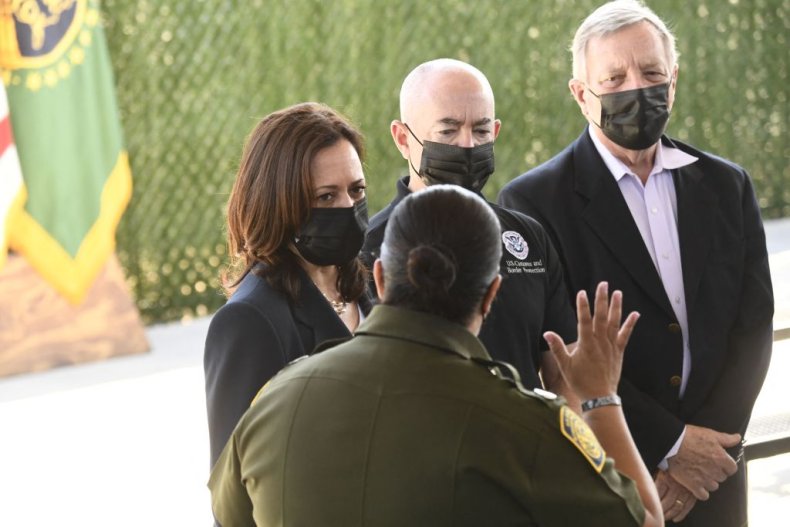 She said her trip in early June was about "looking at the effects of what we have seen happening in Central America." The vice president also noted that she was "glad to be here" in Texas. "It was always the plan to come here. And I think we're going to have a good and productive day," she said.
The U.S. has seen a significant uptick in undocumented immigrants and asylum seekers since Biden and Harris took office in January. Republicans have blamed the new administration's rollback of some of former President Donald Trump's hard-line policies targeting migrants.
Critics of the Biden-Harris administration protested outside the CBP facility in El Paso ahead of the vice president's visit. They held signs showing support for Trump, with some falsely claiming that he won the 2020 election, video from the demonstration posted online showed. Others held signs reading "Que Mala Harris," a Spanish play on the vice president's name. Que mala translates as "how mean."
Most of the hundreds of thousands of migrants and asylum seekers arriving at the border come from Guatemala, El Salvador and Honduras. They are largely fleeing endemic violence, widespread poverty and the growing impacts of climate change. Biden asked Harris to address these underlying causes with Central American partners.
Harris met with leaders and organizations in Central America during her trip there earlier this month. She also urged would-be immigrants not to take the risky journey to the U.S.
"I want to be clear to folks in this region who are thinking about making that dangerous trek to the United States-Mexico border: Do not come. Do not come," Harris said during a press conference with Guatemala President Alejandro Giammattei. She asserted that "the United States will continue to enforce our laws and secure our border."
However, she also emphasized the difficulties Central Americans were facing at home, emphasizing the need to address them.
"I want to be very clear that the problem at the border, in large part if not entirely, stems from the problems in these countries," she said during the Central America trip. "I cannot say it enough. Most people don't want to leave home, and when they do, it is usually for one of two reasons: either they are fleeing harm or to stay home means that they cannot satisfy the basic needs to sustain and take care of their families."
Newsweek reached out to the White House for further comment but did not hear back before publication.
This story was updated with additional information and background.