Kamala Harris Sworn In Using Thurgood Marshall Bible to Honor Personal Hero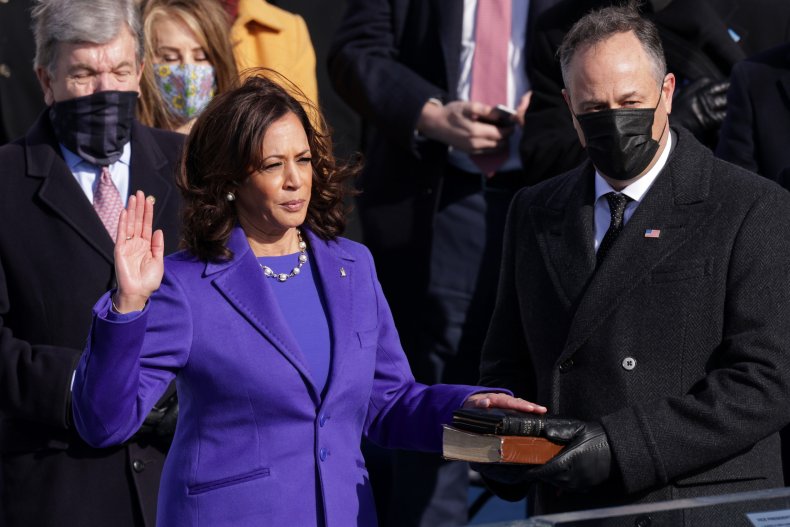 Kamala Harris, 56, was sworn in as the 49th vice president of the United States today by associate Supreme Court Justice Sonia Sotomayor using two Bibles that hold great personal significance for her. On Tuesday Harris tweeted, "When I raise my right hand and take the oath of office tomorrow, I carry with me two heroes who'd speak up for the voiceless and help those in one."
One of the Bibles that will be used is a Harris family heirloom that had been owned by Regina Shelton, an Oakland, California, woman who helped raise the future vice president and her sister Maya. Harris has referred to the woman she calls "Mrs. Shelton" as a second mother and has previously used Shelton's Bible to take the oaths of office as California attorney general and as U.S. Senator.
The second Bible belongs to the late civil rights icon and Supreme Court Justice Thurgood Marshall, the first Black Supreme Court justice, who served on the court from 1967 until his death in 1993. As a founder and lawyer of the NAACP Legal Defense Fund, Marshall argued many cases before the Supreme Court, including the landmark 1955 Brown v. Board of Education. In Brown, the court first held that the long-held principle of "separate but equal" education for black and white students was unconstitutional. The decision laid the groundwork for, among other things, court-mandated busing to desegregate schools, something a young Kamala Harris would have personal experience of.
In a 2019 Democratic presidential debate, Harris criticized Joe Biden for his opposition to court ordered busing saying, "There was a little girl in California who was part of the second class to integrate her public schools and she was bused to school every day. That little girl was me."
Harris has also pointed to Marshall's example as guiding her choice to both a career in law and to historically black Howard University. Marshall was a member of the law school class of 1933. Harris earned an undergraduate degree at Howard in 1986 before going to law school the University of California Hastings School of Law.
In her memoir, The Truths We Hold, she wrote "I wanted to get off on the right foot. And what better place to do that, I thought, than at Thurgood Marshall's alma mater?"