Kamala Harris Can Bait Trump, Giving Biden Vital Cover From His Attacks
President Donald Trump's attacks on Joe Biden's running mate Kamala Harris may protect the Democratic presidential candidate by allowing him to avoid an onslaught alone.
Trump has upped the ante on his assaults on Biden's character and record, as he trails the Democratic presidential candidate in the polls, but thus far this has not made a major dent on his ratings.
According to YouGov's tracker, Biden's rating is 49.9 percent favorable compared to 47.1 not, a minor boost from recent weeks.
Trump's falls behind on both counts, with 42 percent favorable and 57.1 percent not, and Biden seemingly fairing better in the war of words between them.
Since Biden announced Senator Harris (D-CA) the Trump campaign has swiftly turned to focus on besmirching her credentials.
While this appears to be a proxy war to drag down Biden, the attempt could actually aid the Democrat by shielding him.
Matt Gorman, a Republican strategist who worked on Jeb Bush and Mitt Romney's presidential campaigns and is a vice president at Targeted Victory, said he thinks Harris may attempt to drag Trump's focus to her, taking his onslaught away from Biden.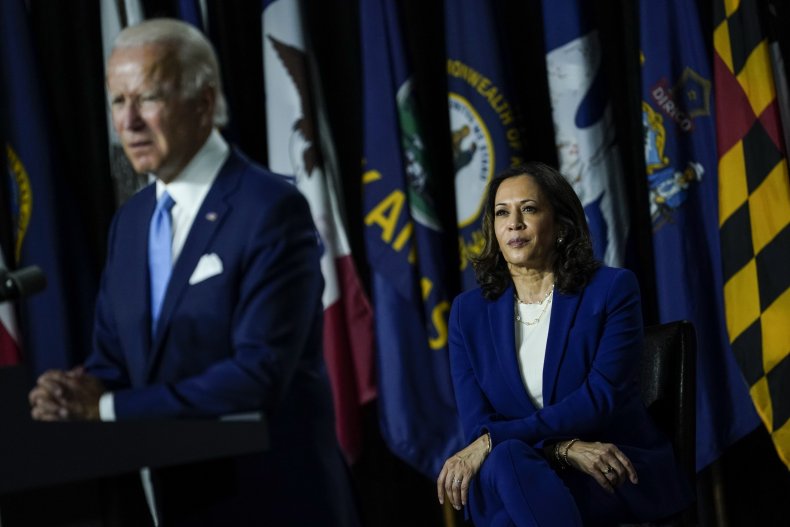 "I think Kamala is expecting to bait Trump into attacking her and not attacking Biden," he told Newsweek.
However, he said for Trump to close the gap on Biden he needs to drag his ratings down closer to his in order to bridge the gap between them—suggesting attacks on Harris will not help to do this.
On the president's critiques of Biden, he said: "It's important to keep the focus on Biden.
"I think Trump's best shot is turning this into a choice, not a referendum on himself. No one votes for the vice president.
"I think Kamala is expecting to bait Trump into attacking her and not attacking Biden.
"I expect her to be the one who goes after Trump heavily."
Justin Buchler, associate professor of political science at Case Western Reserve University, told Newsweek incumbents are generally the main focal points in elections, agreeing that targeting Harris will likely struggle to have any impact when it comes to November's vote.
"When there is an incumbent president, the incumbent president defines the campaign, whether he likes it or not," he said.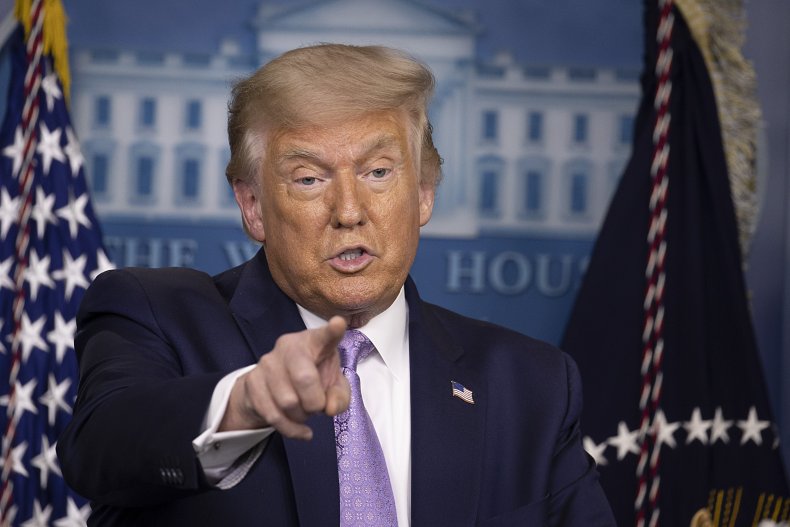 With Biden, he said, opinions are likely already fixed, so criticism may not shift those. He disputed whether criticizing Harris would have much impact in terms of the election either.
"Biden was vice president for 8 years. Opinions of him are pretty much fixed at this point, so Trump's attacks are likely irrelevant. Vice presidential nominees are not really all that important either, so whatever he says about Harris won't move the needle," he said.
New information to use as ammunition may be the only means to make the critiques of the Democratic duo effective, Charles Stewart, the Kenan Sahin Distinguished Professor of Political Science at MIT, told Newsweek.
"Basically, political attacks are really only effective if there is new information and if the attacking candidate has a hook to keep pressing on negative information about the attacked. Trump's attacks have been at the same level of playground taunting that the American public has become used to, and it's unsurprising that it hasn't moved the needle," he said.
"He's an uncreative taunter, and Americans have become used to it."
Attacks on Harris suggesting she indicates a shift to the left-wing may be hard to make stick, Leonard Steinhorn, a professor of communication and an affiliate professor of history at American University, said.
He suggested this difficulty in targeting her ideologically may put Trump's comments into "very toxic and dangerous ground."
"With their attacks on Biden not sticking to any significant degree, the Trump campaign sees Harris as a chance to drive their message home about a Democratic Party and Biden administration captive to the left-wing of their party," he told Newsweek.
"But here's the catch: ideologically both Biden and Harris are in the mainstream of the Democratic Party, both straddling the progressive and moderate wings—progressive in aspiration, more often than not center-left in how they get there.
"That leaves the President and his campaign treading on some very toxic and dangerous ground—using racial tropes to caricature Harris as an angry Black woman, doing their best to 'other' her, implying that she's a radical who will disrupt some mythic image of a suburban Pleasantville simply because she's Black."
Trump's tone could potentially offend female voters in particular, Matt Moore, managing partner of First Tuesday Strategies and former chairman of the South Carolina Republican Party, told Newsweek.
"The presidential election will be decided by female voters," he said.
"He runs the risk of further offending them if he attacks Senator Harris in the wrong way."
Suggesting what Trump should focus on, Moore said addressing issues faced by the nation might be a more sensible tactic.
"The risk is that Kamala Harris draws him off message. His best message is he built a great economy and he can do it again. The Trump campaign would be smart to focus on meat and potatoes, recovering from coronavirus and getting people back to work. That's what I hear most from regular folk," he said.
"He's shown a propensity to get distracted by candidates that needle him."
Given that, Moore added: "I'm curious to see whether she [Harris] deploys attacks on the president because the Biden campaign has been so safe so far."
Deputy National Press Secretary for the Trump campaign Samantha Zager branded Harris a "self-serving" politician, as she expanded upon the president's criticisms.
"The Trump campaign can walk and chew gum at the same time," she said.
"Joe Biden was already a bad candidate with an abysmal record and an enthusiasm problem before Kamala Harris became his running mate, and his name is still the one at the top of the ticket. That, however, doesn't negate the fact that choosing Harris is a direct affront to the American people who rejected self-serving politicians like her by electing President Trump in 2016.
"Both Biden and Harris have embraced a radical, socialist agenda that would raise taxes, eliminate private health care, and hurt American businesses and families—and the more Americans find out about their platform, the more confident we are they'll reelect President Trump this November."
Newsweek has contacted the Biden campaign for comment.
The below graphic, from Statista, looks at Harris' popularity among Democrats in polling.