Kamala Harris Will Use Tiebreaker Vote, But Wants More Consensus
Vice President-elect Kamala Harris said she would use her tiebreaker vote in the Senate if absolutely necessary, but cautioned that she was eager to see greater consensus develop in the evenly-split upper chamber.
The former California senator wrote in a San Francisco Chronicle op-ed that she was willing to fulfil her Constitutional duty, which could prove vital in securing the Biden administration's legislative agenda, but hoped that "common ground" could be reached.
She also confirmed that her touted replacement Alex Padilla, the California secretary of state, would carry on her work in the Senate as she relinquished her seat in the upper chamber and said it had been an "honor" to serve her constituents.
"These have not been easy times by any stretch," she wrote. "I am proud that, through it all, my office has maintained its focus, working tirelessly for the people of California."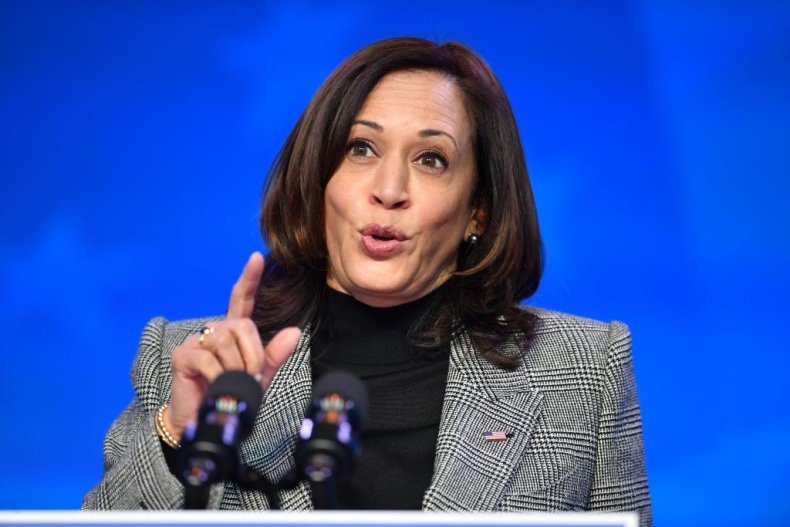 The vice president-elect later added: "Since our nation's founding, only 268 tie-breaking votes have been cast by a vice president. I intend to work tirelessly as your vice president, including, if necessary, fulfilling this Constitutional duty.
"At the same time, it is my hope that rather than come to the point of a tie, the Senate will instead find common ground and do the work of the American people."
After the Democratic Sens. Jon Ossoff and Raphael Warnock beat the Republicans Kelly Loeffler and David Perdue in Georgia's Senate runoff elections earlier this month, the GOP lost its majority in the upper chamber.
The Senate is now split 50-50, meaning Democrats have an effective majority with Harris' tiebreaker vote. However, the prospect of future objections from conservative Democrats like Sen. Joe Manchin (D-WV) means the arithmetic on key measures may not be so straightforward.
President-elect Joe Biden's proposed $1.9 trillion stimulus bill could be the first major piece of legislation to face a blockade in the upper chamber. Manchin has previously been sceptical of $2,000 stimulus checks, a key plank of the bailout fund, meaning Democrats may need to rely on Republican votes to pass Biden's stimulus plan.
"I am on board by helping people that need help, people that really can't make it, people who don't have a job, they can't put food on their table—I am in total support of helping them," Manchin told Jake Tapper on CNN earlier this month.
"Sending checks to people that basically already have a check and aren't going to be able to spend that or are not going to spend it, usually are putting it in their savings account right now, that's not who we are."
A handful of Senate Republicans have backed $2,000 stimulus checks in the past, but it is not clear whether they will back the $1,400 top-up checks in Biden's proposed stimulus package if they are also required to back other measures in the bill.