Kamala Harris Fires Warning Shot at Russia Over 'Crimes Against Humanity'
Vice President Kamala Harris said on Saturday that Washington, D.C., had concluded that Russia "committed crimes against humanity" in its invasion of Ukraine and issued a warning to those who were "complicit" in such acts.
Harris made those remarks while appearing at the Munich Security Conference, adding that "all those who have perpetrated these crimes" as well as their superiors who were implicated "will be held to account."
"Think of the images of Bucha," Harris said, referring to the city in the Kyiv region where investigators found evidence of atrocities committed against the local population soon after the start of Russian President Vladimir Putin's invasion.
"Civilians shot in cold blood, their bodies left in the street," the vice president said.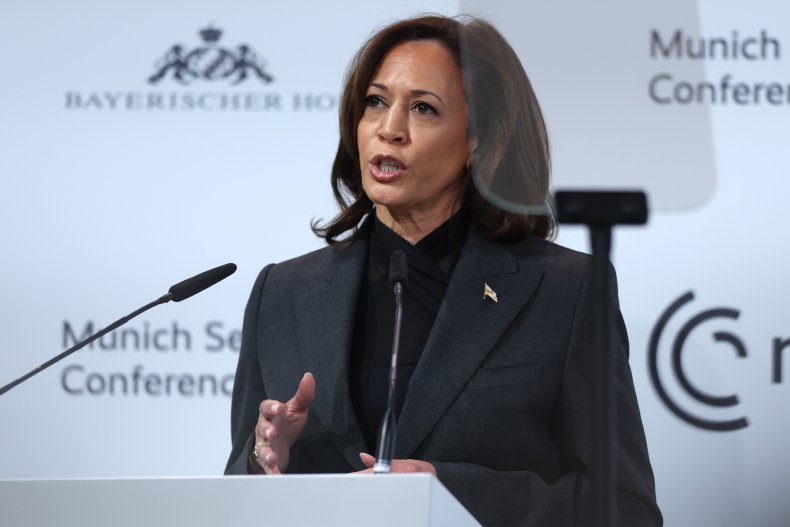 "Think of the 4-year-old girl, the United Nations recently reported was sexually assaulted by a Russian soldier," said a visibly emotional Harris, describing such cases as "barbaric and inhumane."
"In the case of Russia's actions in Ukraine, we have examined the evidence, we know the legal standards, and there is no doubt, these are crimes against humanity," the vice president added. "Let us all agree—on behalf of all the victims, known and unknown, justice must be served."
Newsweek has contacted the Russian foreign ministry for comment.
Harris's comments about war crimes follows a legal and factual investigation by the State Department. This could pave a way to further isolate Putin and punish his inner circle through international courts and sanctions, in addition to the measures already imposed by the international community against Moscow.
A Biden administration as well as a United Nations-mandated investigation has already concluded that Russia had committed war crimes.
However, the conclusion that Moscow had committed "crimes against humanity" implies a legal analysis that acts from murder to rape are widespread, systematic, and intentionally directed against civilians, Reuters reported on Saturday. This is a more serious offense in international law.
Organizations supported by the U.S. Agency for International Development (USAID) have documented more than 30,000 war crimes incidents, according to Reuters. In the face of the growing evidence from international investigators, Russia has repeatedly denied intentionally targeting civilians or committing war crimes.
Harris's speech came as Western leaders met in Munich to discuss the ongoing war in which Russia is stepping up assaults in the east of Ukraine, although at a cost of huge troop losses, according to Kyiv. Meanwhile, Ukraine has called for heavier and longer-range weapons from its Western allies, ahead of an expected spring counteroffensive.
Ukrainian President Volodymyr Zelensky told the Munich conference that the West must "hurry up" in delivering more weapons because Moscow's forces "can still destroy many lives."