Russia's Daily Losses Over 1,000 for Third Time This Month: Ukraine
Russia continues to suffer high levels of troop losses in its invasion of Ukraine, according to Kyiv.
In its latest update on Saturday, the General Staff of Ukraine's Armed Forces said that 1,010 Russian troops had been killed over the previous day, not far off the daily record, according to Kyiv, of 1,140 personnel on February 10.
This was more than the previous highest tally which Kyiv recorded only days earlier, of 1,030. Saturday's estimate brings Ukraine's tally of Russian personnel deaths to 142,270.
An accurate assessment of Russian troops deaths is difficult and Ukraine's estimates are higher than Western numbers.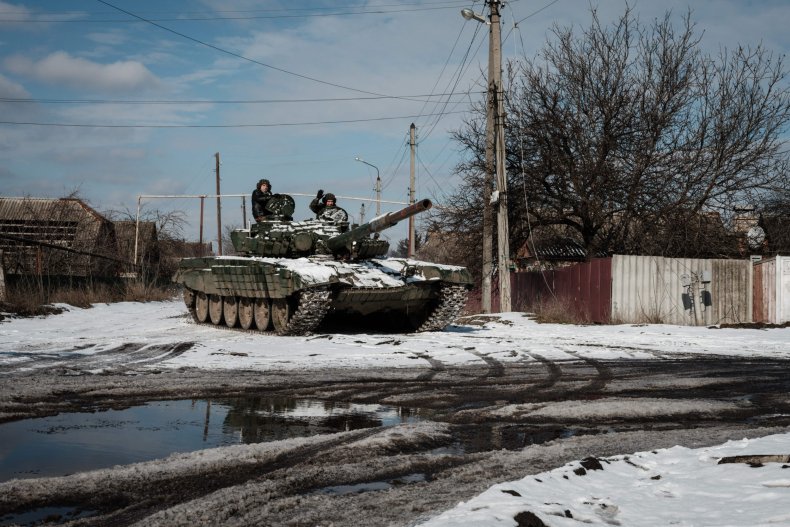 U.K. intelligence officials have said that Russian regular forces and Wagner troops may have suffered up to 200,000 casualties, including between 40,000 and 60,000 deaths, since the invasion began almost a year ago. Moscow has not updated its death toll of personnel since the end of September, when it said just under 6,000 had died. Newsweek has contacted the Russian Defense Ministry for comment.
The higher numbers come amid a fierce fight for the city of Bakhmut in the Donetsk oblast in which the mercenary Wagner Group is playing a key role. U.S. National Security Council spokesman John Kirby said that the group, financed by Yevgeny Prigozhin, had suffered more than 30,000 casualties, including roughly 9,000 fighters killed, half of them since mid-December.
Around 90 percent of those killed in December had been recruited from Russian prisons, according to Kirby, who said that the convicts were treated "as basically cannon fodder."
Up to half of the convicts recruited by the Wagner Group to fight in Ukraine have likely been killed or wounded, according to British intelligence.
Amid the rising Russian death toll, British defense officials said on Saturday that it was becoming harder for the Kremlin to insulate the Russian population from the war in Ukraine with over half (52 percent) of respondents to a poll in December having a friend or relative who had served in the war.
Andrey Turchak, head of the Russian parliamentary group dealing with the war, said that President Vladimir Putin had been presented with a report about how to support those mobilized and their families, which might be addressed publicly by Putin on February 21.
"This issue is likely to become more salient if any further mobilization (be it overt or tacit) takes place," the British Ministry of Defense said.
Meanwhile, in an address to the Munich Security Conference on Friday, Ukrainian President Volodymyr Zelensky said there was "no alternative to getting rid of Russian aggression once and for all."
Ukraine's military intelligence has said that Moscow intends to occupy all of the Donbas region, comprising the Donetsk and Luhansk oblasts, by March.