Wagner Group's Convict Recruits Suffer 50% Casualties in Ukraine War: U.K.
Up to half of the convicts recruited by Russia's Wagner mercenary group to fight in Ukraine have likely been killed or wounded, according to British intelligence.
In its daily intelligence update on the war, the U.K. defense ministry said that Russian Ministry of Defense and private military contractor (PMC) forces have likely suffered between 175,000 and 200,000 casualties since the invasion of Ukraine began nearly a year ago. "This likely includes approximately 40-60,000 killed," it added.
"The Russian casualty rate has significantly increased since September 2022 when 'partial mobilisation' was imposed," the ministry said.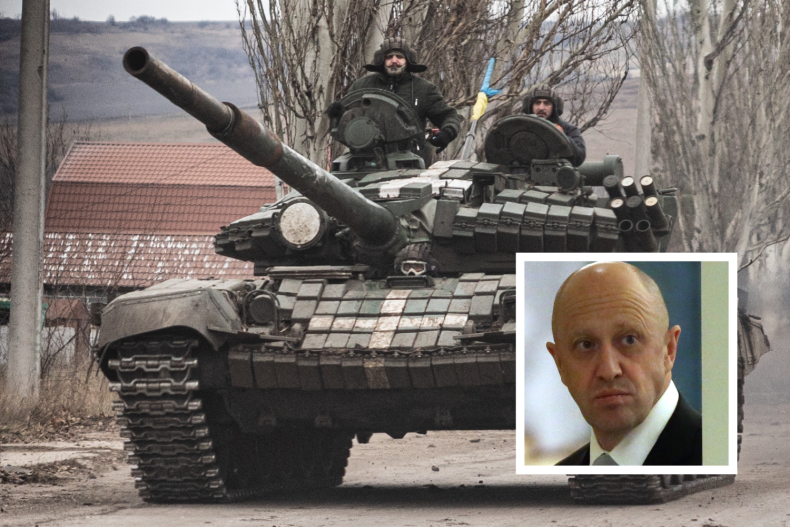 "By modern standards, these figures represent a high ratio of personnel killed compared to those wounded. This is almost certainly due to extremely rudimentary medical provision across much of the force."
It said artillery has almost certainly inflicted the majority of Russia's casualties.
"Wagner PMC forces have deployed large numbers of convict recruits. These have probably experienced a casualty rate of up to 50%," the ministry added.
Newsweek has contacted Wagner's head and financier Yevgeny Prigozhin for comment.
Prigozhin said earlier in February that Wagner was no longer recruiting prisoners, after offering male inmates commuted sentences and cash incentives in return for six months of military service in Ukraine since summer 2022. On Wednesday, the Wagner chief released a video that re-confirmed that the group wasn't recruiting prisoners any more, without providing details or a reason for it.
Prigozhin, who has long been seen as having close ties with Russian President Vladimir Putin, has been outspoken about the war in recent weeks. Bakhmut, in the eastern Donetsk region, has been a flashpoint of the war for around six months, with Russia focusing its attacks on the industrial city, led by the Wagner Group.
On Wednesday, Prigozhin said in a video released on the Telegram channel of his company, Concord, that it could take months to capture Bakhmut and blamed Moscow's "monstrous bureaucracy" for Russia's slow military progress in the region.
On Thursday, the U.K. defense ministry said that Russia has been reluctant to deploy its air force over Ukraine because of the "continued high threat" from Ukrainian air defenses.
It noted that Russian sortie rates have increased over the last week, following several weeks of quieter activity. It said that activity is now nearly the same as the average daily rate seen since the summer of 2022.
Putin will make a televised address to the Russian Federal Assembly on February 21, on the anniversary of formally declaring the eastern Ukrainian regions of Luhansk and Donetsk "independent" states.