Russian Losses Set New Grisly Daily Record, Ukraine Says
Vladimir Putin's troops have suffered their highest daily death toll since the start of their invasion, according to the Ukrainian armed forces.
In their latest assessment of enemy losses, the General Staff of the Armed Forces of Ukraine said on Saturday that over the previous day, Russia had lost 1,140 personnel.
This was more than 100 more than the previous highest tally Kyiv had released on Tuesday when it said that 1,030 troops had died. It takes Kyiv's total Russian death toll since the war began on February 24, 2022 to 136,880.
The figures have not been independently verified and Ukraine's total is higher than other Western estimates. Moscow has not updated the death toll of its troops since the end of September 2022, when it said that just under 6,000 had died. Newsweek has contacted the Russian defense ministry for comment.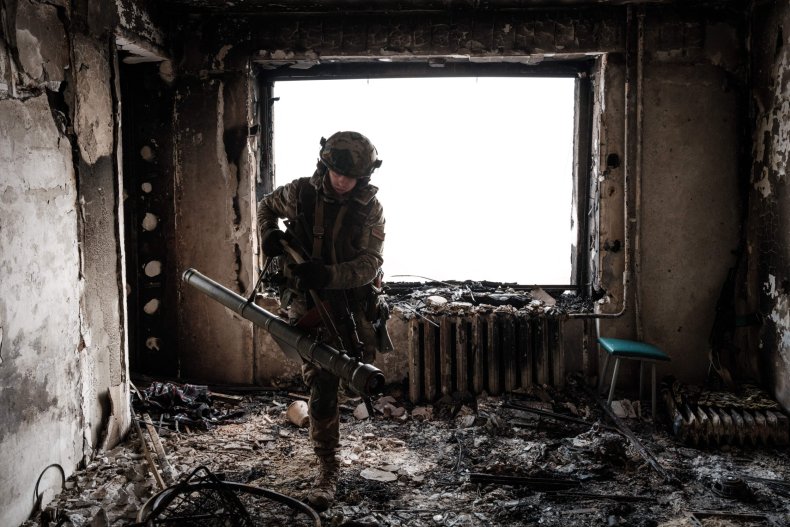 Assessing the death toll from either side is tricky and Moscow has also claimed that Ukraine has suffered huge losses. With the war nearly 12 months old, Western officials estimate that Russia is approaching 200,000 casualties—which includes those killed and wounded.
Glen Grant, a military analyst from the Baltic Security Foundation, said Ukraine had been "pretty consistent in giving figures that seemed to make sense considering what the battle is."
He told Newsweek that the fighting at the moment was "the nastiest since those last few days in the attack Kyiv, when both sides were banging hard against each other."
The increased death toll among Russian troops chimes with an assessment by independent media outlet Mediazona which said that there has been a spike in fatalities over the last three weeks. Using open source data to verify deaths, it said that it needed extra volunteers to help count the overwhelming number of Russian soldier deaths.
It follows reports about the deadliest combat which includes a fierce fight for the city of Bakhmut in the Donetsk Oblast, as well as near Vuhledar, around 30 miles to the southwest.
Serhii Haidai, the Ukrainian head of the Luhansk region military administration, said this week that Moscow has started "a certain escalation" in the east of Ukraine, while Kyiv has warned of an imminent full-scale offensive.
The Institute for the Study of War said this week that Moscow's "next major offensive" had started in Luhansk Oblast, which is already largely controlled by Russian forces. Kyiv has warned that Russia is massing weapons and ammunition ahead of a massive strike by Putin's troops that could coincide with the first anniversary of the war.