Kamila Valieva Receives Outpouring of Support After Positive Drug Test
Young Russian figure skater Kamila Valieva has received an outpouring of support after she failed a drug test before the 2022 Beijing Winter Olympics, potentially jeopardizing her chance to compete for gold in the individual event next week.
Fellow figure skaters and others have weighed in on the growing scandal, with some condemning Valieva's coaches and other adults they allege were responsible for giving the 15-year-old athlete a banned heart medication.
Valieva's fate at the Beijing games hangs in the balance as the International Olympic Committee challenges her clearance to compete in the women's individual event on Feb. 15 and the Russian Olympic Committee (ROC) seeks to defend it. The skater's performance helped the ROC figure skating team win the team gold medal Monday, and authorities will now have to make a final decision before the individual competition that she is favored to win.
Katarina Witt, a former German figure skater and two-time Olympic champion, wrote on her Facebook page that the adults she says are responsible for Valieva's positive drug test should be banned forever.
"What they knowingly did to her, if true, cannot be surpassed in inhumanity and makes my athlete's heart cry infinitely," Witt said.
Witt noted that as a minor, Valieva is dependent on the adults around her and said that she was "not to blame here."
"This scandal is a dramatic turning point for her young and promising career and I sincerely hope that there are enough people by her side to support, to protect and encourage her," Witt wrote.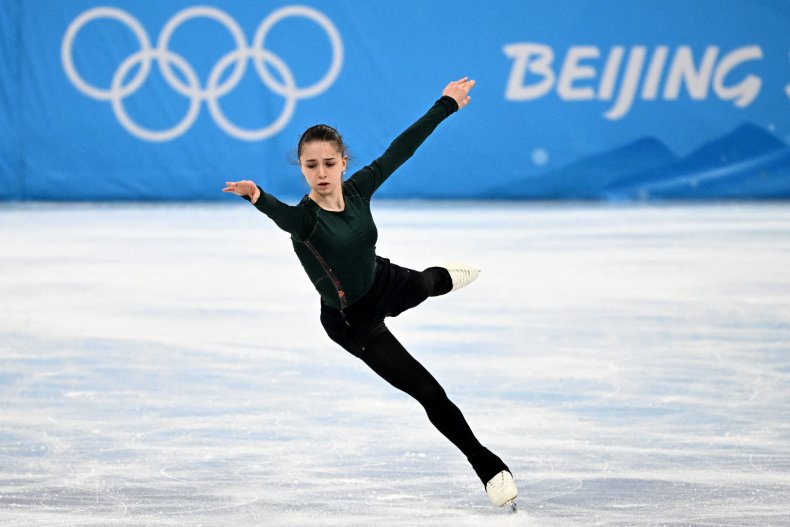 Kathy Johnson Clarke, a former Olympic gymnastics medalist and a sports commentator, also decried the role the adults around Valieva are accused of playing in her positive test.
"The list of failures of the adults in 15 yr old Kamila Valieva's skating universe may be as long as her glorious talent is grand. The damaging rippling effect of their horrific decisions and choices may be just beginning. She should NEVER have been in this situation," Clarke tweeted.
Meryl Davis, another Olympic figure skating champion from the U.S., described the situation involving Valieva as "heartbreaking" in an interview with TODAY that aired Friday.
"This is a minor. This is a 15-year-old girl, and I find it incredibly heartbreaking in so many ways," Davis said.
In addition to athletes' outrage, many social media users are angry with Valieva's coaches, especially Eteri Tutberidze, who has been accused of having a harsh coaching style, for allegedly pulling such a young athlete into a doping scandal.
Trimetazidine, the banned heart medication Valieva tested positive for in a sample taken on December 25, can boost blood flow efficiency and endurance. It is included on the list of prohibited drugs from the World Anti-Doping Agency under "hormone and metabolic modulators."
Kremlin spokesman Dmitry Peskov released a statement Friday morning after the International Testing Agency confirmed Valieva's failed drug test, saying that they were "convinced that this is some kind of misunderstanding."
Even as the scandal continued to unfold, a video showed Valieva taking part in a shaky practice for the individual women's event on Friday in Beijing. While leaving the rink, she covered her face with a hood as she walked alone through a host of reporters asking her questions, the Washington Post reported.
James Toney, a journalist and managing editor at Sportsbeat who is in Beijing, tweeted that coaches have a choice on whether or not they want to speak to media after competitions and practices. Tutberidze was asked and she refused, leaving Valieva to walk through "with no-one supporting her from the Russian team," Toney said.
Under a picture of Valieva wearing the hood posted on Reddit, one user condemned the athlete's coaches for letting her face the press alone.
"She is a child without her parents in a foreign country at the biggest competition in the world and her reputation is collapsing around her. Shame on the coaches for leaving her alone," wrote the user, stressedgeologist22. You created this situation, the least you could do is not throw her to the wolves
Peskov, the Kremlin spokesperson, encouraged Valieva in a call with reporters Friday.
"And we say to Kamila: Kamila, do not hide your face, you are Russian, walk proudly everywhere and, most importantly, perform and defeat everyone," he said.