Kandiss Taylor Warns 'Death by Firing Squad' to Corrupt Officials at Rally
Georgia Republican gubernatorial candidate Kandiss Taylor issued a warning to corrupt officials during a rally on Sunday in a speech that has now gone viral.
Speaking in Forsyth, Georgia, at a rally, Taylor urged Georgians to pray for their sheriffs and pray that the corrupt ones are replaced. She said it was crucial that these officials conduct themselves with the will of the people in mind—or face the consequences.
In the video, which has now been viewed over one million times on Twitter, Taylor suggested that corrupt officials found guilty of treason could be sentenced to death by firing squad.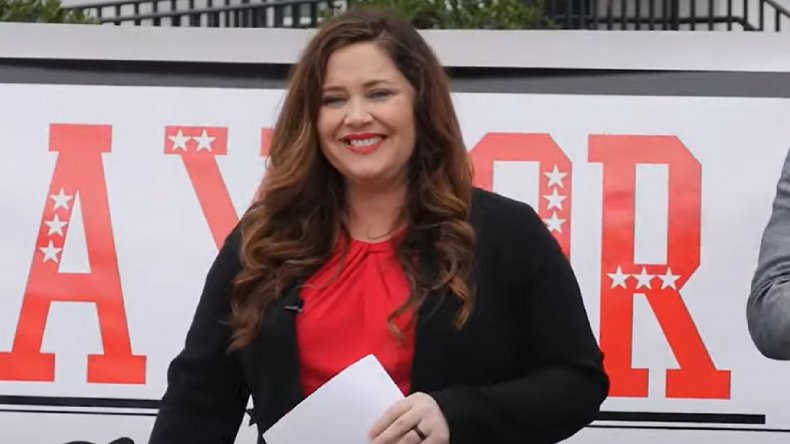 "We are not making backroom deals with sheriffs, they are the highest constitutional office of their county and they are going to do the will of the people. I don't mind handcuffing them either," Taylor said.
"I mean it, I have heard of sheriff corruption all over this state," she continued. "We have got some awesome sheriffs and praise the Lord for them, pray for them, even if you have a corrupt one, pray for them. Pray that they are replaced really quickly if they are corrupt."
"I don't care, I don't mind handcuffing any single person who breaks the law and goes against our government," she said. "The Constitution says, when you commit treason it is death by firing squad. I didn't write it, it is in there, it is serious. When you swear to God to uphold a document that you will do the will of the people, you will honor every single thing in that constitution and you do that."
The punishment for treason under U.S. law is death (firing squad not specified) or imprisonment and a fine.
Newsweek reached out to Kandiss Taylor for comment.
Another clip of Taylor went viral on Twitter last week that showed the political candidate saying Native Americans made a "huge sacrifice" so Christians could "worship Jesus freely" in the United States. The video of her speech was picked up by the Twitter account PatriotTakes and has so far been viewed more than 630,000 times.
"The First Amendment right, which is our right to worship Jesus freely—that's why we have a country. That's why we have Georgia," she said. "That's why we had our Founding Fathers come over here and destroy American Indians' homes and their land. They took it. Look at what they went through, the Native Americans for sacrifice for us to have the freedom that we have today."
Her remarks received swift backlash on social media, with some accusing her of being insensitive to the atrocities endured by Native Americans when European colonizers arrived in the Americas.