GOP Governor Candidate Takes Aim at 'Luciferian Regime,' 'Satanic Elites'
Georgia's Republican gubernatorial candidate Kandiss Taylor said that she will launch a plan to take on the "Satanic elites," which she previously described as a "Luciferian regime."
Taylor, who is among several Republicans competing for the party's nomination in Georgia's GOP primary to be held on May 24, posted a teaser of what she describes as "Executive Order 10" to her website. On Twitter Sunday, she provided hints about it as well.
"The Satanic Elites have a plan, but so do we. Tomorrow I will be releasing executive order #10. Stay tuned," the Republican gubernatorial hopeful tweeted, and shared a screenshot from the teaser page for the "executive order" on her website.
"What is executive order 10?" the webpage asks. The teaser ad says that the plan will be released on Monday, May 2.
Previously, Taylor discussed the plan in an interview with the right-wing radio program of conservative commentator Stew Peters. In a late April episode of Peters' program, she promised she'd be "evicting the Devil from Georgia" if she wins.
"We will not be kneeling ourselves to a globalist Luciferian regime that has overtaken our nation," Taylor said, adding that "we're going to take Georgia back from these globalist elitists."
Polls currently show that she is unlikely to win the Republican nomination in the May 24 primary. Incumbent GOP Governor Brian Kemp remains the clear frontrunner in the race, with a recent poll carried out from April 22 to 27 by SurveyUSA showing he had the backing of 56 percent of Republican voters. Trailing him in second place was former Senator David Perdue, who has been endorsed by former President Donald Trump, at 31 percent.
Taylor came in at a very distant third, after the "undecided" category, with 3 percent of the vote. Candidates Catherine Davis and Tom Williams each had 1 percent while 8 percent of GOP voters marked "undecided."
The RealClearPolitics average of Georgia polls has Taylor at just 4.1 percent. Comparatively, Kemp appears favored to win with an average of 48.8 percent as opposed to Perdue's 33.5 percent.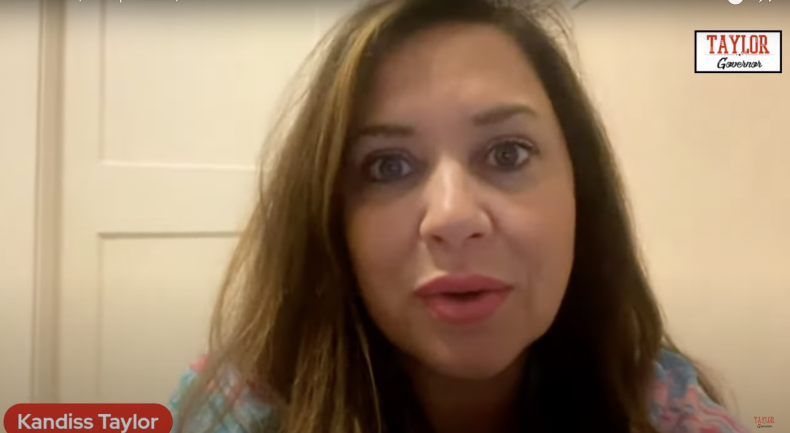 The claims about "Satanic" and "globalist" elites controlling the government aligns with a QAnon conspiracy theory. The bizarre belief contends that a cabal of Satan-worshipping Democrats and Hollywood elites attempt to control the country and the world through sexually abusing and sacrificing children. QAnon adherents believe that Trump is fighting against this Satanic group.
Taylor's remarks about Satanic elites come as GOP Representative Marjorie Taylor Greene of Georgia has also been raising alarms about Satan's alleged influence on society. Greene has drawn controversy over the past week after she claimed in a recent interview that the Catholic Church is controlled by Satan, and that Satan whispers in women's ears to encourage them to get abortions.
"Satan's controlling the church, the church is not doing its job," the congresswoman said in an April interview with Church Militant about the church's support for undocumented migrants. She later insisted that she had not slandered the Catholic Church.
"Abortion is a lie that Satan sells to women. He sells it to 'em," Greene also said in the interview. "When Satan sells a sin, it's not loud. It's whispered, softly and gently into your ears and into your soul."
After backlash, she double-down on the comments in a Saturday Twitter post, as "Satan" became a top trending topic on the social media platform.
"If you are defending pedophile priests and those who protect them, groomer teachers & Disney LGBTQ propaganda, Drag Queen story time, saying it's not Satan convincing women to abort their unplanned child, and that children can be mutilated to change their gender, you're wrong," the Republican congresswoman tweeted.